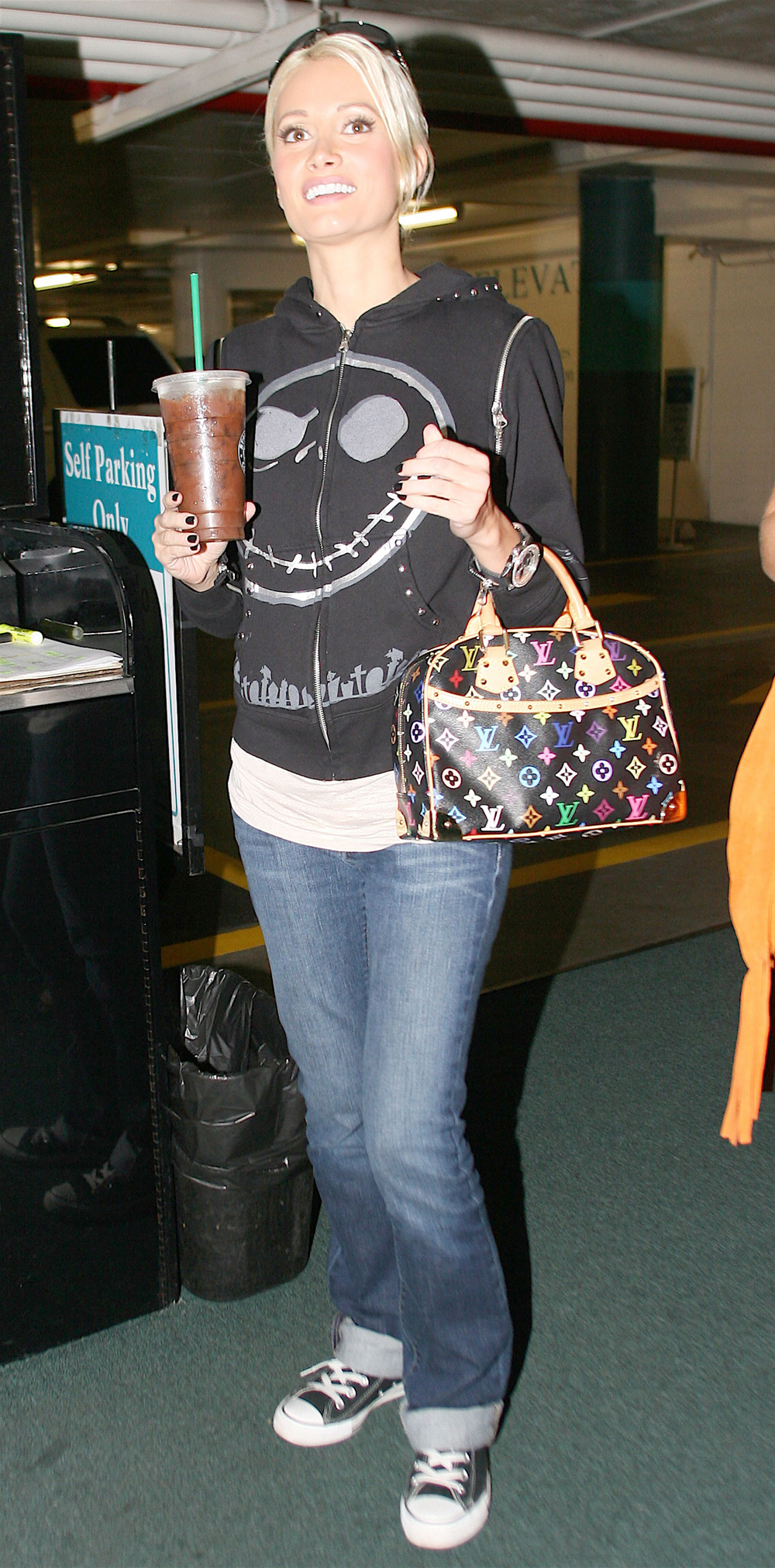 Holly Madison clearly has some bitter feelings for Hugh Hefner. On the one hand, who can blame her? On the other, it's not like he deceived her (as far as anyone can tell). He's pretty open about his lifestyle and priorities, and marriage and babies aren't exactly the geriatric gentleman's focus.
Holly called Hef "high maintenance," in an interview set to air tomorrow on Extra. She's really working the "I'm moving on and super happy about it" angle. And why shouldn't she? She's young, hot, and sorta pissed. But she's still getting a few digs in there.
Hugh Hefner's former No. 1 girlfriend is excited about her future dating prospects – just as long as they're not like her famous ex. "It might be refreshing to date someone who is not high maintenance," Holly Madison told "Extra" in an interview set to air on Wednesday. "Sorry, Hef … I love you, but you know you're high maintenance."

Madison, who confirmed her split from Hefner last month, also took a not-so-subtle jab at her 82-year-old ex in an interview with In Touch magazine. "I haven't had sex in a really long time," she said. "And that's the honest truth." Aw, snap!

And what happened to Amy Leigh Andrews, that Georgia State student Hef mentioned in passing? The 24-year-old was spotted canoodling with Hefner's new posse on Oct. 4, and popped up again at the Playboy Mansion's annual Halloween celebration media preview. She also changed her MySpace romantic status to read, "in a relationship." Andrews is "a lovely girl," Hefner told E! last month, adding, "I think we will be spending time together … And there will be others."
[From the Daily News]
As much as I understand why Holly may feel the need to talk some smack, that last quote from Hef is pretty telling. He's always made it clear there will be others. I bet logically Holly didn't expect otherwise, she was maybe just hoping to be the one who changed everything for the aging playboy.
The Daily News pointed out that, "Playboy reps have yet to comment on Hefner's latest romantic lineup." That's really the best way to put it. Even before he had a reality show, Hef's girlfriends were more like employees. He filled slots, promoted when appropriate, and fired or forced them into retirement when they reached a certain age. Holly should have moved on a long time ago, but at least she's doing it now.
Here's Holly out and about in West Hollywood yesterday and posing in front of a billboard with Lindsay Crolius. Images thanks to WENN.