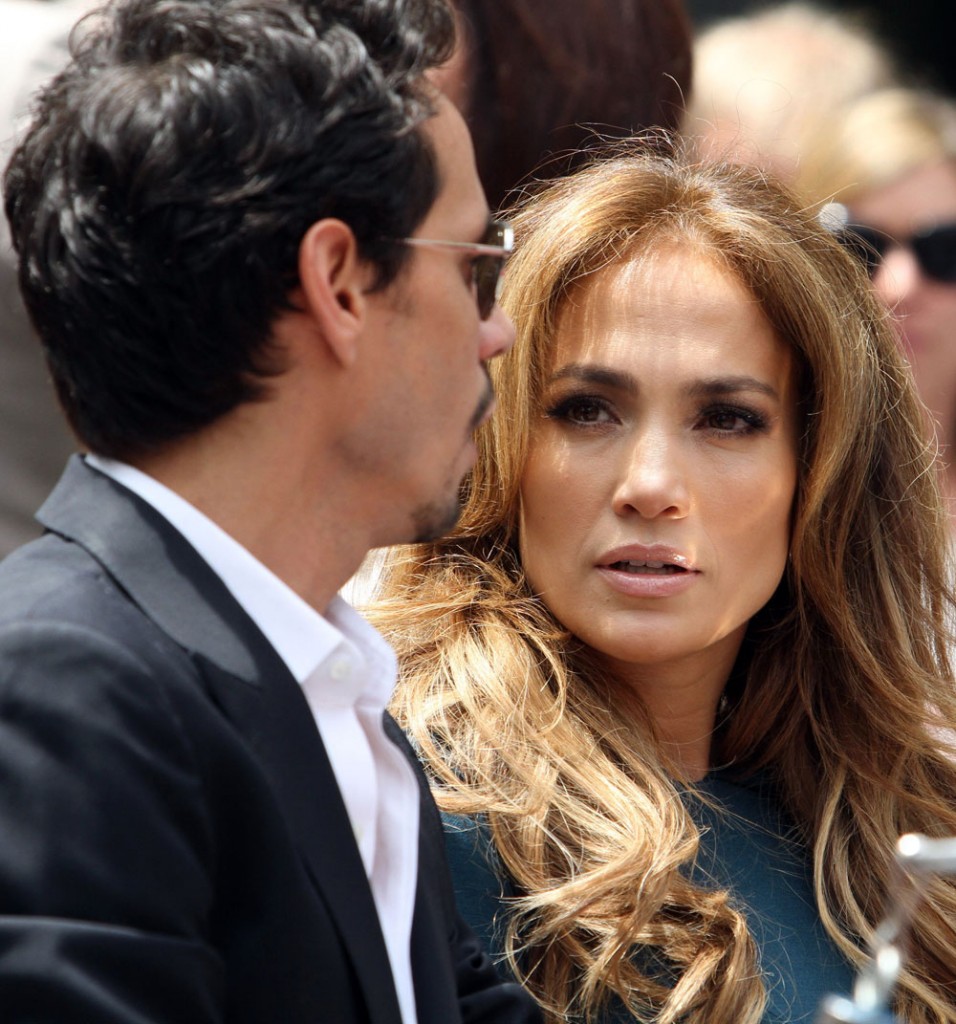 The last we heard about Marc Anthony, he was dating a young model type and posting photos of them together on Facebook. It was just as obvious a move as all the paparazzi photo ops that J.Lo has been staging with her much younger, facially challenged boyfriend, backup dancer Casper Smart, only J.Lo started it first. Well Marc and Jennifer aren't getting along at this point, and they're fighting over custody of their nearly four year-old twins. Radar has the news that Marc sniped at Jennifer that she needed to see a psychiatrist because she's incapable of being alone.
The former couple had yet another fight over the weekend, with Marc complaining that he wanted to see their toddler twins more frequently.

"As always with things between Jen and Marc recently, the conversation quickly turned heated," a source close to the situation tells RadarOnline.com. "Jen said Marc wasn't being attentive enough as their father, and Marc scoffed at that remark and said she was always changing her travel plans with the children at the last minute.

"The real source of Marc's anger is Jen's relationship with back-up dancer, Casper Smart. Jen is VERY serious about him, and it makes Marc extremely jealous. Marc told Jen that she [should] see a psychiatrist to deal with her issues to figure out why she always needs a man in her life. Remember, Jen and Ben [Affleck] had just broken up when she got hot and heavy with Marc. Jen's relationship with Marc was the longest relationship she ever had with anyone, about seven and a half years."

As RadarOnline.com previously reported, Marc is now dating sexy Venezuelan model Shannon de Lima and the two have been Tweeting up a love storm to each other. Marc wrote in Spanish to Shannon "To my @Shadelima my statue of liberty. Kisses, baby."

The Latin crooner has told JLo though that her boyfriend, who has been arrested for drag racing and had warrants out for his arrest, is banned from driving their toddler twins, anywhere.

Even though Marc and Jennifer haven't formally filed for divorce yet, the Latin superstar told the American Idol judge he would take legal action if she went against his instructions.

"This wasn't a threat that Marc gave Jen. He will go straight to family court if he needs to get a judge involved to make sure Casper doesn't get behind the wheel with his kids in the car," the insider says.

Smart formally pleaded no contest last week to exhibition of speeding, and was sentenced to one year probation, and was ordered to pay a $500 fine.
[From Radar]
I agree with Marc that a guy who was convicted of drag racing should not be driving with his kids in the car. Other than that he just sounds jealous. This "you need to see a psychiatrist" dig is the oldest line in the book. When a current or ex partner isn't behaving in a way the other one wants (or when they want out) they often pull that "something's wrong with you, you need to get professional help" line. It's an easy way to place blame on the other person. In J.Lo's case she may benefit from talking to someone about her need to be in a relationship, but I think she's just sowing her oats and trying to feel sexy after being committed to one guy for the longest stretch in her life. When men do it, it's normal, when women do it they're crazy and need help. Gah I can't believe I'm defending J.Lo. If she does end up marrying baby douche face, then I'll concede that I was wrong and that she should have sought some kind of help.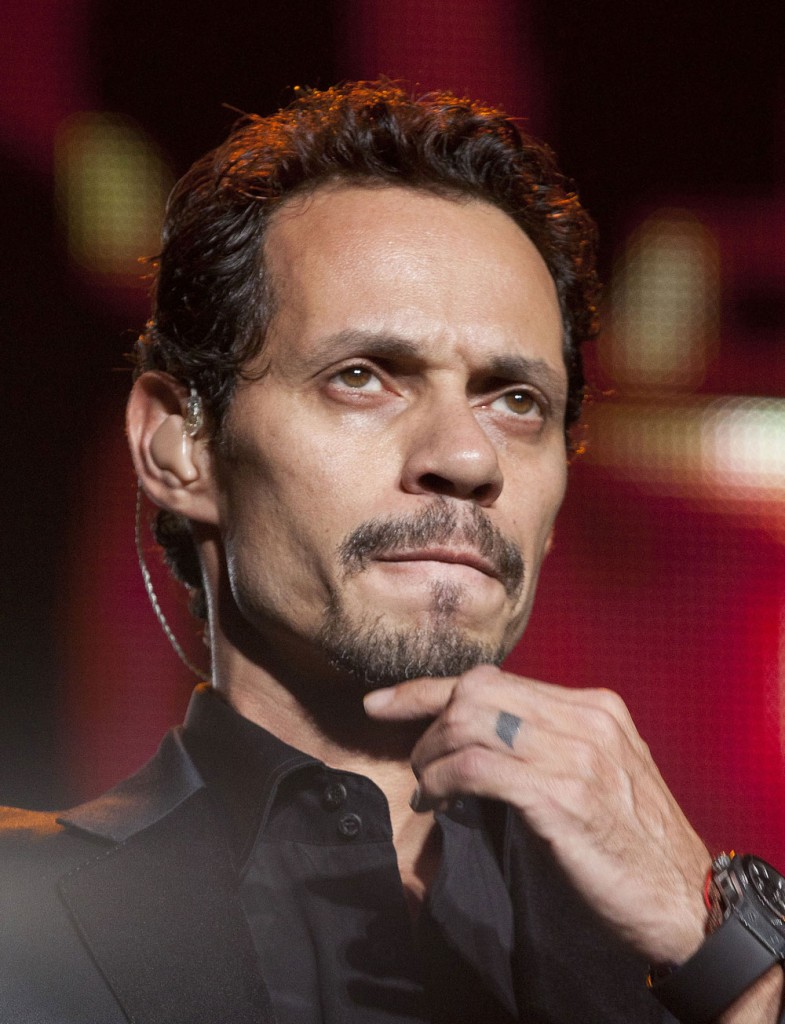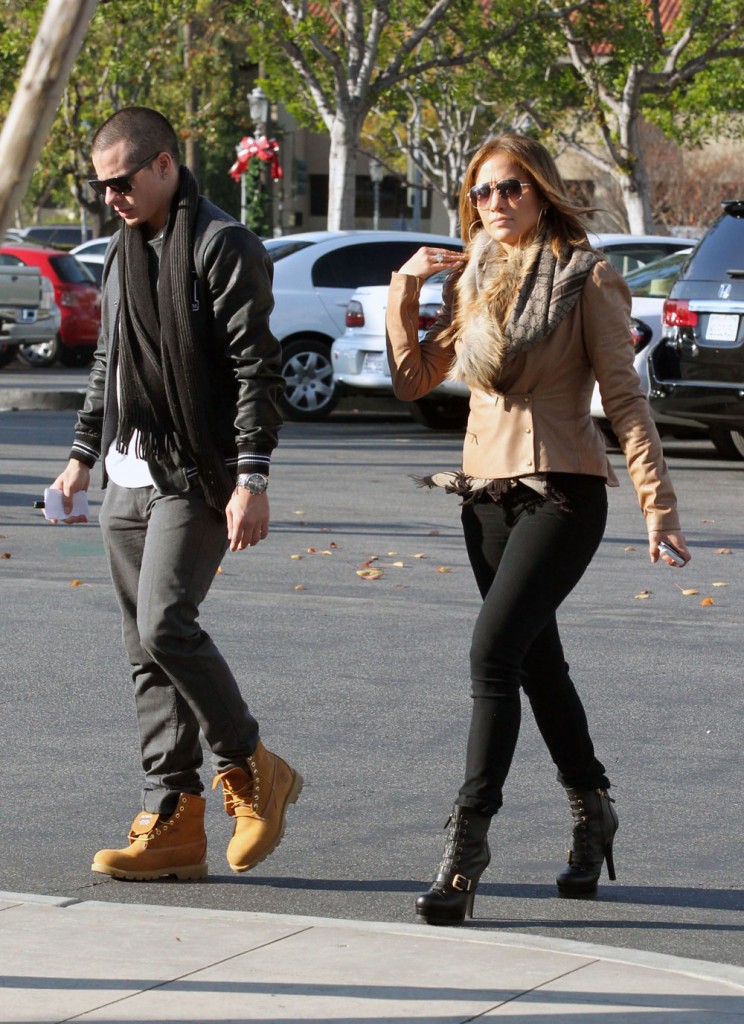 Jennifer and Casper are shown outside a jewelry shop on 12-18-11. Credit: Fame. Marc is shown on 9-9-11 and with Jennifer on 5-23-11. Credit: WENN