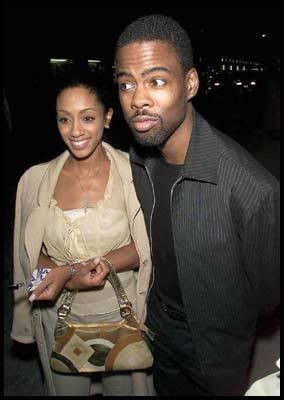 Chris Rock just filed for divorce from his wife of ten years, Malaak Compton-Rock. The couple has two daughters, Lola, 4, and Zahra, 2. Malaak is the founder of Styleworks, a non-profit group which provides salon services and business clothing for women moving from welfare back into the work force.
This wasn't surprising to me, because I saw Chris Rock tell Marilyn Manson not to get married two years ago when they both appeared together on The Graham Norton Effect on Comedy Central.
Chris comes in at 3:30 in the video clip below. When host Graham Norton says "You have a theory about pussy," Rock says "Well I'm married, and married men… well Marilyn's getting married, and this happens a lot, and don't do it man. I don't care. I saw her out there. She looks good. She can't wait to not f&$@ you. She can't wait! I know you think you're going to have a real 'it' Marilyn Manson marriage. hahaha"
Later on in the clip Norton shows erotic cookies that are kind of realistic and might not be SFW. It is pretty damn funny though. I used to love this show:

I know Rock was just joking around, but he seemed rather serious about it, and why would he say that unless he wasn't getting any at home?
This isn't the first time Rock has joked around about the perils of marriage. His comedy skits are rather revealing:
Chris Rock: When it's time to get a divorce, women got it made. You go to court, start talkin' that sh?t. "I'm used to this, I'm used to that. I'm accustomed to this." What the f&$@ is accustomed? Whats that got to do with sh&t? You go to a restaurant, you accustomed to eatin'. You leave, you ain't eatin' no more. They don't owe you a steak. What about what the man's used to? It might not be money, but during the course of a relationship, a man grows accustomed to a few things. I would love to see a man go to court and say, "Your honor, check this out. I'm accustomed to f&$@in her four times a week. Now I feel I should be able to f&$@ her at least twice a week. I mean she can have the alimony, but I want some pussy payments."

Chris Rock: Everybody need a pre-nup. People think you gotta be rich to get a pre-nup. You got twenty million and your wife wants ten, big deal, you ain't starvin'! But if you got thirty thousand, and your wife wants fifteen, you might have to kill her!

Chris Rock: So you gotta think about OJ's situation. 25,000 a month, another man drivin' his car, f&$@in' his wife, and a house he's still payin' a mortgage on. Now, I'm not sayin' he should have killed her, but I understand.