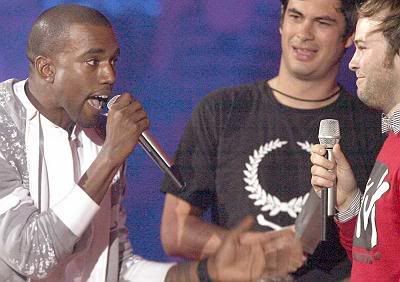 Just like the video of Matt Damon telling Jimmy Kimmel to f off, some people are saying Kanye West's ego-fueled trip out at the MTV Europe awards was staged. I'm not so sure. Everyone's reporting it like it was real, and West is known for his temper and ego.
West crashed the stage Thursday in Copenhagen when the best video award was being presented to Justice and Simian for "We Are Your Friends."

In a tirade riddled with expletives, West said he should have won the prize for his video "Touch the Sky," because it "cost a million dollars, Pamela Anderson was in it. I was jumping across canyons."

"If I don't win, the awards show loses credibility," West said.

The rapper grabbed the best hip-hop award earlier in the night in a star-studded event hosted by Justin Timberlake in the Danish capital.

West has a particular affinity for the "Touch the Sky" video. In an interview with the Associated Press in August, he expressed his displeasure that the clip, an elaborate Evel Knievel spoof, didn't get nominated for an MTV video music award.

"It didn't get any nominations, but it's one of the most memorable videos of the year for me," he said then.

It's also not the first time he's had an awards-show meltdown. At the 2004 American Music Awards, West bitterly complained backstage that he was robbed when he didn't win a trophy.
Here's the video. Sorry your video cost a million to make, Kanye. You're going to lose a hell of a lot more in future revenue by blowing your cool and your reputation.