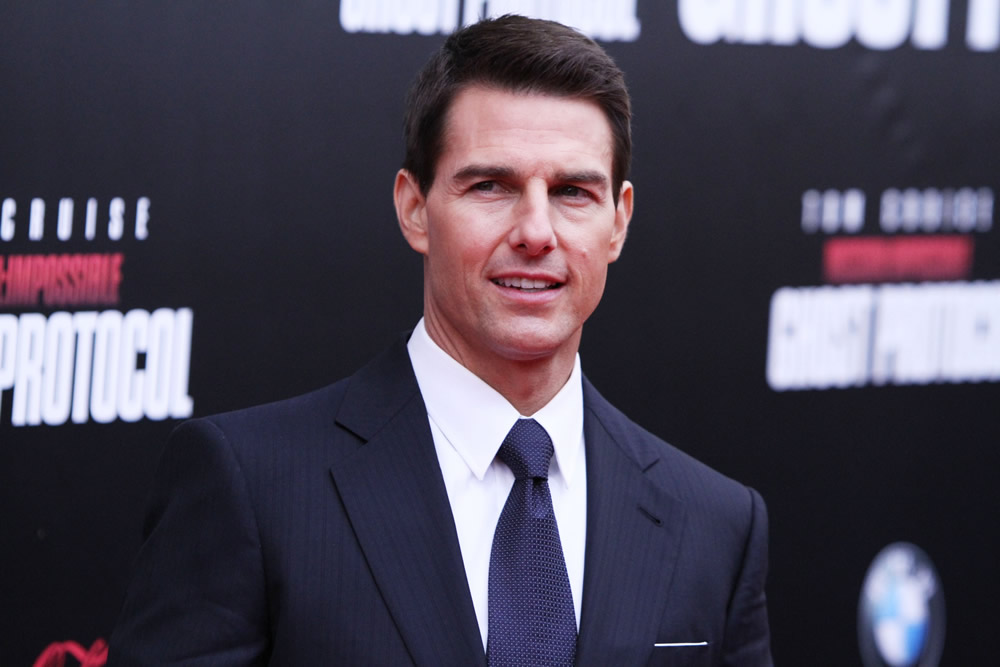 Last August, we covered an In Touch story that detailed Katie Holmes' life of constant surveillance and control, which was based upon Scientology's possession of "damaging" secrets gathered from extensive auditing of all celebrities who are dumb enough to become members. The story included details of Tom's household staff, who are also all Scientologists and who are encouraged (even required) to report all of the ongoings within the Cruise home. There was also the implication that Tom and Katie were largely ignorant of their staff's spying practices but that, to a degree, they also turned a blind eye because their lives are pretty comfortable, and why rock the boat?
Indeed, that boat will not be rocked. Cruise has reached OT Level VIII (and has gained amazing superpowers as a result!), so he's basically a Scientologist lifer. Even though he underwent an emergency PR makeover to cover the crazy while promoting MI4, he's still such a die hard that he "lovebombs" his own wife. At this point, even if he wanted to get out, the cult knows so much about him that it's just not worth it. He's staying put and enjoying his free slave labor that plants wheat fields and refurbishes vehicles just to keep Tom happy. In exchange? Scientology gets ownership of all of Tom's filthy secrets. This happens at the behest of the current head of Scientology, David Miscavige, known to many simply as the "Tiny Tyrant", which sort puts a new spin on why he and Tom get along so well. I mean, Tom even took the dude along on his honeymoon with Katie Holmes. To put it bluntly, Tom and David are thick as thieves: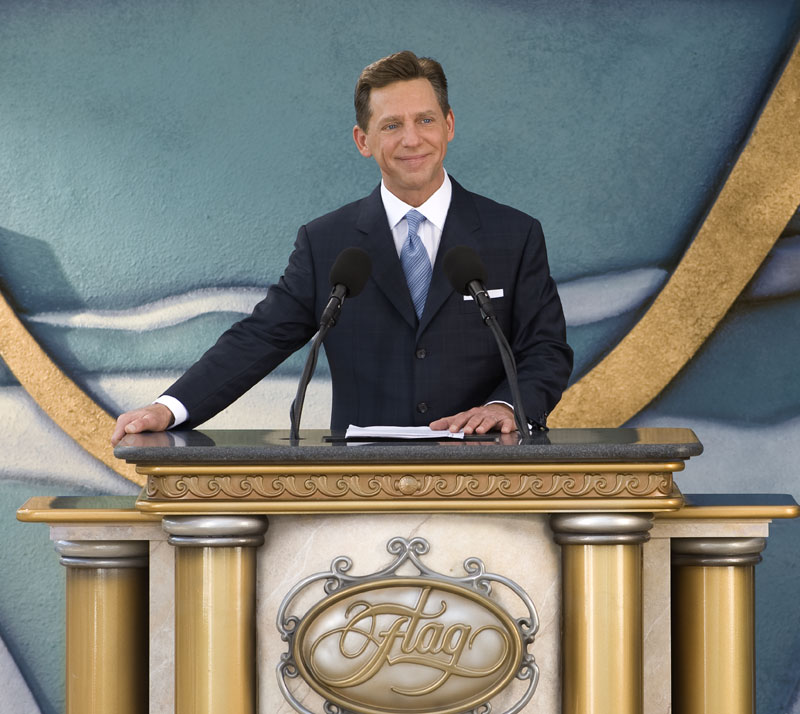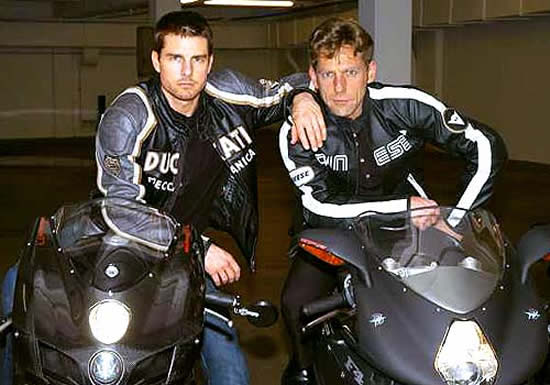 Of course, Miscavige isn't exactly a loyal friend (or whatever you want to call it) to Tom. The guy not only ordered all of Tom's auditing sessions to be videotaped but also got drunk at parties and read Tom's confessions aloud to all to hear. Then again, Scientology is an organization built upon spying on others for use in intimidation. Even the children of Scientology are programmed to tattle on their parents so that the CO$ automatically knows of potential defectors. It's sketchy as hell in so many ways.
Now there's a new article in today's Village Voice that talks a lot about how Tom was brought back into Scientology after years of inactivity during his marriage to Nicole Kidman. To provide a bit of background (and I'm paraphrasing some findings from
Inside Scientology: The Story of America's Most Secretive Religion, by Janet Reitman), Nicole was never really crazy about the CO$ to begin with, and she really didn't like David Miscavige at all. It certainly didn't help that Tom went OT Level III (and as such, was allowed to read the infamous Xenu story) and went batshit with rage. Supposedly, Tom was really angry about the whole experience and thought the alien story was utter crap. He couldn't believe that he'd been promised so much knowledge and had ended up with a silly tale about volcanoes and aliens instead. So he quit the cult for a few years, and Miscavige decided that he'd do anything to get him back. This is where the Village Voice story comes into play:
​Three former Church of Scientology officials tell the Voice that for years — at least between 1991 and 2005 — church leader David Miscavige kept a close watch on Tom Cruise with the use of a man named Michael Doven, who served as Cruise's personal assistant.

For much of that time, 1991 to 2001, Cruise, one of Scientology's most famous faces, was actually estranged from the church (a closely-held secret until just a few years ago). While Cruise kept his distance from Scientology during that period, Miscavige still received detailed, daily reports about the Cruise household through Doven, the former officials say.

Doven was reached on the telephone Wednesday, but he hung up when he learned that it was the Voice calling. An e-mail was subsequently sent to him with specific questions about the allegation that he spied on his employer, Cruise, on behalf of the church, but he did not respond.

Part of the reason for the surveillance, says former church official Claire Headley, was that Miscavige and the church were worried that Cruise would cut ties entirely with Scientology. "Doven told us what Tom was complaining about, about what areas in his life he was having trouble with. Then we could use that information to tailor our approach to him," she says.

​Thursday morning, the Voice published a story about Doven, who no longer works as Cruise's assistant but photographs other Scientology celebrities for magazines. Our story was prompted by a mailer sent out recently by the church, which included a lengthy testimonial by Doven about how he had become the first Scientologist to complete testing on a corrected set of L. Ron Hubbard materials which were published in 2007, the "Golden Age of Knowledge for Eternity."

After that story appeared, Marty Rathbun, formerly Scientology's second-highest ranking executive, made public his allegation that for many years Doven had spied on Cruise for Miscavige. Since Rathbun made that allegation public at his blog Thursday afternoon, we have been confirming his statements with other church executives who worked with Miscavige, Cruise, and Doven.

Rathbun went through a detailed history with us of Tom Cruise's involvement in Scientology, and his own role in helping to bring Cruise back into the fold in 2001.

"Doven was there the entire time, reporting to Miscavige everything that Tom was doing," Rathbun told me. When I asked Rathbun how he knew that, he answered in Scientology jargon: "How do I know that? Because I was on that line."

"Doven was personally reporting to you what Tom was doing?" I asked him, for clarification.

"Absolutely," Rathbun answered. "He'd be telling me what was happening with Nic [Nicole Kidman], what was happening in the household, what was happening between Tom and Steven Spielberg. He had been reporting to us from the early 1990s." After 1996, Rathbun says, Doven was making those reports directly to him, and Rathbun was in turn giving the information directly to Miscavige.

In 1998 or 1999, Claire Headley says she too became part of those communications while she worked with Rathbun at the Religious Technology Center, one of Scientology's entities at the church's secretive desert base.

"I was a party to the conversations that Doven was supposed to be, you know, feeding us information and getting Tom back on lines," she says. "I do remember that Doven's reporting led up to retrieving Tom. And subsequently I had a lot of involvement with Marty when he was running Tom on OT IV and OT V." (We'll explain that jargon later in the story. If you're new to the subject, you might want to read our primer, "What is Scientology?")

I asked Headley what kind of information Doven was turning over. "What was happening with Nicole and the divorce. And I remember hearing about problems with Nicole's parents — or the problems that Tom perceived, with them not wanting Nicole to continue with Scientology," she says.

In 1990, Cruise had begun dating Kidman. But if Miscavige was hoping that Cruise was going to become a more involved Scientologist, instead the actor pulled away. Late in 1990, Cruise and Kidman were married. In 1991, Cruise all but separated from Scientology, but the church managed to keep it quiet.

"Nicole was really sour on Scientology and kept pressing Tom to stay away from Int Base," Marty Rathbun tells me. Until 2004, Rathbun was perhaps the highest-ranking official in the church after Miscavige. (He wore the title of the RTC's Inspector General-Ethics, but all that really mattered was that he answered to only one person — Miscavige.) "Nicole spotted Miscavige and didn't like what she saw. Her big issue was that Tom was becoming like Miscavige. Nicole didn't like the relationship that was developing between them," Rathbun says.
[From Village Voice's Runnin' Scared blog]
LMAO. So Nicole didn't like the "relationship" between Tom and David Miscavige, and she wasn't gung ho about Scientology to begin with, so the CO$ declared her a suppressive person. Now Nicole can't even see her own children, Isabella and Connor, with Tom — although I do have hope that Connor will eventually leave the cult.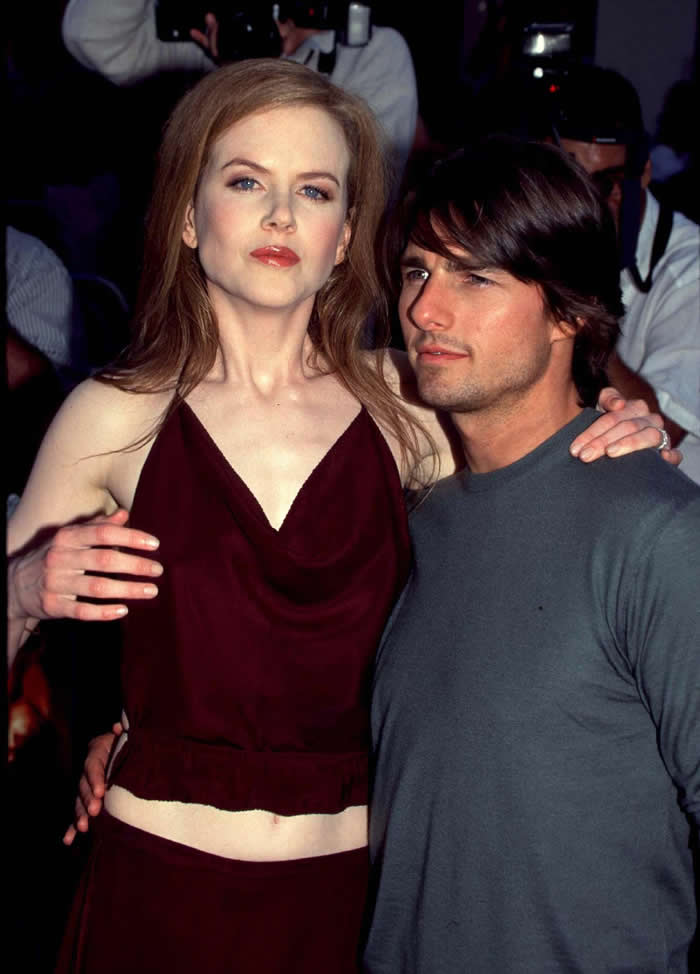 Anyway, the Village Voice article goes on at great length and is well worth a read when you can set aside some time to fully digest it. Of particular interest is more discussion on how the CO$ targeted South Park creators Trey Parker and Matt Stone, which turned into quite the convoluted matter. Long story short — since Comedy Central is owned by Viacom, which also owns Paramount Pictures, Miscavige dispatched Michael Doven to apply pressure on both Paramount and Viacom to shut up the South Park guys. Further, Miscavige attempted to use CAA to force the LA Times to actually stop associating Tom Cruise with Scientology. Seems odd, right? Well, this all occurred at the height of Tom's 2005 crazy, but the LA Times reportedly stood firm. Miscavige's demands turned an already huge mess into a collosal clusterf–k, and the "end result" was that Tom parted ways with Paramount in 2006. In other words, this was "yet another case of Miscavige creating enemies in his fervor to try and protect his image."
So why is Miscavige still around when Scientology is clearly imploding under his leadership? Well, it will take awhile for the "mighty" to fall in this case because the CO$ still has tons of money and plenty of slave labor. However and thanks to the internet, recruits are way down, and it's only a matter of time. Especally when fundraising emails are leaked in such an amusing manner. Now if only the IRS would again revoke the tax-free status of the CO$, this cult would fall much more quickly.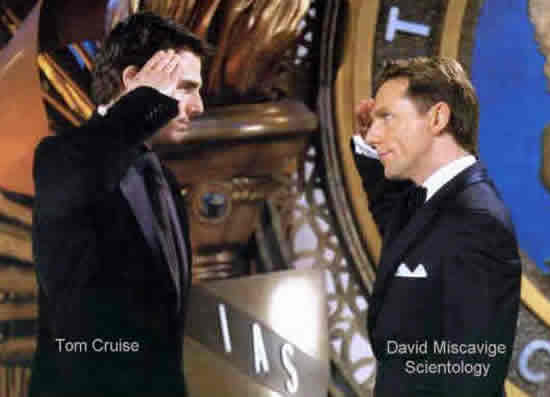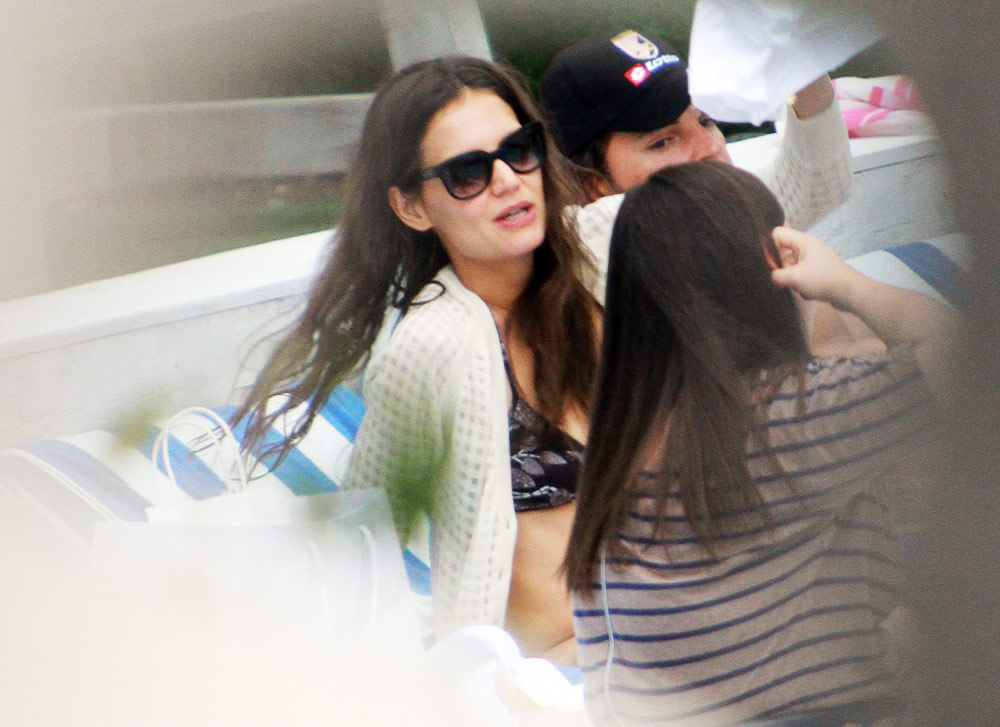 Photos courtesy of Fame/Flynet and Freedom Magazine