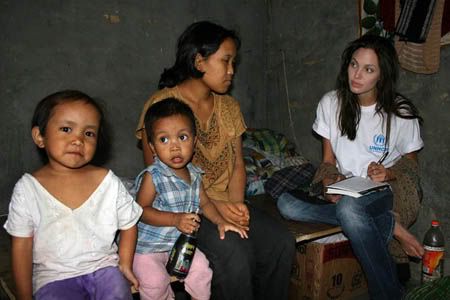 Madonna says she could have gone all-out for charity like her nemesis, the younger, prettier more fertile Angelina Jolie, but instead she decided to just go to an impoverished nation for a couple of weeks, set up orphanage fronts for her cult religion and go home with a baby with a family. That way, she could maximize her publicity potential instead of wasting all that time like Angelina does:
In the interview [in Time] on newsstands Monday, the reporter asked Madonna about the perception that she's "jumping on a bandwagon" by adopting an African orphan. The singer replied, "Look, I could have joined the U.N. and become an ambassador and visited various countries and just kind of showed up and smiled and looked concerned. But that's not getting to the root of the problem – and by the way, neither is building orphan care centers and giving people food and medicine."

Hmmm…which U.N. ambassador who is famous for visiting various countries and building orphan centres could Madge possibly be referring to? As if we needed further proof that she was setting her sights on Jolie, Madonna added, "I'm not interested in going in there like a dilettante and being an idiot and going 'Ok, I'm going to build 10 orphanages and I'll see you guys later!'"

Me-ow! We sense a 'my orphan is cuter than your orphan' battle in the near future.
Madonna said on Oprah that she hadn't even met Angelina when she was questioned about whether she was following Angelina's adoption lead.
Angelina is currently visiting refugees in India and speaking with government officials instead of doing the exhaustive talk show circuit, which is like so more charitable, right Madonna? On Saturday Angelina visited refugee camps in Dehli and on Sunday she met with the Indian Minister of State for External Affairs Anand Sharma in Hyderabad. Brad Pitt is currently in Los Angeles for the premiere of "Babel."
Thanks to DListed for the Madonna story and some pictures and Mollygood for the high res versions of Angelina at the refugee camp.