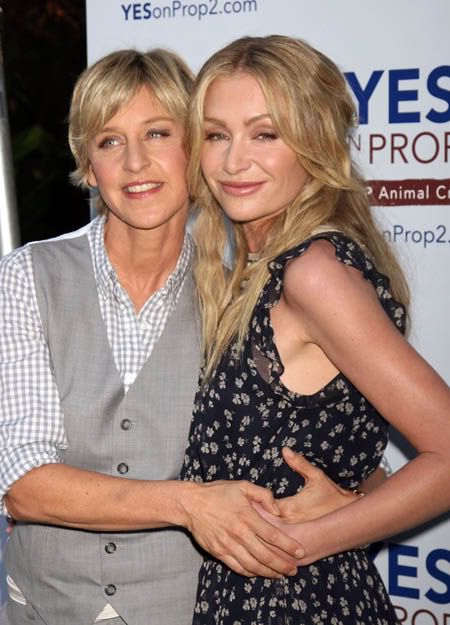 Amid all the joy and history being made last night with the election of Barack Obama, there are still signs that not all American citizens are regarded as equal. In California, proposition 8 passed by a narrow margin, reversing the state Supreme Court's decision to uphold the rights of same-sex couples. At press time, the proposition was passed, 52% to 48%.
A measure to once again ban gay marriage in California led Tuesday, throwing into doubt the unions of an estimated 18,000 same-sex couples who wed during the last 4 1/2 months.

As the measure, the most divisive and emotionally fraught on the state ballot this year, took a lead in early returns, supporters gathered at a hotel ballroom in Sacramento and cheered.

We caused Californians to rethink this issue," Proposition 8 strategist Jeff Flint said.

Early in the campaign, he noted, polls showed the measure trailing by 17 points.

"I think the voters were thinking, well, if it makes them happy, why shouldn't we let gay couples get married. And I think we made them realize that there are broader implications to society and particularly the children when you make that fundamental change that's at the core of how society is organized, which is marriage," he said.
They must be so proud – these bigots openly cheering their decision to legislate hate. How nice for them. Meanwhile, in San Francisco, hundreds of gay couples were in a much more somber mood, wondering where this leaves their unions.
You decided to live your life out loud. You fell in love and you said 'I do.' Tonight, we await a verdict," San Francisco Mayor Gavin Newsom said, speaking to a roaring crowd. "I'm crossing my fingers."

Elsewhere in the country, two other gay marriage bans, in Florida and Arizona, were well ahead. In both states, laws already defined marriage as a heterosexual institution. But backers pushed to amend the state constitutions, saying that doing so would protect the institution from legal challenges.

Proposition 8 was the most expensive proposition on any ballot in the nation this year, with more than $74 million spent by both sides.

The measure's most fervent proponents believed that nothing less than the future of traditional families was at stake, while opponents believed that they were fighting for the fundamental right of gay people to be treated equally under the law.

"This has been a moral battle," said Ellen Smedley, 34, a member of the Mormon Church and a mother of five who worked on the campaign. "We aren't trying to change anything that homosexual couples believe or want — it doesn't change anything that they're allowed to do already. It's defining marriage. . . . Marriage is a man and a woman establishing a family unit."
I'm so glad we have people like Ellen Smedley legislating our morals for us. Aren't you? I mean, sure, we have two wars going on, a financial crisis and people losing their homes – but the REAL evil in this country is gay people who want to get married. If we can just get them under control everything will be fine. Right?
Newlyweds George Takei and Brad Altman are shown last night celebrating Barack Obama's victory. At that point the results of the proposition 8 vote were not yet known. Ellen DeGeneres and Poria de Rossi are shown at a 'Yes! on Prop 2 Campaign' to stop Animal Cruelty on 9/28/08. Credit: WENN