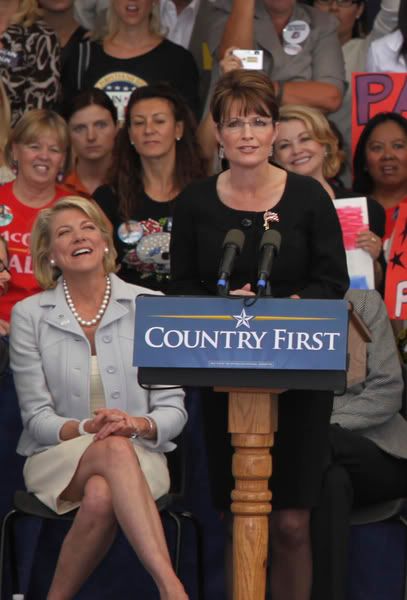 Newsweek has some pretty juicy insider gossip in the gratefully now over contentious US Presidential election. The Huffington Post and US Weekly focus on Sarah Palin's indiscretions, and they're pretty damning. There are some minor tidbits on the Democrat's side too.
Newsweek claims Palin was like a kid in a candy store when the GOP started buying her clothing. She supposedly spent way more than just the $150,000 that was reported earlier, and even had her staffers buying stuff for her and her family on their credit cards. They also describe an incident in which she supposedly greeted male staffers while wearing just a towel after she had stepped out of the shower. It sounds seductive to hear it that way, but it could have been an innocent mistake in which she had to walk from the bathroom to another room and they just happened to be in the middle. McCain is described as a much more sympathetic figure who tried to tone down the attacks on Obama, only to be overridden by Palin. Do you think the GOP is trying to get the word out about her now that the election is over? They have to blame someone.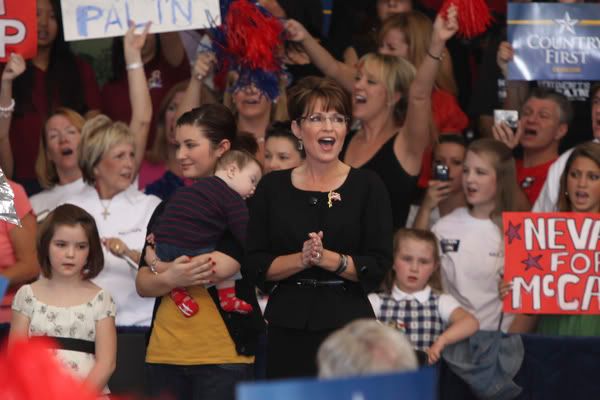 On Palin's shopping spree – she went overboard and party officials kept it from McCain
NEWSWEEK has also learned that Palin's shopping spree at high-end department stores was more extensive than previously reported. While publicly supporting Palin, McCain's top advisers privately fumed at what they regarded as her outrageous profligacy. One senior aide said that Nicolle Wallace had told Palin to buy three suits for the convention and hire a stylist. But instead, the vice presidential nominee began buying for herself and her family—clothes and accessories from top stores such as Saks Fifth Avenue and Neiman Marcus. According to two knowledgeable sources, a vast majority of the clothes were bought by a wealthy donor, who was shocked when he got the bill. Palin also used low-level staffers to buy some of the clothes on their credit cards. The McCain campaign found out last week when the aides sought reimbursement. One aide estimated that she spent "tens of thousands" more than the reported $150,000, and that $20,000 to $40,000 went to buy clothes for her husband. Some articles of clothing have apparently been lost. An angry aide characterized the shopping spree as "Wasilla hillbillies looting Neiman Marcus from coast to coast," and said the truth will eventually come out when the Republican Party audits its books.

A Palin aide said: "Governor Palin was not directing staffers to put anything on their personal credit cards, and anything that staffers put on their credit cards has been reimbursed, like an expense. Nasty and false accusations following a defeat say more about the person who made them than they do about Governor Palin."

McCain himself rarely spoke to Palin during the campaign, and aides kept him in the dark about the details of her spending on clothes because they were sure he would be offended. Palin asked to speak along with McCain at his Arizona concession speech Tuesday night, but campaign strategist Steve Schmidt vetoed the request.
[From Newsweek via Huffington Post]
This isn't surprising and Palin and McCain seemed to have little or no camaraderie when they were interviewed together. Maybe he was annoyed with how she took advantage of the situation at that point and was blaming her for the failures in their campaign. She was generally considered a liability in the later stages, and was said to be ignoring direction and going off topic while talking to the press.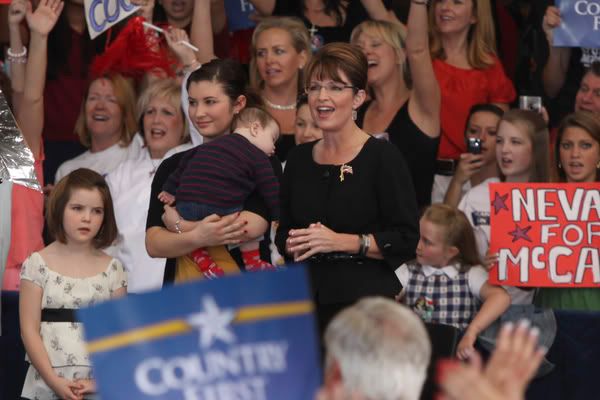 On Palin greeting male staffers while wearing only a towel
At the GOP convention in St. Paul, Palin was completely unfazed by the boys' club fraternity she had just joined. One night, Steve Schmidt and Mark Salter went to her hotel room to brief her. After a minute, Palin sailed into the room wearing nothing but a towel, with another on her wet hair. She told them to chat with her laconic husband, Todd. "I'll be just a minute," she said.
Palin's attack on Obama associating with a "domestic terrorist" was her own idea and was not signed off on
Palin launched her attack on Obama's association with William Ayers, the former Weather Underground bomber, before the campaign had finalized a plan to raise the issue. McCain's advisers were working on a strategy that they hoped to unveil the following week, but McCain had not signed off on it, and top adviser Mark Salter was resisting.
McCain and his aids stepped back from some of harsher attacks on Obama
McCain also was reluctant to use Obama's incendiary pastor, the Rev. Jeremiah Wright, as a campaign issue. The Republican had set firm boundaries: no Jeremiah Wright; no attacking Michelle Obama; no attacking Obama for not serving in the military. McCain balked at an ad using images of children that suggested that Obama might not protect them from terrorism. Schmidt vetoed ads suggesting that Obama was soft on crime (no Willie Hortons). And before word even got to McCain, Schmidt and Salter scuttled a "celebrity" ad of Obama dancing with talk-show host Ellen DeGeneres (the sight of a black man dancing with a lesbian was deemed too provocative).
[From Newsweek]
The gossip on the other side is not as incriminating, but it's still pretty interesting. Newsweek's reporters on the campaign trail must have dug up a lot of insider information. They have details about Hillary Clinton chatting with McCain after she dropped out of the race, and about Obama getting annoyed by the questions posed to him in the debates.
There are many more highlights on Newsweek's website, and the segment online is just part of a larger article that will come out in the magazine. I'm interested to read it, because the part they've leaked is full of gossipy details.
More details of Palin's bad behavior are leaking from other reporters. Fox News' political correspondent told Bill O'Reilly on air that Palin was really mean to her staff, refused to prepare for interviews, and didn't even know that Africa was a continent:
However, perhaps one of the most astounding and previously unknown tidbits about Sarah Palin has to do with her already dubious grasp of geography. According to Fox News Chief Political Correspondent Carl Cameron, there was great concern within the McCain campaign that Palin lacked "a degree of knowledgeability necessary to be a running mate, a vice president, a heartbeat away from the presidency," in part because she didn't know which countries were in NAFTA, and she "didn't understand that Africa was a continent, rather than a series, a country just in itself."

Palin was apparently a nightmare for her campaign staff to deal with. She refused preparation help for her interview with Katie Couric and then blamed her staff, specifically Nicole Wallace, when the interview was panned as a disaster. After the Couric interview, Fox News reported, Palin turned nasty with her staff and began to accuse them of mishandling her. Palin would view press clippings of herself in the morning and throw "tantrums" over the negative coverage. There were times when she would be so nasty and angry that her staff was reduced to tears.
[From The Huffington Post]
That's ripe coming from a woman who attacked Obama for being well educated. You have to wonder what's next for Palin. She'll be going back to Alaska to go be governor for two more years, but she probably has designs on some sort of Washington career. Now that the Democrats have a solid majority and the Republicans know how hard she is to work with it seems like her options are much more limited.
Sarah Palin is shown at a rally on 10/21/08 in Henderson, NV. Credit: PRPhotos