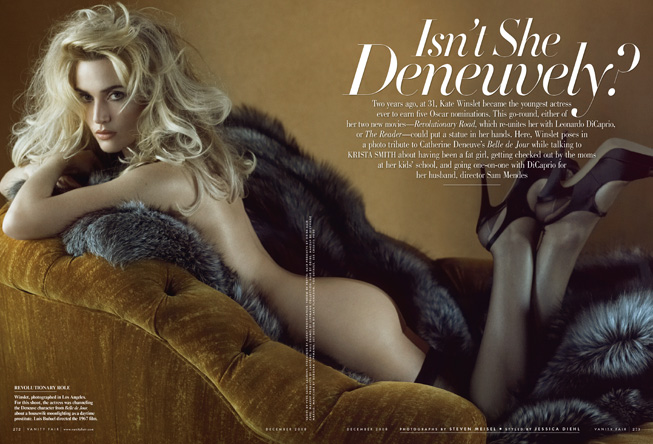 Kate Winslet is absolutely livid that anyone would think she's been airbrushed for her Vanity Fair photo shoot. And while Winslet isn't known for making a stink about things unnecessarily, the problem is that the cover doesn't look much like her. She's a very beautiful woman, partly because she doesn't look like everyone else. And on the VF cover she looks like a slightly taller Olsen twin/Nicole Richie hybrid. Only more elegant, and vaguely Kate Winslet-looking.
Just a day after Kate Winslet revealed in a Vanity Fair interview that she still feels like the "fat kid," critics in her home country are lining up to claim she still is. But the svelte five-time-Oscar-nominee isn't having it: "Kate is furious at suggestions that her body has been airbrushed," her rep tells PEOPLE exclusively.

The Sun ponders on its front page whether "that magic airbrush has been at work again" and the Daily Telegraph got a digital retouching expert to analyze the photos. But the closest scrutiny comes from the Daily Mail, which engaged a professional airbrush artist to perform an autopsy on Winslet, who was shot wearing heels, black stockings and nothing else. "She is in terrific shape and what you see is how she looks or she would never have agreed to pose for those shots," adds her rep.

Why the British furor over the 33-year-old mom-of-two? In early 2003 Britain's GQ magazine – a stablemate of Vanity Fair – ran digitally "slimmed" photos of Winslet that drew much criticism. Within days Winslet apologized. "I just didn't want people to think I was a hypocrite and that I'd suddenly lost 30 lbs. or whatever," the youngest ever five-time Oscar nominee said at the time. "So I just came out and said, 'Look, I don't look like that'. I'm not mad at the magazine, but I have no intention of looking like that."

Winslet's rep does admit that minor tweaks were done to the actress for the photoshoot but insists the work was confined to skin shades only. "The only retouching was the usual work on skin tone that happens in every glamour shoot," adds the rep.
[From People]
While Kate does look a bit thinner than I'd expect, I think the biggest reason people are calling "Photoshop!" on her is because she doesn't look quite like herself in the face. Certainly a good (or bad) makeup artist can drastically alter the appearance of a person's face, and professional lighting can make a big difference as well. And the point of a professional shot is that you look a little better than you. However, the subject should still be identifiable. If I didn't know who this was, it would probably take me a minute to settle on Kate Winslet. But that could easily have as much to do with the styling and makeup as anything else; it doesn't inherently scream "fake!"
In terms of Kate's weight and the shape of her body, there is a careful draping of coats and use of shadow. Considering all the controversy that happened with her G.Q. photos, I seriously doubt she would allow herself to have her weight digitally altered again.