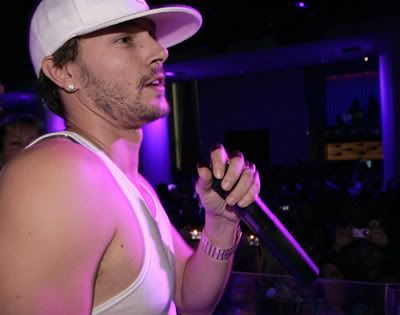 TMZ reported that Britney Spears planned to attend the listening party for her husband Kevin Federline's excuse for a rap album at Pure nightclub in Las Vegas this past Friday.
It promises be the musical event of the year, in a way. Kevin Federline is hosting a listening party this Friday at posh Las Vegas nightclub Pure. Inevitably a large contingent of K-Fed's scruffy hangers-on and his C-list music producers will be in attendance.
But in an interesting turn of supportive wifeliness, Britney Spears is planning to attend and has even gone so far as to put 11 of her own friends on the guest lists for the party, sources say.
The pictures have come out from the event, and Britney is nowhere to be found. Is she fed up with K-Fed? We reported on Saturday that she was said to be enraged with Kevin when seven month-old Sean Preston fell off the couch when Kevin was supposed to be watching him. Sources say this may have been the fall that fractured the baby's skull, not the incident with the highchair.
Britney may have stayed away because Kevin asked her to. The couple was said to be fighting over the fact that Britney gets all the attention at events promoting Kevin. The last time they made a public appearance together was at a belated birthay party for Kevin on March 25th.
Britney is also said to feel threatened by reports that her ex-bodyguards plan to dish the dirt on her, which could include allegations of drug use and details of her sloppy lifestyle.
Here is K-Fed looking like a royal ass at his show on Friday. [via]
Update: Britney may have been pissed that Kevin asked Paris Hilton to come to the party. Paris didn't attend, and sent her parents instead. Another report has Britney and Kevin arguing in Vegas before the gig, with Britney crying before she went back to their suite.