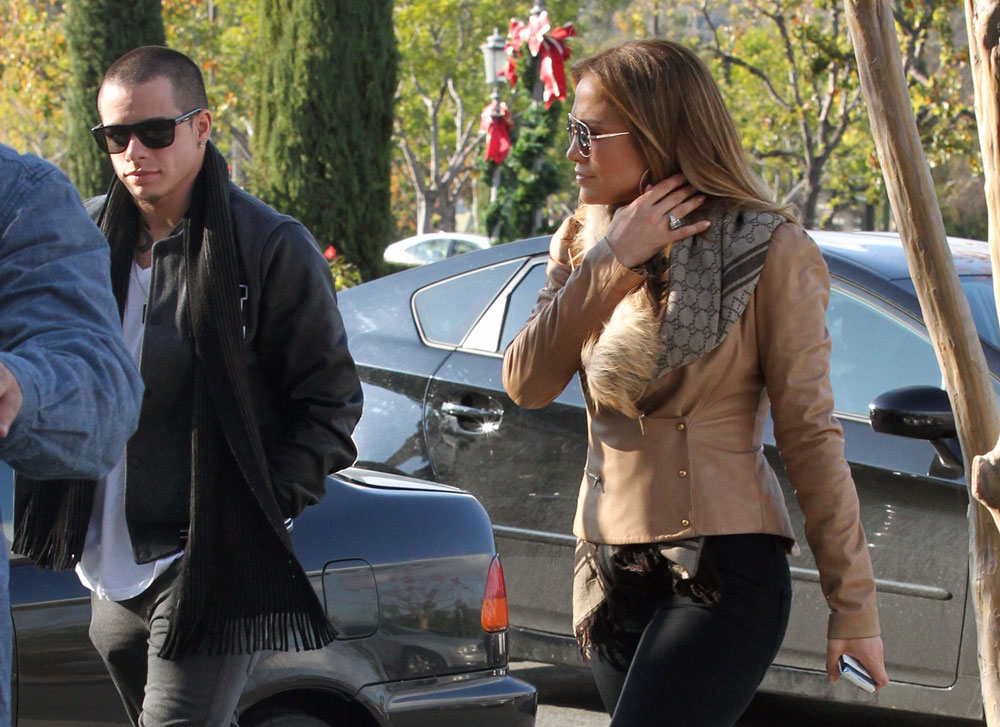 If it wasn't enough to be paying her 18 year younger boyfriend a stipend of $10k a week just to hang around, Jennifer Lopez managed to land him some kind of vague job working on the American Idol set. I guess this is meant to keep him busy while she's doing her job critiquing singers, and it's not a bad idea. Her ex husband used to hang around during the performance episodes and tell her what to say during the commercial breaks. If you look at the dynamics of her last relationship, her new one makes a lot of perverse sense. She's in charge now. Here's more:
Jennifer has petitioned the show's producers to find a job for her young lover. "Casper has some title but no one knows what he's supposed to be doing," an insider tells In Touch. Jennifer, 42, is so intent on keeping him close she's even hired her attorneys to clear him of charges stemming from recklessly drag-racing a friend down an LA freeway last winter. Dishes the insider, "She doesn't mind paying thousands of dollars if it means he'll stick around."
[From In Touch, print edition, January 30, 2012]
Meanwhile Star is claiming that Lopez is so enamored with her "man" that she wants to have a baby with him. I'm really hoping this is in no way true, but here goes:
Jennifer Lopez is so smitten with her new love, Casper Smart, they are already talking babies, Star has learned! "She's seen how great Casper is with her twins, Max and Emme, and she knows he'd be a terrific father if they had a baby of their own to add to the family," a source tells Star. "She and Casper are so madly in love…

"Marc is fuming about her relationship with Casper and how serious it's getting so fast. Tensions between Marc and J.Lo are worse than ever." But Jennifer is determined to build a family with Casper – and is even currently shopping for a new multimillion-dollar apartment in Manhatten to serve as their primary residence. "She's living with Casper now in L.A. but looking to buy a place in New York City with plenty of room," says the source.
[From Star Magazine, print edition, January 30, 2012]
Again, I'm hoping it's a made up story and that J.Lo isn't about to have kids again, but I wouldn't be surprised. This woman moves on lightning fast and she's been married four times. She's probably thinks that babies are just the way to seal the deal with baby doucheface. Plus she doesn't have a lot of time left if she wants more.
Did you see the deep thoughts that Casper tweeted, which J.Lo retweeted? True love, I'm telling you. He wrote in three tweets: "Age, status, n opinions of others are irrelevant. Our hearts are endless and our souls infinite.. Our ages are mere reminders of the hours logged on this earth and the precious time remaining. We should all honor our time here by indulging our passion and dreams. So, close your ears and open your hearts; Love and be happy!" Then later he tweeted "Good friend sent it for me and thought it was beautiful and perfect!!!" Does that mean that J.Lo dictated those tweets to him? I bet she dresses him too.
Caper outside of Idol studios in Pasadena. 12-15-12. Credit: Miguel Aguilar/Juan Sharma. Other photos are from 12-18-11. Credit: Fame. The last photo of her below is from September, I just like it because her makeup is so bad. Credit: WENN.com