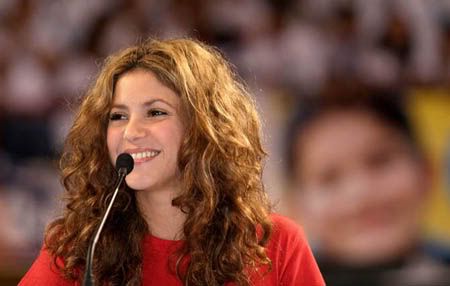 Pop star Shakira and Pink Floyd's Roger Waters have formed a join business venture and bought a 700 acre island in the Bahamas called "Bonds Cay." It reportedly cost $16 million. Shakira and Waters plan to build a luxury resort as well as sell prime seaside property on their new island. Spanish singers Alejandro Sanz and Miguel Bose are said to be building mansions there next year.
Colombian born singer, Shakira, apparently already has a paradise of her own, after buying her own island in the Bahamas. In order to do this, she has formed an association with Roger Waters of Pink Floyd, as well as noting the interest of Spanish singers, Alejandro Sanz and Miguel Bose.

The two stars have created 'Bonds Cay', an island of 700 acres situated north of the Bahamas and 125 miles from Florida. The island, that has five beaches and three bays as well as numerous waterfalls and rocky areas, was acquired by the association for $16 million.

Both Shakira and Waters have stated that they are intent on building a luxury hotel on the island, as well as a number of other residences with private beaches. Both Spanish singers have acquired land on the new island, and are expected to build mansions there next year.
Shakira is doing well professionally. She took home four awards at the Latin Grammys last week, including album of the year, best song, and best record. She will begin shooting a movie with Rodrigo Santoro from "Lost" next year in Romania, called "Dare to Love me."
Shakira is also no slouch in the charity department, and has been a UNICEF goodwill ambassador since 2003. Here she is speaking at a UNICEF event in San Salvador on Sunday. [via]