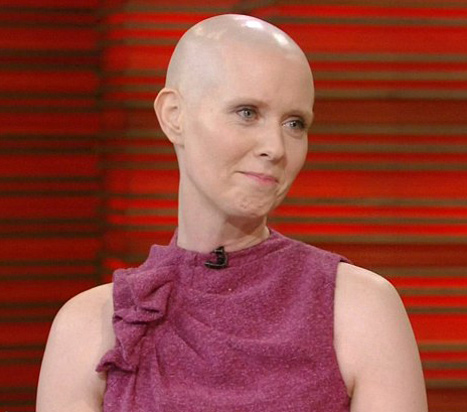 Yesterday there was a lot of debate over comments that Cynthia Nixon made to the NY Times in which she asserted that it was her "choice" to be gay. Many gay people find those remarks potentially damaging to the gay community, as they can be misused to make the claim that all gay people "chose" to be with same sex partners. Well Cynthia did make the distinction that her comments only applied to her situation, and I thought she made a good case. She said, in part, "they said [the remarks in a speech I made imply] that homosexuality can be a choice. And for me, it is a choice. I understand that for many people it's not, but for me it's a choice, and you don't get to define my gayness for me." Fair enough, but a lot of people wonder why Cynthia doesn't self identify as bisexual if she feels that it's her "choice" to be with a woman instead of a man. In an interview with The Daily Beast, Cynthia kind-of explains that.
You've been quoted as saying about these two relationships in your life: "In terms of sexual orientation, I don't really feel I've changed … I've been with men all my life and I'd never fallen in love with a woman. But when I did, it didn't seem so strange. I'm just a woman in love with another woman." I'm a bit confused. Were you a lesbian in a heterosexual relationship? Or are you now a heterosexual in a lesbian relationship? That quote seemed like you were fudging a bit.
It's so not fudging. It's so not. I think for gay people who feel 100 percent gay, it doesn't make any sense. And for straight people who feel 100 percent straight, it doesn't make any sense. I don't pull out the "bisexual" word because nobody likes the bisexuals. Everybody likes to dump on the bisexuals.
But it is the "B" in LGBT.

CN: I know. But we get no respect

You just said "we," so you must self-identify as one.
I just don't like to pull out that word. But I do completely feel that when I was in relationships with men, I was in love and in lust with those men. And then I met Christine and I fell in love and lust with her. I am completely the same person and I was not walking around in some kind of fog. I just responded to the people in front of me the way I truly felt…

Look, I understand for political reasons why some people want to kind of squelch this idea that being gay might be a choice, because a lot of the rights we want are posited on the supposition that why are you denying me my rights any more than if I were created a different color? But I don't feel the need to cede the definition of what a gay person is to the bigots. They don't get to define who I am.
[From The Daily Beast]
I like that she's asserting that she can call herself gay if she wants, and that no one else can tell her who she is. I also get how this can really piss off gay people, because it can be a hard fight for some people to be accepted for how they know they were born. It seems sad that being bisexual is still a dirty word today, especially for men. I wish there was greater acceptance that our sexuality is on a continuum and that there are people in the middle. It was refreshing when Anna Paquin came out as bisexual, because it was just so rare to hear.
Cynthia is also bald as a badger (I've never heard that phrase before, but google suggested it and I thought it was cute.) She's starring as a cancer victim in the play Wit. Instead of just wearing a skull cap, Cynthia really did shave off all her hair. She told The Daily Beast that she doesn't like her new look. "I think I look like Ralph Fiennes as Lord Voldemort. Or maybe Nosferatu." Cynthia is a breast cancer survivor after being diagnosed with early stage cancer almost five years ago. She seems to have beaten it with a lumpectomy and she still takes Tamoxifen.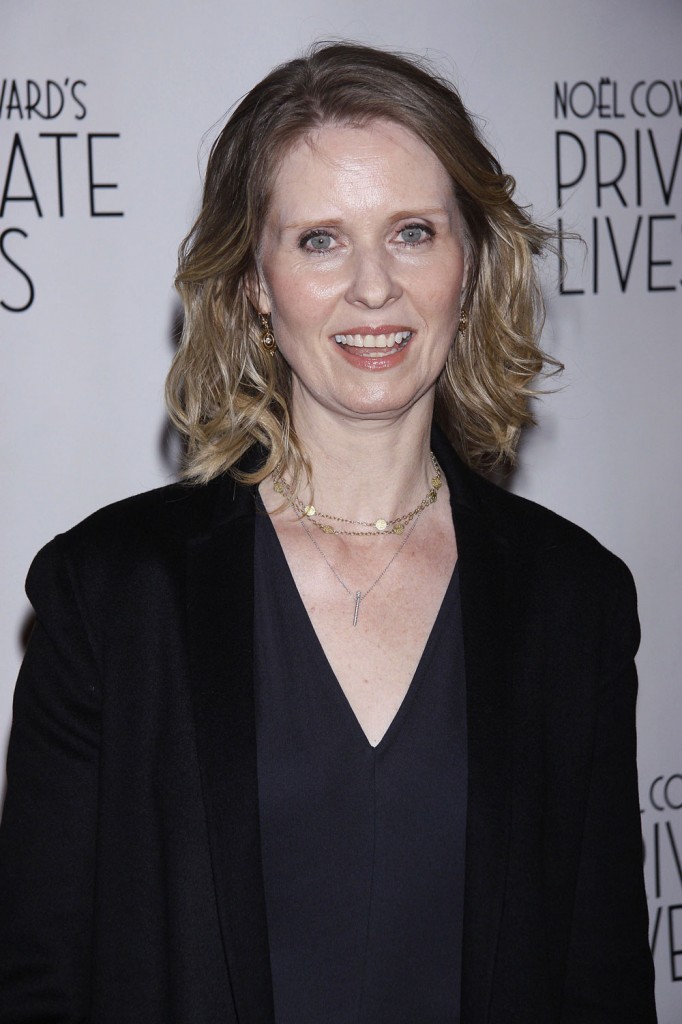 Photo from ABC via OMG!. She is shown with hair on 12-13-11 credit: WENN.com