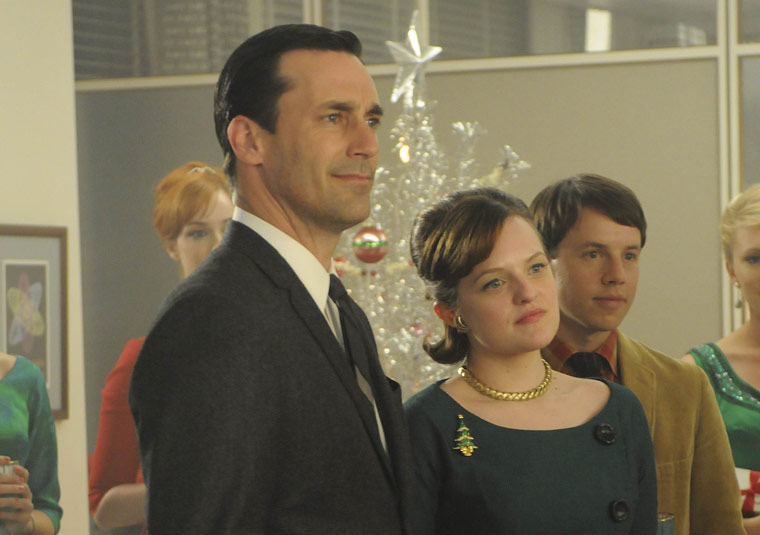 Oddly enough, I resisted jumping into the "Mad Men" cult for years. Yet over the past several months, I've quickly caught up on all four seasons (thanks to the magic of Netflix Instant Watch) of the show and am pining for the next season to commence, post haste. Unfortunately, there's still a bit of a wait left since the Season Five doesn't begin anew until March 25. However, Jon Hamm is already on the publicity trail; as such, he has already spoken with TV Fanatic about Don Draper's new engagement. If you'll recall from the Season Four finale, Don became engaged to his (latest) secretary, Megan, during the season finale. Obviously, Don didn't really mean to get engaged. He just sort of fell into it; that is, he had the ring in hand already (thanks to a convenient bequest from his confidant, Anna Draper) and thought — what the hell — this chick gets along with my kids. Let's get engaged. And she said "yes."
Like most "Mad Men" fans, I have issues with the hasty engagement, but I sort of want Don and Megan to get married … if only for the crazy-teeth babies that will inevitably be produced. Still, I can admit that Don's prospective second marriage is a very bad idea becase — let's face it — he makes for a very bad husband. Hamm seems to intuitively sense that his character is an adultering, drunken mess who has no business with marriage, yet he is at the mercy of the show's writers. So Hamm has opined on several topics, including Elizabeth Moss' Peggy Olsen character, who will apparently feature significantly in the Season Five premiere entitled "A Little Kiss." If Don and Peggy kiss, I will officially lose it. She's too good for him, right?
On Don Draper's Vices: "I think he has a dangerous relationship with alcohol that a lot of creative people have. And fill in the blank with either alcohol or whatever. It's a depressant, yet it uninhibits you creatively. It's a fine line and Don has crossed it many times… [but] Don recognized that and seems to have backed away from the edge a bit."

On Draper's Thing With Chicks: Draper, of course, also loves women. In the season four finale, we were left with the indelible image of Don in bed with his brand new twenty-something fiancé, Megan. She's sleeping on his chest and he turns and stares out the window thoughtfully. When prodded about just what Draper may have been pondering at that moment, Hamm slyly avoided the question. "Yes, he was in fact thinking of something," the actor admitted.

On Why Don Succeeds At Work But Fails In His Personal Life: "Don makes his money and his livelihood on being creatively ahead of the curve, and finding out what makes people tick. And what happens when you get older? And there's another generation of people coming up right behind you who are out-moving you and out-thinking you? What happens to a creative person? Don is getting older. It's not The Simpsons where everyone stays the same age 20 years in. People age and we try and depict that realistically."

On Peggy and Don: "I think in the world of the show we see the office through Peggy's eyes. She's the new girl and we see her from her very first day… And we've watched through over 50 episodes of television her grow and become more confident and we've watched Don alternately shout at her and correct her and not be very nice to her but also be profoundly nice to her. I think Peggy is very important to Don. And I think you saw at the end of season three, when the firm blows up and they have to start all over again, he says 'If you leave, I'll spend the rest of my life trying to hire you back.' And I think that sums up the relationship that Don and Peggy have."

On Peggy's Opinion Affecting Don's Nuptuals: "We'll see. Certainly something [is] explored in season five. We don't really know. And I'll be as honest as I can, but Peggy and Don are very close. And Peggy has opinions and Don has opinions."
[From TV Fanatic]
Hopefully, Don and Peggy will remain just friends as they always have been. Both of them have bailed each other out of their respective messes — Don helped Peggy through her pregnancy-related issues during Season One, and Peggy later bailed Don out of jail when he was arrested for a DUI. For the love of all that is decent, please do not let the "Mad Men" writers ever let Peggy become merely one of Don's conquests. That would be so wrong in so many ways.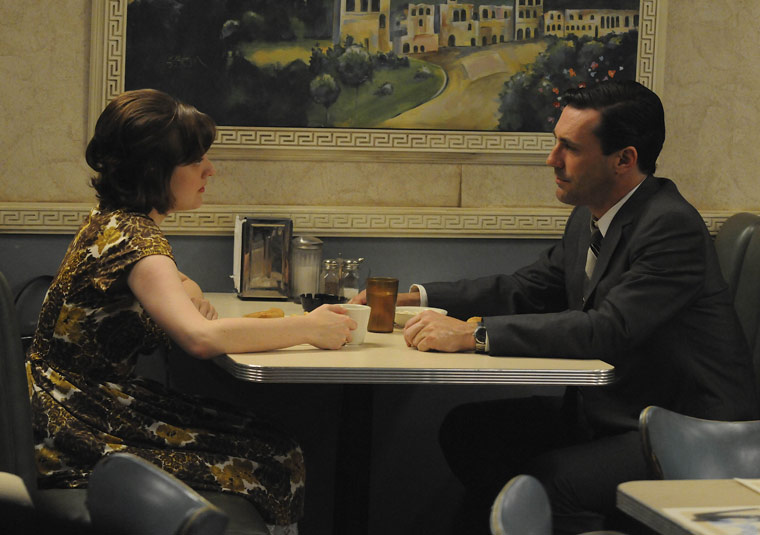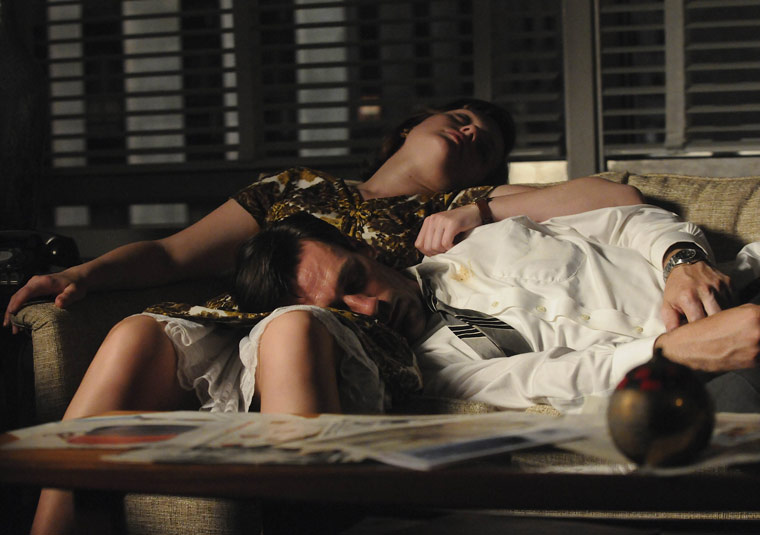 Also, wasn't Peggy dating that counterculture filmmaker (who was ambiguously hot) at the end of Season 4?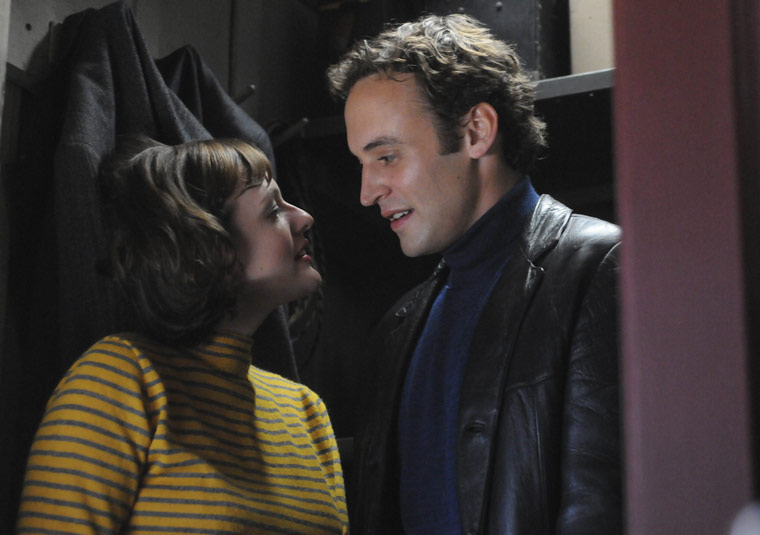 And more importantly, Don is still engaged to Megan and should stay eternally in that state. He probably makes a great boyfriend but has no business being a husband.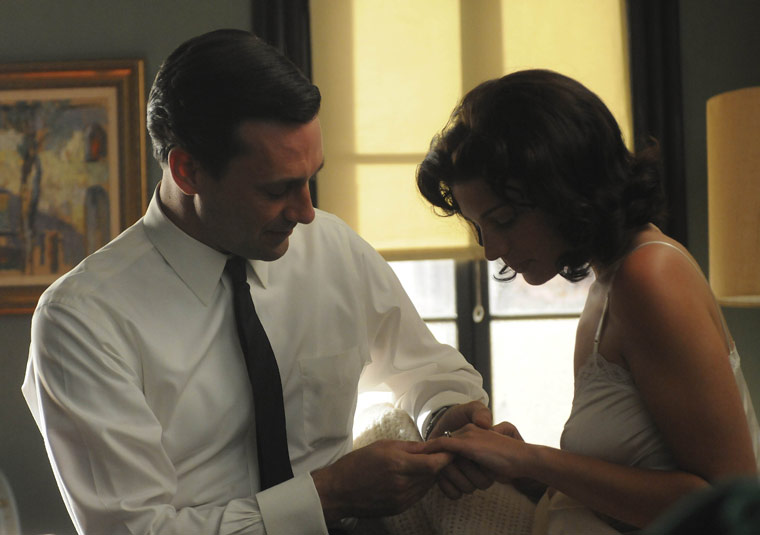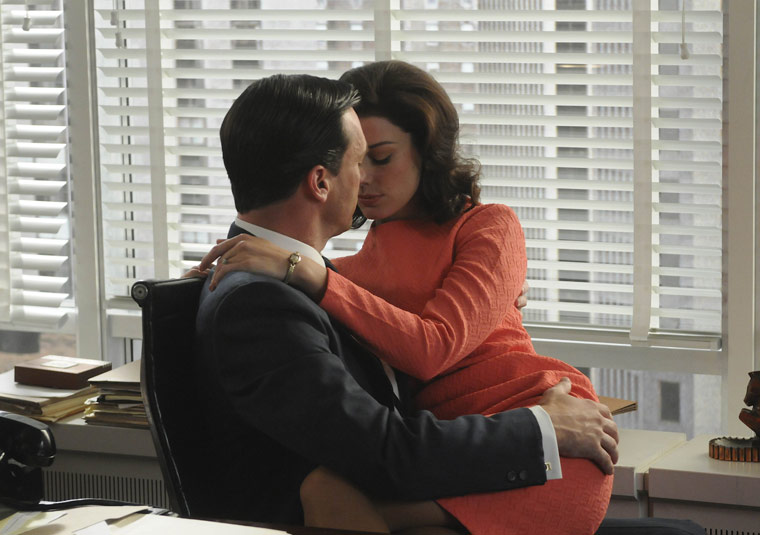 Photos courtesy of AMC TV and WENN