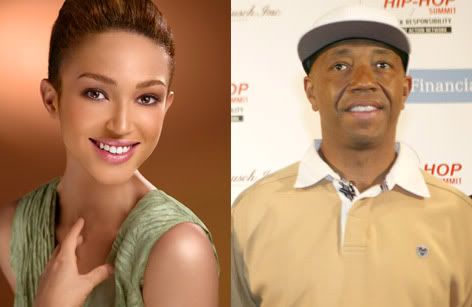 48 year-old Simmons, the founder of Def Jam records and owner of Phat Farm clothing, met his soon-to-be ex-wife Kimora when she was 17 and he was 35. They have two daughers, Ming Lee, 6, and and Aoki Lee Kyoko, 3 and a half.
Russell Simmons' relationship with 23 year-old model Denise Vasi is said to have hastened the end of his marriage. Russell and Kimora remain on friendly terms for the sake of their businesses, and Russell has publically encouraged Kimora to have an affair too.
Simmons apparently wasn't satisfied doing yoga with his lovely new girlfriend, because The NY Post reports that he was all over 20 22 year-old "America's Top Model" winner Naima Mora:
After conspicuously making the rounds a couple of nights with 23-year-old model Denise Vasi, Simmons was on the prowl Thursday night. The hip-hop mogul and estranged husband of Kimora Lee Simmons showed up early and alone to the Complex magazine fourth-anniversary party at the Classic Car Club on Hudson and Broome, and he was looking for love. Spies say he quickly settled on "America's Next Top Model" winner Naima Mora , and the two spent the rest of the evening huddled in a corner.
Simmons may have a penchant for young models, but does shows a sense of personal responsibility in his dealings with the public. He ran a hip-hop summit yesterday to try to teach financial matters to young people:
The headliners include Alicia Keys, T.I., Nas, LL Cool J and Fabolous. But money – not music – will take center stage today as rap mogul Russell Simmons brings his Hip Hop Summit on Financial Empowerment to New York for the first time.
Some 2,200 people are expected to fill the Hammerstein Ballroom on West 34th Street starting at 1:30 p.m. to learn about saving, budgeting, credit cards, FICO scores and home and car ownership.
It's all part of Simmons' nationwide drive to harness the power of hip hop culture to teach money to young people.
While financial experts will be on hand to dole out hard-nosed information, Simmons is looking to his star presenters to rouse the crowd with their own rags to riches stories.
The Summit also touted a new pre-paid Visa card while expousing the dangers of personal credit.
Here are some pictures of Mora, the winner on season 4. There are also pictures of Russell Simmons at the First Hip Hop Summit on Financial Empowerment yesterday. Other attendees include Jinx, Nas, and LL Cool J.