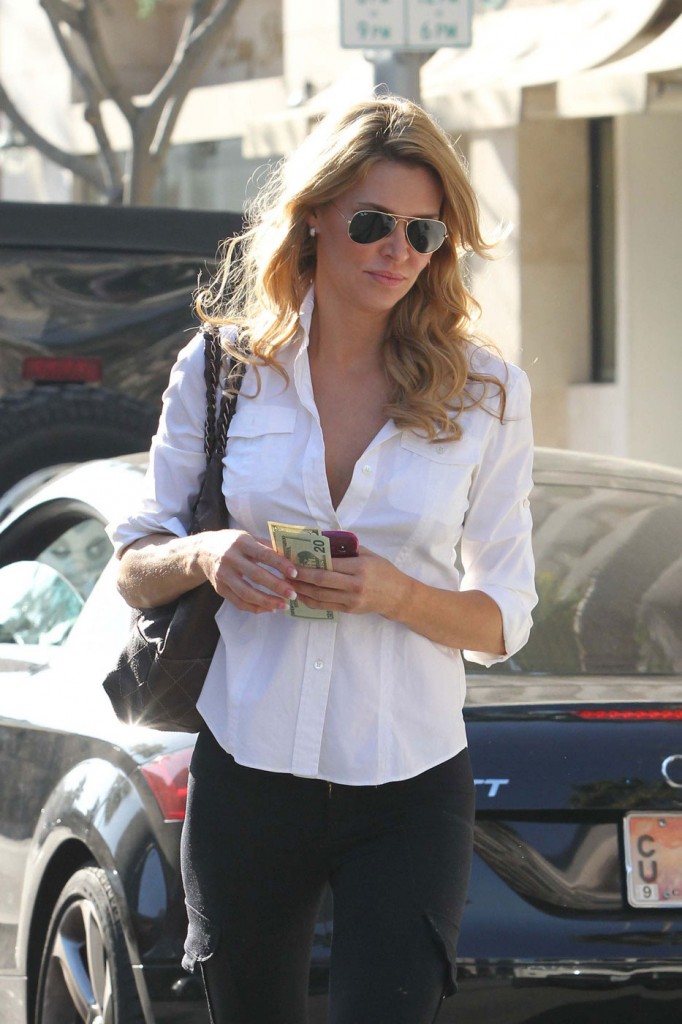 "Real Housewives of Beverly Hills'" Taylor Armstrong is all over the place promoting her memoir, which details the physical and emotional abuse she suffered at the hands of her late husband Russell, who committed suicide last August. I haven't really wanted to cover that story as we've heard a lot of the details already and it's just sad and scary to imagine. Plus I don't like Taylor at all. I hate that she was a victim and I'm glad that she's no longer subjected to that, but it's hard to see her practically selling the story. That's pretty much what Brandi Glanville told Taylor on last night's Real Housewives of Beverly Hills reunion show. This was the second of a three-part reunion series in which they scratch up old wounds and create new ones. Just watching the video clip that's online is giving me a headache as I hate drawn-out "he-said" "she-said" fights, which is basically what this whole show is about. Here's Radar's report:
The tension mounted during a segment in which host Andy Cohen asked the ladies questions from viewers. When one wanted to know what Brandi's issue has been with Taylor this season, things got tense in a hurry: Brandi told Taylor she'd run into Russell, who told her it was actually Taylor who made him send an email threatening Camille Grammer with legal action for discussing their marital issues.

Taylor shot back at Brandi, questioning her credibility by pointing out she slit ex-husband Eddie Cibrian's tires.

"I own them too!" Brandi said. "I just took the tires and I put the knife into his motorcycles, and then I told him, 'Don't ride them, you're probably going to get hurt.'"

Brandi then threw a stiff jab, insinuating Taylor's been trying to capitalize off Russell's death.

"When does the book come out anyway? How long has it been?" Brandi said in a snarky tone, before noting it took a "hot minute" for Taylor to begin marketing her memoir.

Kyle Richards repeatedly jumped to Taylor's defense throughout the exchange, reminding Brandi, "Somebody died here!"

Brandi replied, "Yeah, exactly: then let him rest in peace!"

Kyle, calling Brandi "Angry Spice," reminded her she should be considerate of Taylor considering she was left a single mom when Eddie ditched her for LeAnn Rimes.

"She's been through enough this year — be a little sympathetic," Kyle said.

Elsewhere in the episode, Taylor said she found a briefcase found next to Russell's body that contained data on about 10 different bank accounts, a Rio de Janeiro office and flash drives she's reticent to open based on legal worries.

"Um, he had a lot of things going on that I didn't know about," Taylor said.

When Cohen brought up that Russell's business partner killed himself shortly after Russell did, Taylor said she'd have felt better knowing Russell was killed by someone else than so distraught as to take his own life — implying she felt that scenario was feasible.
[From Radar Online]
I love how Brandi was all "yeah, I slit his tires. I warned him ahead of time, whatever." Then she tells Taylor that it's been a "hot minute" since Russell died and Taylor gets all indignant acting as if she's single-handedly solving the issue of domestic violence. It's like Taylor believes taht every victim out there depends on her famewhoring. Look, I agree with Brandi and I like her style. She tells it like it is. I don't think she should have brought up the email that Russell sent her in which he claimed Taylor made him threaten Camille. That's old news, but Brandi knows she's got to bring the drama if she wants to stay on reality television. She's doing her best to hang in there and keep her job. I know that I would hate having co-workers or a job like that, even if I didn't have to see those catty bitches every day. I can't even stand watching them on TV at this point.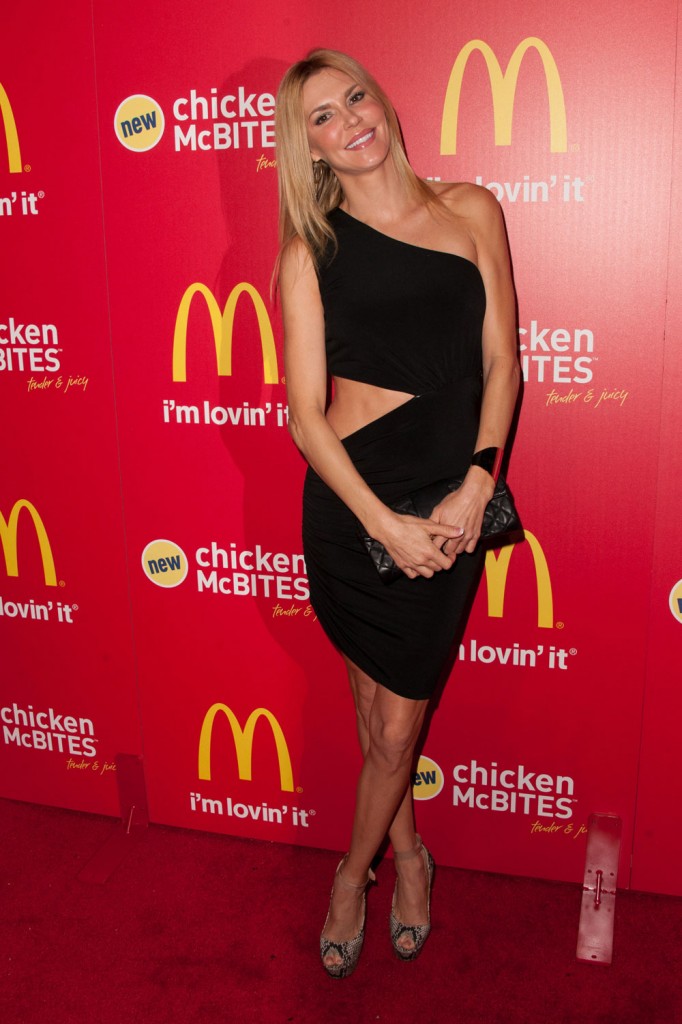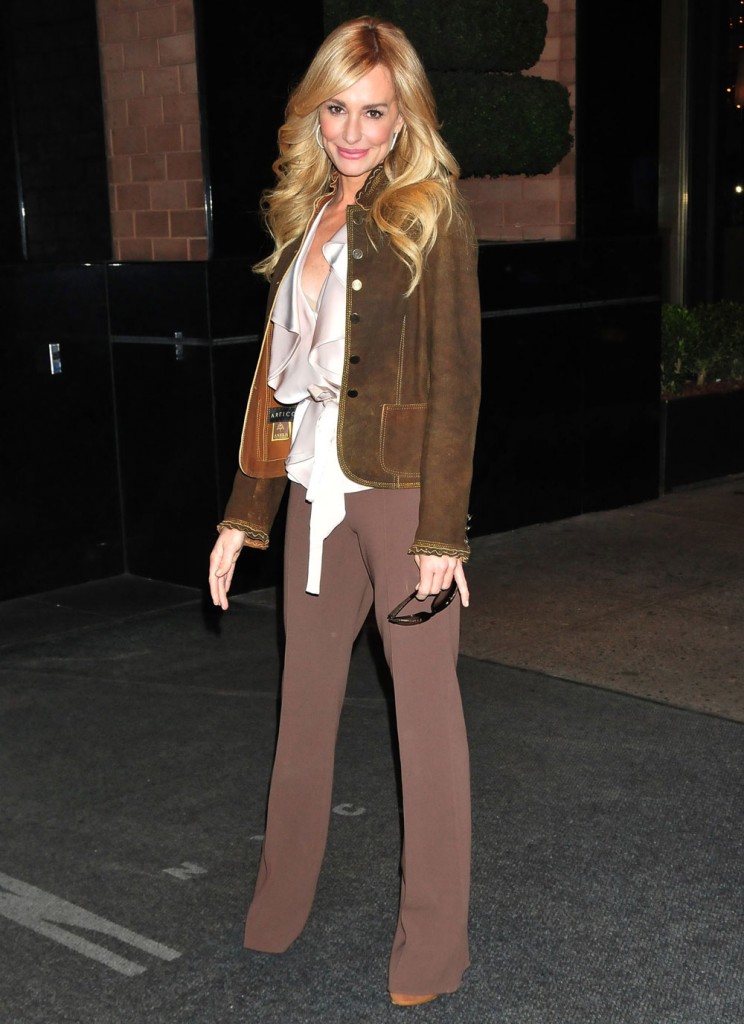 Photo credit: Fame, WENN and Pacific Coast News