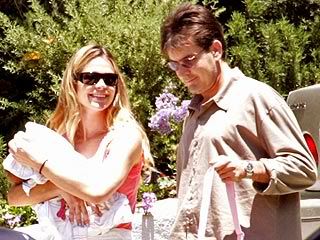 Charlie Sheen is involved in an incredibly stupid business venture: he launched a line of children's clothing this weekend!
People magazine has been granted exclusive coverage of tomorrow's LA launch party for Charlie Sheen's new line of children's clothes, Sheen Kids (seriously). Which means they're obligated to cheerfully give the event space in the magazine, no matter what Sheen's personal drama may be.
Unfortunately for Sheen, the clothing line was in the works from some time, and announced over two months ago. The launch couldn't come at a worse time for him, because the allegations in his wife's divorce deposition are explosive.
The divorce statement from Denise Richards acquired by The Smoking Gun is pretty incredible and well worth the time to read. Richards says that Sheen:
Wanted Richards to abort their first child
Became enraged when he learned that his first baby would be a girl
Accused Richards of poisoning their daughter Sam when she switched from breastfeeding to formula after a month
Also accused Richards of poisoning Sam when she took the baby to get vaccinated
Was addicted to painkillers including Xanax and Ativan
Told Richards to wait while she was experiencing bleeding during her second pregnancy so that he could watch a basketball game.
Conducted bets while Richards was giving birth to their second child, and refused to pick her and the baby up from the hospital
Visited gay and straight porn sites with underage-looking participants.
Looked for sex online and e-mailed at least 30 people pictures of his erect penis.
Pushed Richards while she was holding their baby, and threatened to kill her while his two daughters watched.

It just goes on.

Charlie Sheen and Denise Richards were married in June 2002, and first announced their divorce in March, 2005 when Richards was six months pregnant with their second child. They reconciled in the fall of 2005, but announced that they were divorcing again in March of this year. They have two daughters, Sam, 2, and Lola, 9 months.

It's bad news for Sheen's new clothing line that his divorce details are now public, but it's rather suspect that he's involved in children's clothing if the allegations by his ex-wife are true.

Update: pictures from the Sheen Kids launch party. Charlie Sheen has of course denied Richards' allegations. And Denise Richards is now dating Richie Sambora.