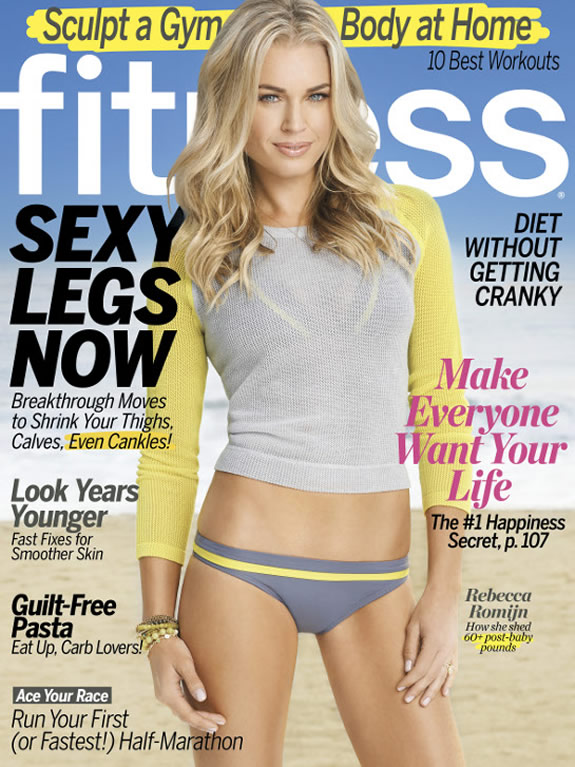 Rebecca Romijn covers the March issue of Fitness magazine to discuss losing the baby weight after giving birth to twin babies (Dolly and Charlie) with husband Jerry O'Connell … in December 2008? That sort of seems like an untimely declaration coming from a celebrity, but okay. We'll go with it because I can appreciate that it took a few years to finally shed all 60 pounds that she gained during pregnancy. Oh wait, Rebecca is currently promoting her role in Tyler Perry's upcoming Good Deeds movie, so I guess that scoring this cover is part of that push. Regardless, Rebecca is looking like her old swimsuit model self in this photoshoot, and here are some interview excerpts:
On Losing 60 Pounds: "Losing that weight was probably the hardest thing I've ever done in my life. I had to change the way I worked out, the way I ate — everything. Everything I did before I got pregnant — like Pilates, which I had done for about 14 years — didn't work anymore. I had to find a completely different way to challenge my body. A friend suggested I try Bikram yoga. At first the idea of doing a 90-minute workout in a 105-degree room sounded like torture. But the sweating is exactly what I became addicted to. My body changed dramatically almost immediately. Within three classes I noticed less belly fat. My knees and legs are stronger than ever now; my arms have definition for the first time in my life; and my posture is much, much better. I also feel completely energized from all of the deep breathing. I leave class relieved of any anxiety I went in with, and the sweating and detoxifying make my skin feel great. I can't recommend it enough."

On Leaving Her Twins: "That's been a huge challenge since I became a mom. Mother's guilt is no joke! I feel it every time I leave them to go exercise. Now that the girls are in preschool, it's easier. I go as soon as I drop them off at school. As a mom it's very important to take care of yourself physically and mentally. You're no good to anyone unless you do. There are days when I rush out to a yoga class just as I'm starting to feel like I might be losing my mind."

On Her Diet: After eating more throughout my pregnancy and while I was nursing for eight months, I forgot how much I was supposed to eat to keep my weight in check. Having a little bit of chocolate after dinner was turning into too much chocolate every night after dinner — or too much wine or too many pancakes. So I went on a major diet about eight months ago. I cut out starch, dairy, fat, red meat, alcohol, and sugar. Just being on a diet was weird for me. I had never been on one in my life, and suddenly I was counting calories and measuring my food. Cutting out sugar was definitely the hardest. The first week I thought I was going to die. The cravings were bad. But after that, it was easy."

On Her Husband: "Every meal with Jerry [O'Connell] includes wine and dessert, which I love. Before we had kids, I gained weight from eating like that. But I was happy and in love, and my clothes still fit. Jerry liked how I looked. He's very much a 'there's more to hold on to' kind of guy."
[From Fitness Magazine]
I think most of us who've dealt with baby weight can sympathize (or at least emphathize) with Rebecca's struggle and also hand it to actresses like Jenna Fischer for "standing in solidarity" with women who aren't a size 2 after giving birth. It's funny how our Western priorities cause women to often consider losing weight to be, like, the hardest thing ever, but most of us feel that way, don't we? By the way, Rebecca looks smashing (albeit highly airbrushed) in this photo spread.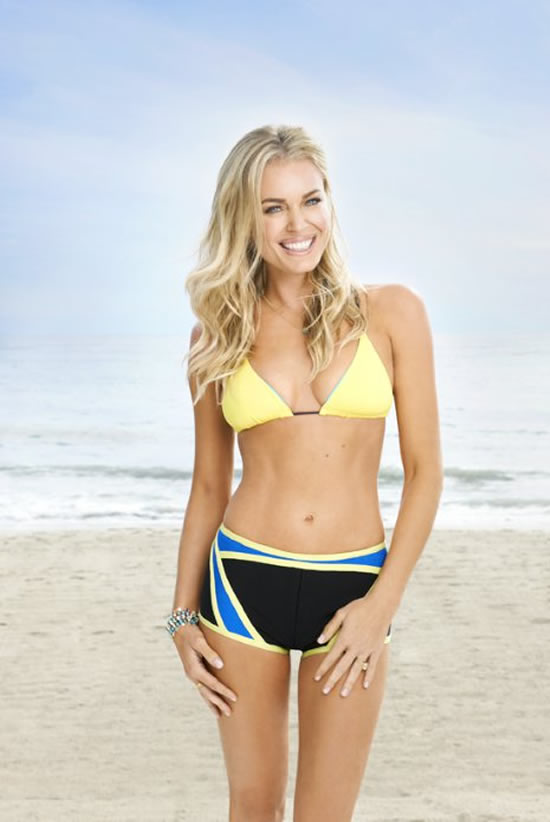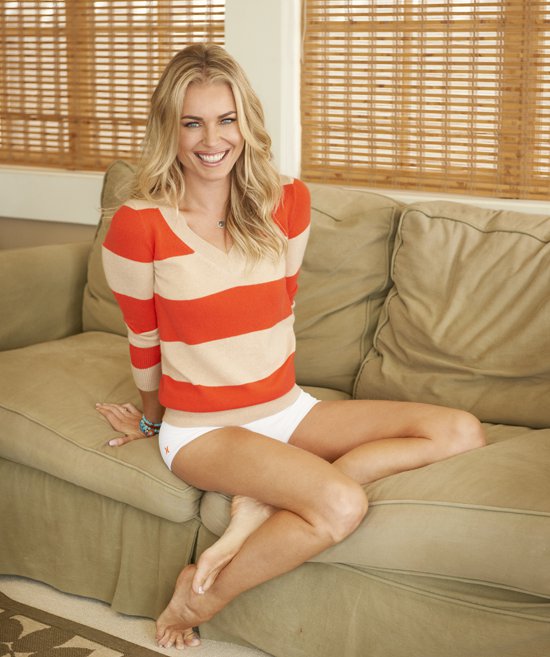 Photos courtesy of Fitness