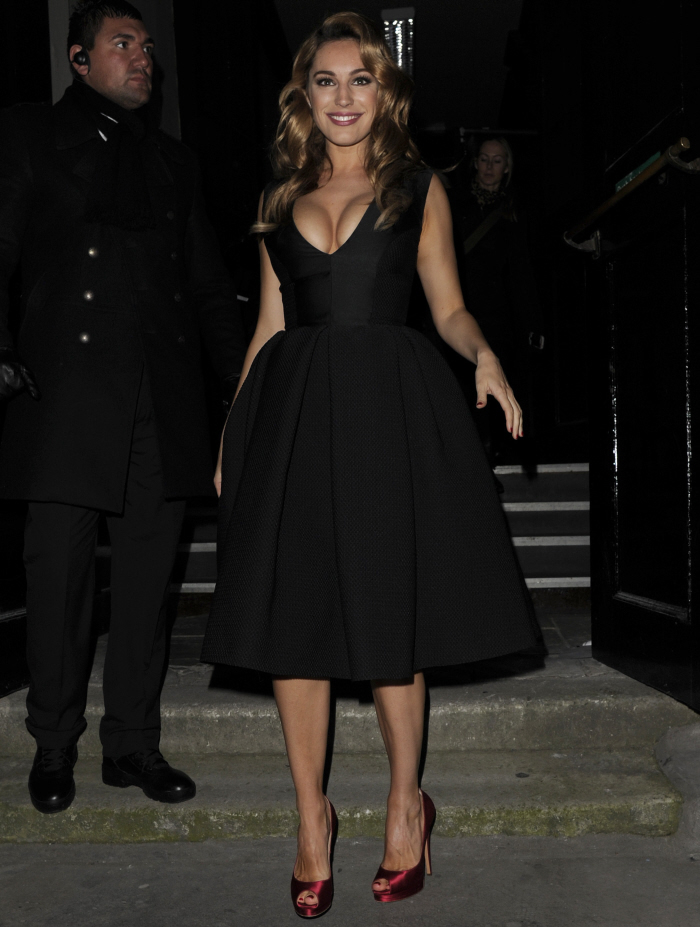 Help me. I've become like all of those dude bloggers who immediately start drooling as soon as they see new photos of Kelly Brook in a low-cut dress. But seriously, look – Kelly Brook in a low-cut dress! Isn't she adorable? She has one of my ideal body-types. Curvy, healthy-looking, zero gristle, and she looks like she eats, all with that gorgeous rack. Sigh… perfection! These are photos of Kelly last night in London, where she was attending a London Fashion Week party for Giles Deacon, a designer friend of Kelly's. She even walked on his runway a few years ago! I'm actually not completely crazy for the dress – it seems like a too-tight vintage piece that Kelly was forced into. Her boobs look great (as always), but an extra inch of fabric might let them breath a bit.
In other Kelly Brook news, she was recently named the latest spokes model for Reebok – well, I think she's been with the brand for a few years, but there's a new ad campaign in which Kelly talks about how she finds "satisfaction." Hint: it involves food. YAY!
Kelly Brook is following in the footsteps, quite literally, of supermodel Helena Christensen with a campaign for Reebok footwear. The much sought-after star shows off her enviable hourglass figure in the series of sexy shots which see her eat strawberries and pose with sports equipment.

In an interview for the campaign which centres around the idea of 'satisfaction', Kelly describes hers.

"The first thing I think of when I think of satisfaction is food!" she said. "I love to eat, so for me it would be lovely fresh fruit or a big dinner of some sort."

The 32-year-old is a bag fan of the new shoes that promise to tone you up with every step.

"I've been wearing EasyTone shoes for the past few years," she said. "They're so comfortable and look great. They make a great addition to my work out and every day routine. I am really happy to be joining Helena Christensen and Eva Mendes in the campaign."

Helena and Eva are ambassadors for the brand.
[From Hello Magazine]
She's so wholesome. Isn't that weird? She's famous for being a pin-up girl – not even a high-fashion model or anything, she's just known for posing nude or in her underwear, and she's built her career on her body, and yet she always seems so… wholesome. She's like a really sexy glass of milk. With big boobs.
Oh, and here are some shots from the Reebok campaign. SOLD!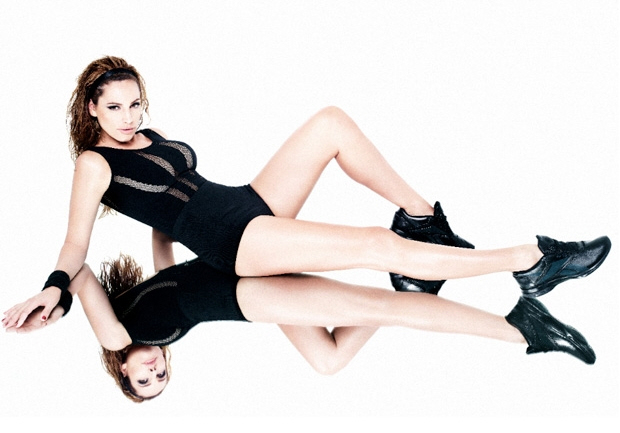 Photos courtesy of Fame/Flynet, WENN.