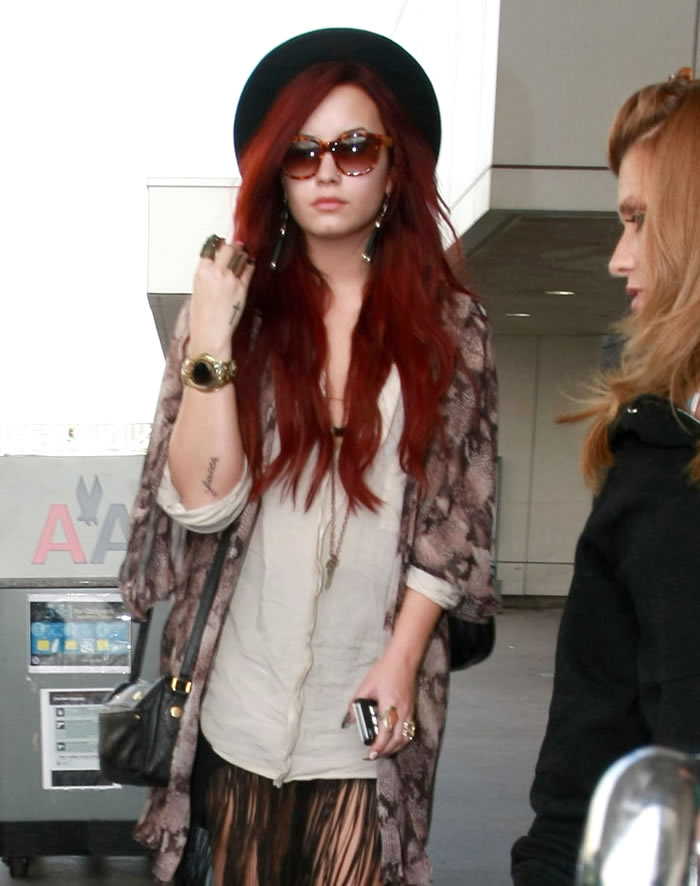 Demi Lovato's been though a lot in her nineteen years. In just the past couple of years, she's gone from being one of the foremost Disney starlets (with her own tv series, "Sonny With a Chance," and the Camp Rock movies under her belt) to having a complete meltdown after a nasty breakup with Joe Jonas. Soon afterward, she punched a backup dancer (which she later admitted was completely out of line) and headed to rehab for a nervous breakdown. After she emerged, Demi talked a lot about her cutting, daddy issues, and eating disorders.
At this point, it feels like we've already heard so much from Demi about the these issues, and now she's talking again about it again at great length. Of course, Demi's currently promoting her latest album, Unbroken, which is fairly heavy, emotional stuff for a pop record and almost exclusively based upon the turmoil of the past few years. So she's allowed to delve into even greater detail than before, right? Now on with the show:
Why she's talking so much: "I was very sick but luckily I got the help I needed," says Demi quietly, "and I'm here today, hopefully preventing young girls from doing the same things I did to myself. I know that I have a voice and can use it for good or bad. It's a gift from God. I knew I could share my experience and be of service or not tell anybody and be like the rest of Hollywood and hide my secrets. I didn't want to do that."

On her eating disorder: "I've never had a relationship with food that was normal. I remember looking in the mirror with nappies on thinking, 'You're fat, change it.' I started overeating when I was about eight; I was a binge eater. I would bake a whole plate of cookies and eat them all. Then when I turned 12 I was bullied in school and they called me fat. I went from being an overeater to stopping eating and I lost about 30lb. From then on I continued undereating, but my weight plateaued. [Then] I started throwing up to lose weight. It was just a matter of manipulating situations and hiding — you get very clever and very secretive. The tricky part about this disease is that you start lying to the people around you and turn into someone that you're not. It's scary."

On cutting: 'I started when I was 12, when I was bullied. It was my way of dealing with the stress and then I often resorted to it when I was feeling overworked. Girls [who self-harm] scratch or cut themselves with razor blades, scissors or sharp objects, or burn themselves. I've pretty much tried all of it. My main thing was cutting and that was so horrible. I definitely self-medicated with drugs and alcohol. I would be lying if I said I didn't,' she adds.

She's different than other celebrity rehab patients: "The key is that you have to want it. The problem with a lot of celebrities is that they go into rehab, but they don't stay for the full amount of time. I wanted to go home after 30 days, but they told me, 'No, you're not better.' I went through 14 hours of therapy every day. It wasn't fun. There were sessions from seven in the morning until nine at night: Alcoholics Anonymous, Narcotics Anonymous, Anorexics and Bulimics Anonymous and Self Mutilators Anonymous. It was constant emotional work and exhausting; by the end of the day, all you wanted to do was sleep. It was very humbling. I had been used to waking up in hotels, getting room service for breakfast and having my room cleaned. Now I had to make my own bed. I wasn't allowed to use the bathroom by myself because they were afraid that I was going to purge, and we weren't allowed to have razors, so I had hairy legs."

She's still recovering: "Now I can eat as many meals as I am supposed to and not throw up any more. There's definitely temptation — every meal I fight it. It's an addiction and I'm going to have to fight it for the rest of my life. There's no cure and I may mess up, but I want to be a better role model for my fans and my younger sister. There are days when I look in the mirror and think, 'God, my jeans don't fit today — this sucks.' But I'm in a much more spiritual place now."

Why she quit acting for music: "I know that I could be in a fragile state of mind if I go back in front of the camera; I'm not really confident enough. The camera adds 10lb and I feel like I have too many tattoos right now to go back on screen. I want to act again if they can find a way to cover my tattoos and one day I'd love to be respected as an actress. When you are on stage singing, you are far away from people, you're not up close and it's very liberating."
[From Daily Mail]
Demi also goes on to name her style icons: Stevie Nicks (I can definitely see the influence there) and Kim Kardashian (say what?). As far as musicians that she admires, Demi names Rihanna and Katy Perry and says, "I'd love to be on their level." Kaiser and I were discussing the irony of that statement because Demi is actually a much better singer than those other two. Interestingly enough, Demi lists Gerard Butler as the person with whom she'd most want to be stuck in an elevator. Hmm.
As a side note, those tattoos that Demi discussed in this interview were actually a means to cover her cutting scars, which is a rather heartbreaking revelation. Still, I think Demi is on the mend and hopefully the recent blind item about heading back to rehab isn't about Demi at all. She seems far too self-aware in this interview to have fallen back into her former ways already.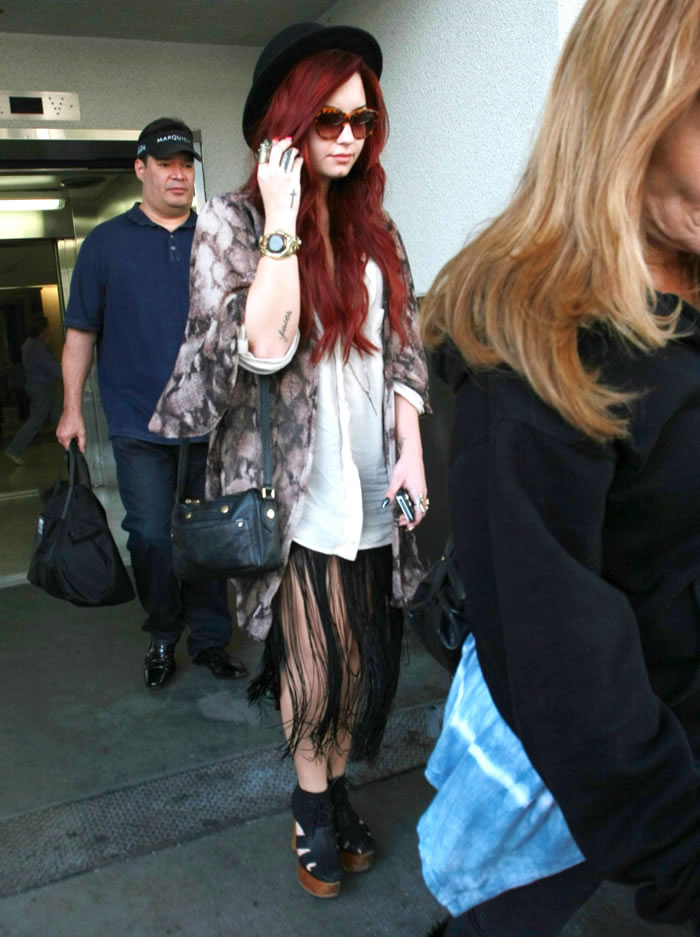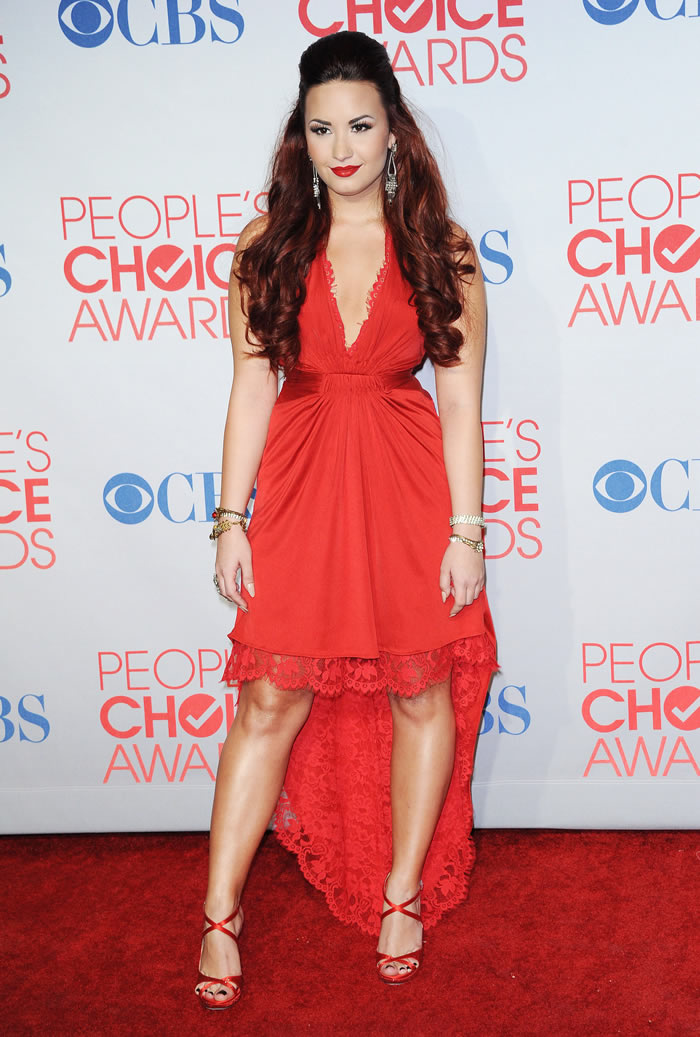 Photos courtesy of Fame/Flynet