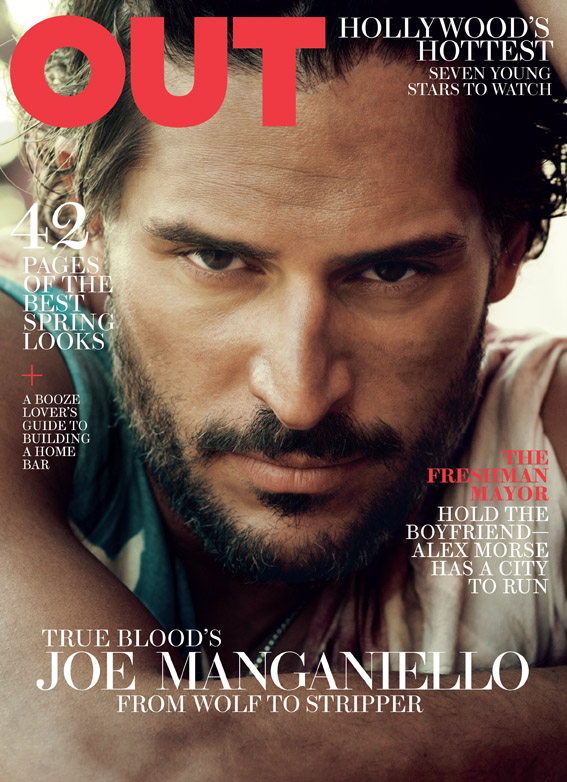 Joe Manganiello covers the March issue of OUT magazine to promote his roles as a werewolf in HBO's "True Blood" and male exotic dancer in the upcoming Magic Mike. The article is aptly titled "From Wolf to Stripper," but of course, he takes it off for both roles. While "True Blood" has achieved relative cable longevity (Manganiello was recently signed for five more seasons — probably as an option contract since the show has only truly been confirmed for one more season), I'm not so sure that Magic Mike will even make the slightest impact at theaters. Manganiello plays a dancer named "Big D*ck Richie," and the rest of the movie (you can see some stills, including Matthew McConaughey as stripper ringleader, here) looks just as ridiculously awful. And not in a good way either. I just don't see a market for male stripper movies even when they star Channing Tatum.
At any rate, Manganiello comes off pretty well in his OUT interview. He seems rather humble and truly grateful to act for a living:
On showing his butt for "True Blood": With his brooding romance-novel looks, he became an instant sex symbol when he debuted in 2010 (he has since signed on for five more seasons). The fact that he sheds his clothes to transform into lupine form doesn't hurt matters. Manganiello views this as pragmatism rather than an extension of creator Alan Ball's gay sensibility. "As far as the butt cheek stuff goes, it just makes sense. It's not gratuitous; it's realistic. If you're a werewolf and you transform, you lose everything and there are your butt cheeks. The show is a deconstruction of supernatural creatures. It's not like other werewolf projects, where you magically reappear with tiny jean shorts on."

On the "True Blood" gig: "I love my job so much. It utilizes each part of my eclectic personality. There's the kid who loves monsters, and I can be athletic, but I also love history and I can research wolves and Southern dialects. The dialogue is so rich — it's Tennessee Williams with Chekhovian layers — and that fulfills my bookwormy playwright side. I'm so fortunate. Plus, I get to have a beard all the time."

He really is a lone wolf: "I travel too much for pets. I used to have two dogs, but, um, the owner of the dogs moved out." He is chagrined to have revealed any of his private life, but admits, "I'm single. Yeah, I used to not like being alone, but I dig it, man."

On his musclebound physique: "True Blood" was Manganiello's big break, but after his first season, he was broke. He spent all of his earnings on a personal trainer (the same one who whipped Hugh Jackman into Wolverine shape) to transform him into an athletic dynamo. "If I was on 'roids, I would be this monster. That's not the goal. I like working hard. It's my letter of gratitude to Alan Ball for giving me this opportunity. Vampires are animated corpses. They can get away with not looking like they go to a gym. I'm a wild animal — that's how I should look."

Did he stuff to play Big D*ck Richie? "Um, I'll let everybody see the movie and they can decide," he says sheepishly. He insists that no waxing was involved, however. "I don't have any body hair. It stops at my neck. I'm part Sicilian and Armenian."

He worked with a former stripper as research: "All the guys he worked with were dead or in rehab, but it was the time of his life — this insanely destructive lifestyle, this club life. It was sex, drugs, and rock 'n' roll… and getting paid to take your clothes off and have sex." Manganiello promises Magic Mike will incorporate all of the complexities of the grind. "There are a lot of drugs, the overdosing, the depraved lifestyle, but on the other side, it's hilarious."
[From Out Magazine]
He does have a certain point about werewolf stories these days, and it's rather ridiculous that the Twilight wolves rip off their shirts before wolfing out, but no one ever sees them in human form when they're not wearing their jean cutoffs. Then again, there's age appropriateness to consider, and the Twilight wolves are mostly teenagers. Besides, no one really wants to see Taylor Lautner's bum, right? But there seems to be quite a hefty audience for Manganiello's butt cheeks.
As far as the photoshoot goes, OUT readers have already complained about a lack of hotness in these pictures. Still, Manganiello is a (relatively) furry sight to behold: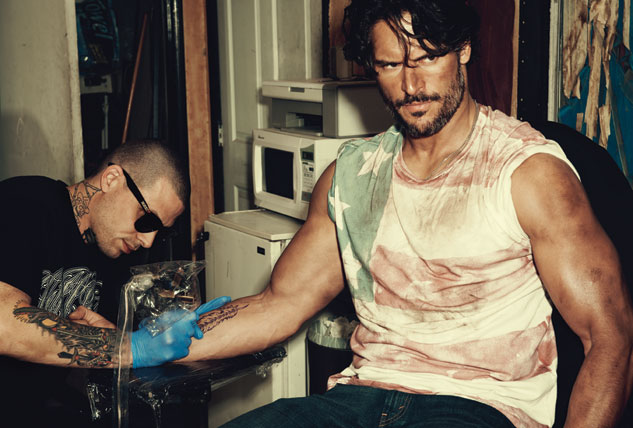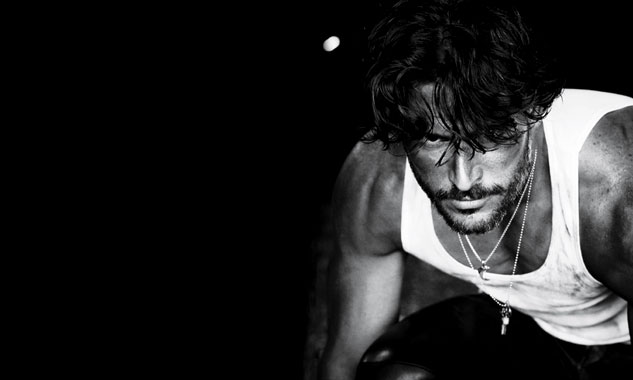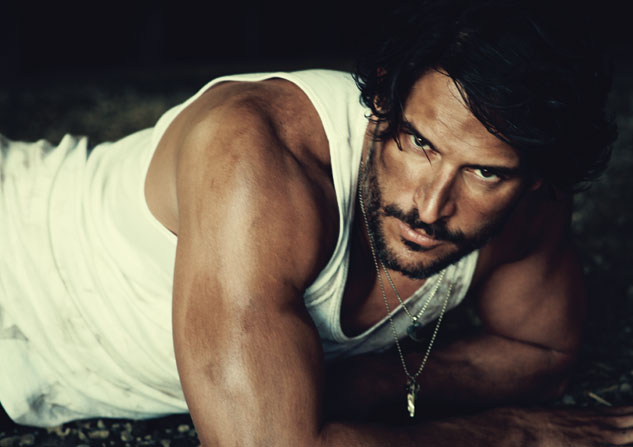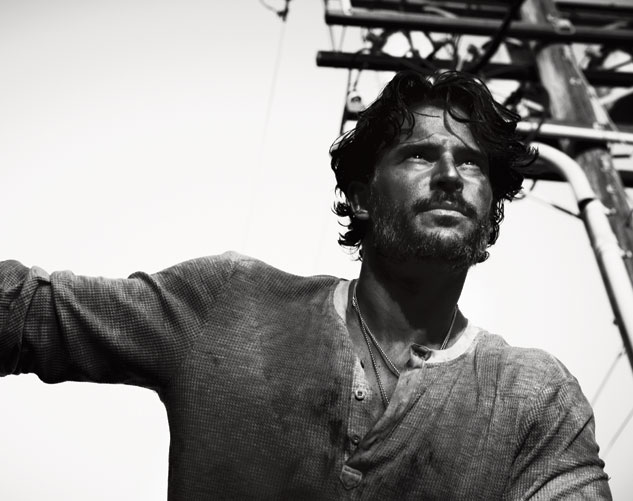 Photos courtesy of OUT