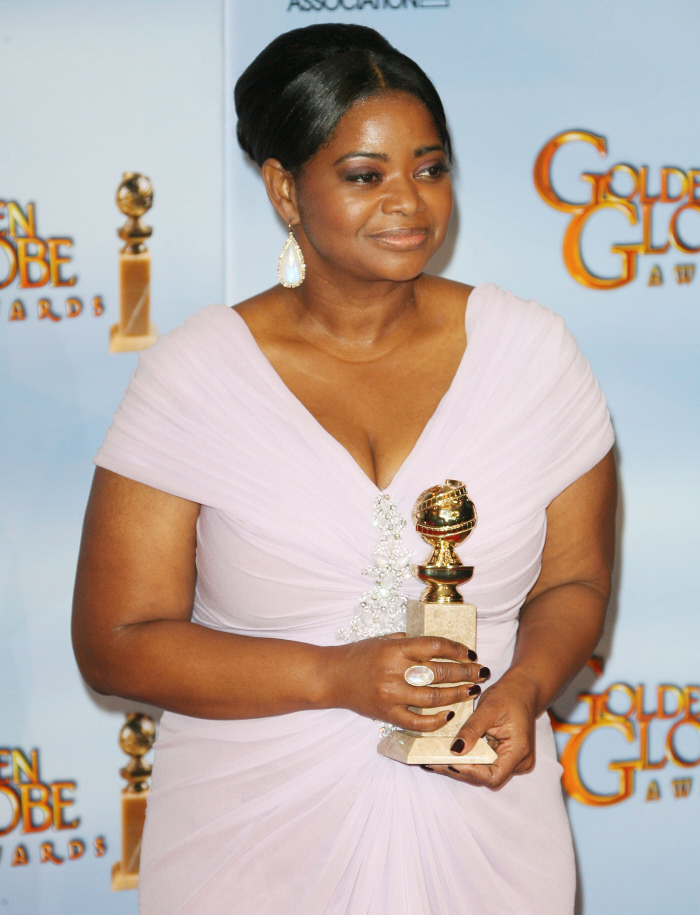 I have no idea why I've ended up feeling bad for Octavia Spencer – she's on her way to (very likely) winning the Best Supporting Actress Oscar on Sunday, plus she's getting a ton of exposure and press and work because of The Help. She's got lots of friends in the industry, and for my money, her red carpet style has been much better than her Help costar Viola Davis's. There's no real reason for me to feel bad for Octavia… except that I think she's getting asked questions that other Oscar-nominated actresses wouldn't have to face. Or maybe Octavia is just bringing up these subjects, to draw attention to "issues"? I don't know. I just wish people would stop talking about her weight. No one is asking Meryl Streep about her weight, you know? And with this new interview in Parade Magazine, I wish Octavia didn't talk about wanting her boobs done. Damn, Octavia!
On her post-Oscar surgery splurge gift…
"Well, I am going to get my boobs lifted. That's going to be my first gift. I'm going to do that. I figured going into my forties I want my boobs where they were when I was 17."

But she's definitely waiting until post-Oscars…
"Oh definitely post because right after the Oscars I start a Diablo Cody movie. We're taping out of the country for four months so I wouldn't be back here until about August. So I would want to do this around November. Then that way I could just relax until January."

On her favorite celebrity encounter…
"I can't say one experience is better than the other one but if I had to, I would say Steven Spielberg. I saw him quite a few times and he was always smiling. And I literally probably looked like a stalker. He and Oprah. They're right there together. Oprah changed my dream of what I could be and Steven influenced every ounce of my artistry. I think he's just the best ever. The fact that I got to do a movie for his studio and had conversations with him is like 'Oh my God.'"

When she first moved to L.A., Keanu Reeves helped her when your car broke down. Has she run into him since?
"No, I haven't, but I still go to all of his movies on opening weekend."
[From Parade]
Her body, her choice. If she wants her boobs lifted, more power to her. Just don't deny it after the fact, O! And since I know everyone hates when I talk about my boobs, let me talk about 'em. When they're really big, you often find yourself daydreaming about what it would be like to simply have high, perky C-cups. You imagine a life without back pain, a life where you can try on cute blouses without the cheap buttons popping off. You dream of a day of wearing a clingy V-neck dress and not feeling like a day-shift hooker. I'm just saying… I'm feeling Octavia here. I just wish she didn't feel the need to be critical of her body during a time in her life/career which should be all happiness and glory.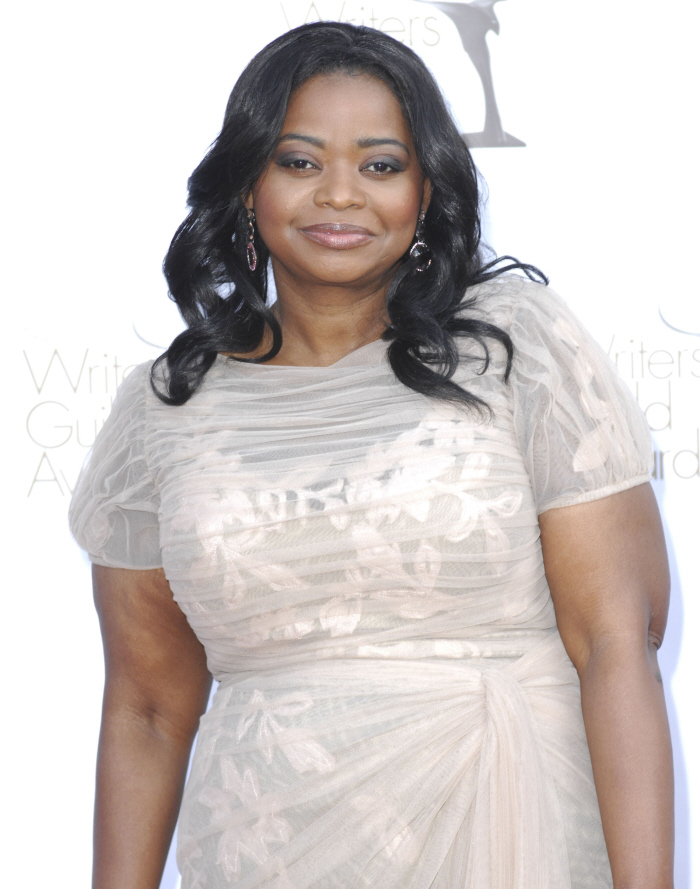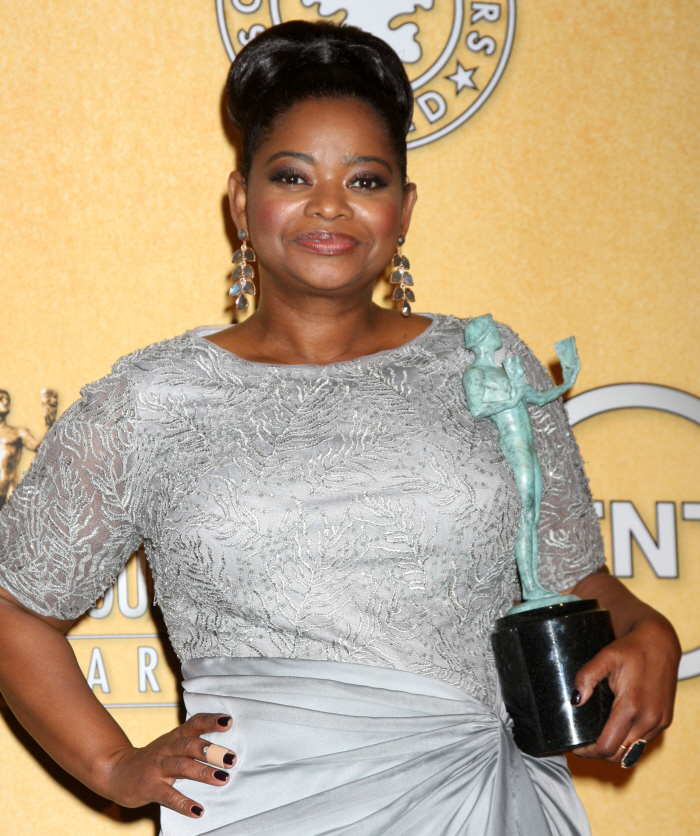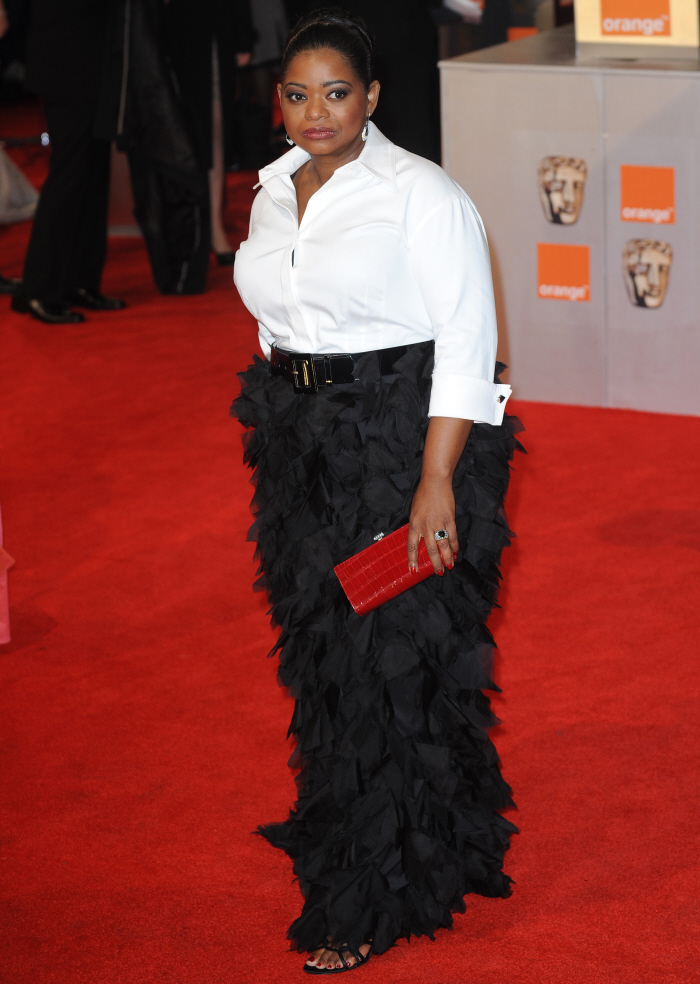 Photos courtesy of WENN.