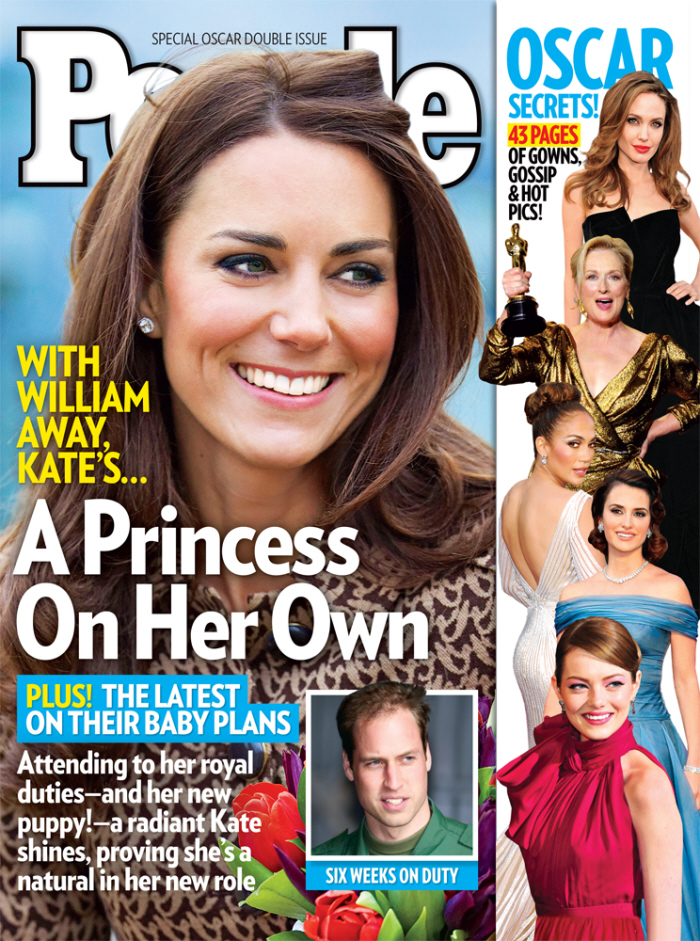 Duchess Kate takes the cover of this week's People Magazine – a sure enough sign that this year's Oscars were a boring snooze fest. Usually, the Oscars post-game analysis take the cover – this year, it just got a sidebar. Anyway, People's Duchess Kate story is just another pro-Kate propaganda piece designed to make her look competent and hard-working. Remember how all of the "sources" connected to Kate were making such a big deal about how she was going to work her little fingers to the bone while William was away? She's done two-and-a-half days worth of public work. I'm including her visit to the Freud exhibit as a "half-day" of work. I mean, she's doing so much more than she usually does, but it's not like she's working her little fingers to the bone, you know? Still, let the propaganda commence!
With Prince William away on a military mission, Kate is a newlywed on her own – but she's hardly sitting home alone waiting. Instead, she is confidently stepping out solo into the royal spotlight, and impressing royal insiders and commoners alike with her grace and charm.

In this week's cover story, PEOPLE steps inside Kate's world, chatting with people who've met her during her six recent royal engagements at charities of her choice. All were moved by the Duchess of Cambridge's friendly and warm manner.

"We were a bit nervous," parent Diane Squire said after Kate met her daughter, 12-year-old Megan, who has cancer, at a Liverpool hospital. "But she was lovely."

Though William is 7,500 miles away, the couple keeps their love alive through phone calls, emails and Skype. Kate often referred to her husband during her recent engagement, and even told one young girl that William had sent her a card and flowers on Valentine's Day.
[From People]
I wish I could see all of the quotes these media outlets had to sift through. I just can't imagine there wasn't at least ONE person who said, "She was fine, I guess. She played with her hair a lot and she didn't have much to say about anything. Whenever anyone asked her anything, she just blinked furiously. She wears too much makeup. She seems pretty average."
Two more Kate stories – she recently paid a visit to the Royal School of Needlework at Hampton Court Palace "to thank the master embroiderers who helped to create her wedding dress." That's nice of her. Also, six students from the UK's De Montfort University have decided to hold a competition to design a new pair of shoes for Kate – she'll be the judge of which pair of shoes is the best (for her). I kind of have my doubts as to whether Kate is a shoe person – her shoes never seem that special or noteworthy. She goes for function over beauty – a trait which I share, so I admire it in her.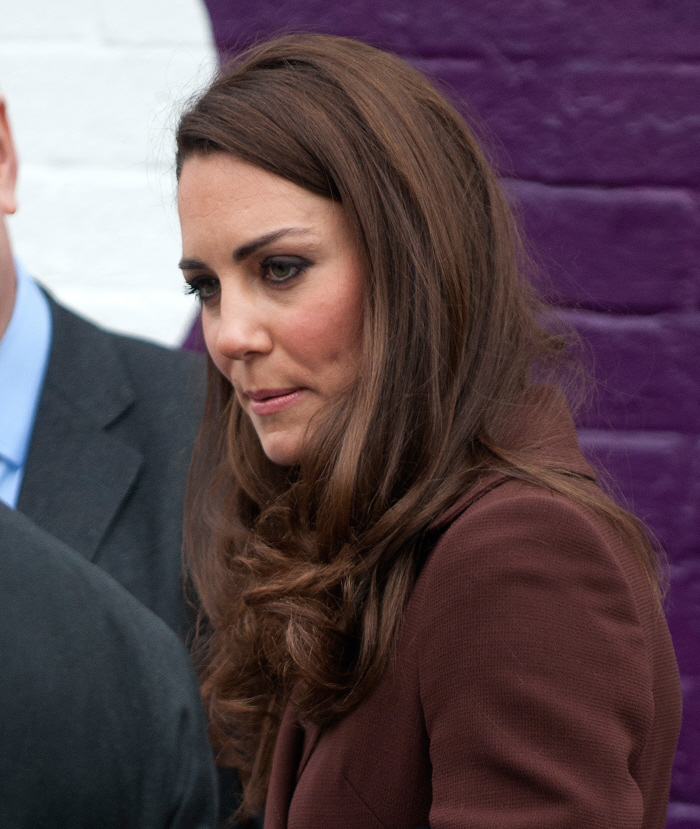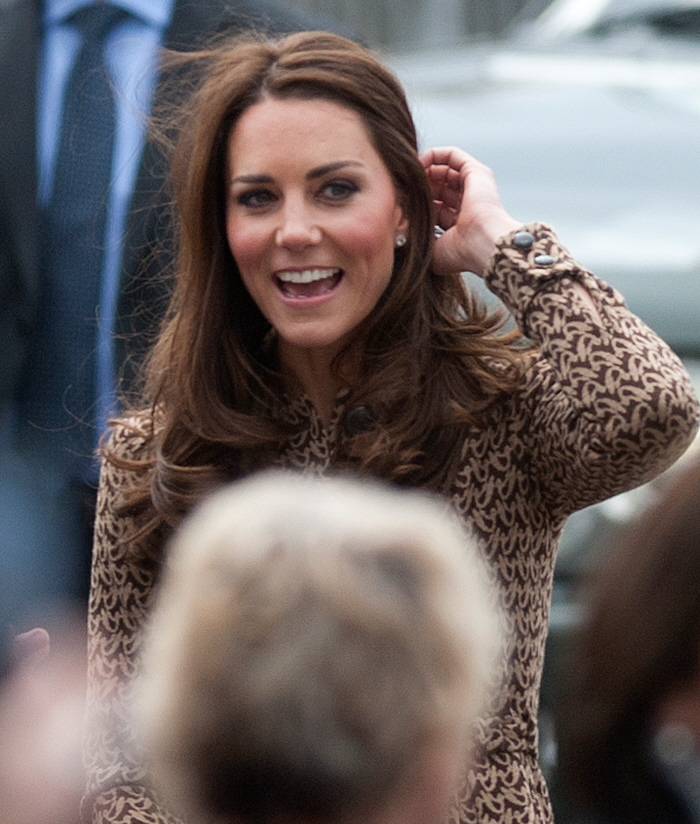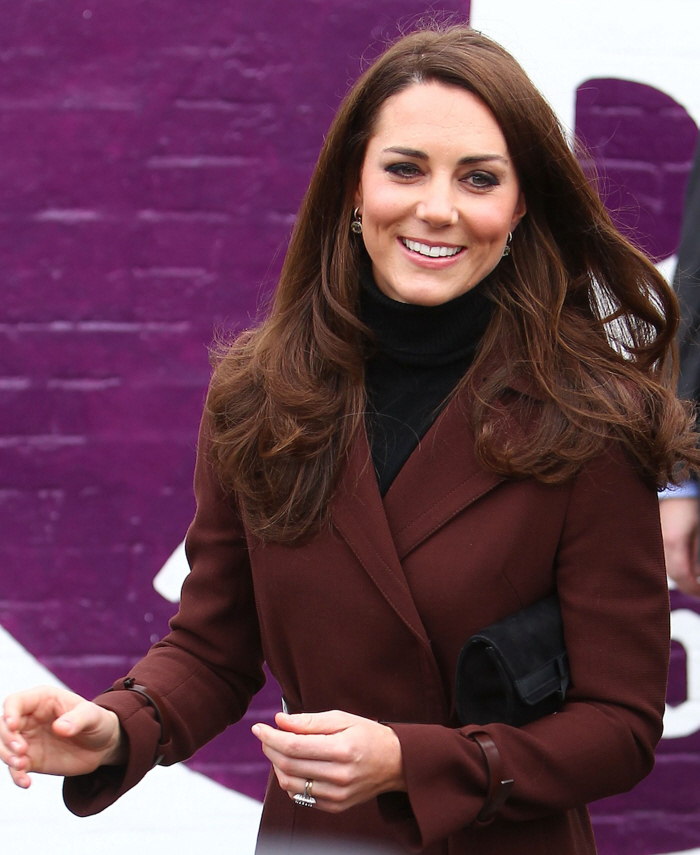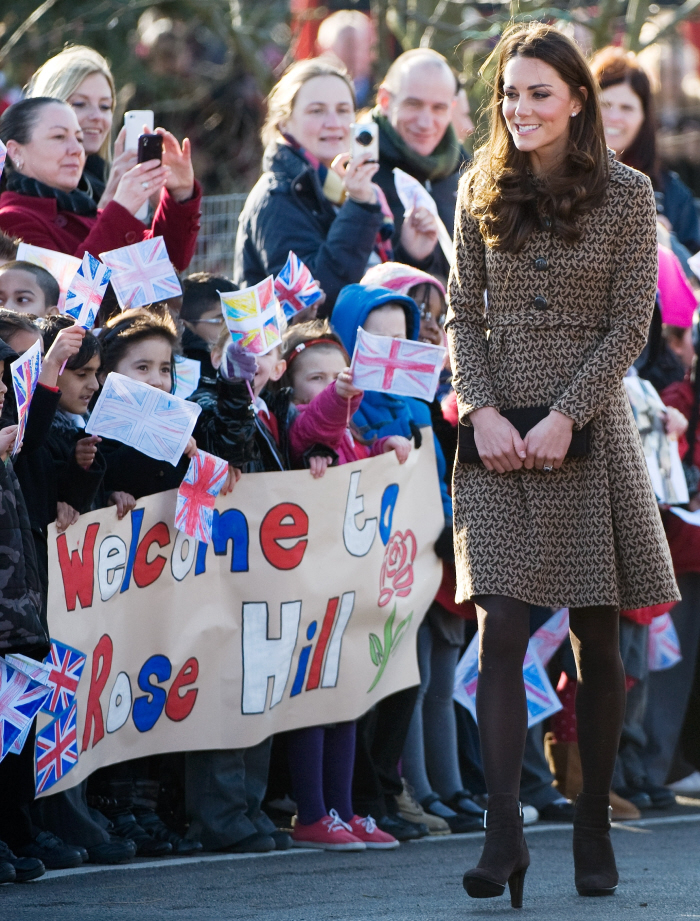 Cover courtesy of People Magazine, additional pics by WENN.