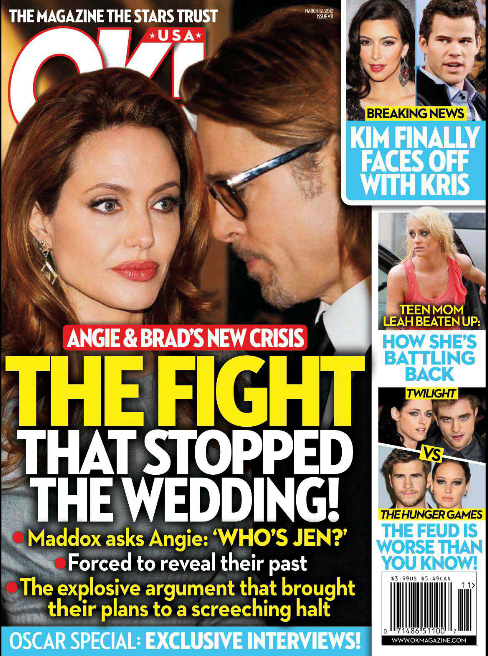 Surprisingly enough, Angelina Jolie's horrible and controversial leg did not take the cover of every tabloid this week. In fact, Brangelina drama only took the covers of OK! Magazine and In Touch Weekly, and none of it is about The Leg. It's about the fake-wedding, the one which both Brad and Angelina were suggesting would take place as part of Brad's Oscar campaign. Both OK and ITW claim the wedding is OFF! Of course. But why is the wedding off? Because of Jennifer Aniston, of course. And Maddox. I swear, Michael K is writing for OK! Magazine at this point.
Brangelina got into an explosive fight because of Angie's unrelenting jealousy over Jen! Now the couple's wedding plans are up in the air! Angelina Jolie, 36, and Brad Pitt, 48, are temporarily calling off their wedding because of what Brad told son Maddox about his ex-wife, reports OK! mag.

The 10-year-old happened to see an online article about Jennifer Aniston, 43, and had asked Brad who she was.

"Brad didn't realize that Angie was home, and so he basically just told Maddox the truth: that Jennifer was a woman he loved very much and was once married to," said a source to the mag. "But that's when Angelina walked in."

The actress, 36, was livid with Brad, 48, for a number of reasons. "Brad thought he had taken all necessary precautions and never suspected the kids would learn about his past by coming across a story about Jennifer," says the insider.

Although Brad thought he had taken steps to keep his kids from knowing his past with Jen, apparently, the Internet happened!

"Angie went berserk and said he was stupid not to supervise Maddox's Internet use," said the source. "She knows this is just the start. They have six kids who are all going to get older and want to know everything about their parents' pasts."

The source also said that Jen is still a "sore spot" for Angie and that after Maddox left the room, she flipped out on Brad and screamed that "she didn't want to get married to someone who'd been married to Jennifer Aniston."

After they exchanged nasty words, Brad took off on his motorcycle and things haven't been the same since, confided the source.
[From Hollywood Life & OK! Magazine]
First point: shouldn't Angelina be upset about the kids looking at stuff on the Internet that they shouldn't be seeing? That seems like a reasonable argument for two parents to have – what kind of Internet time do we allow our kids to have? Second point: Of course it was about Maddox asking about Jennifer Aniston. All of Michael K's assumptions about the Maddox-Aniston blood feud have been correct! Now we just need to know what Brad told the gerbils.
You can totally see it on Angelina's face too. That's the face of a woman who just bitched out her baby-daddy for even mentioning the name "Jennifer Aniston." Of course. That's what Angelina's leg was trying to tell us.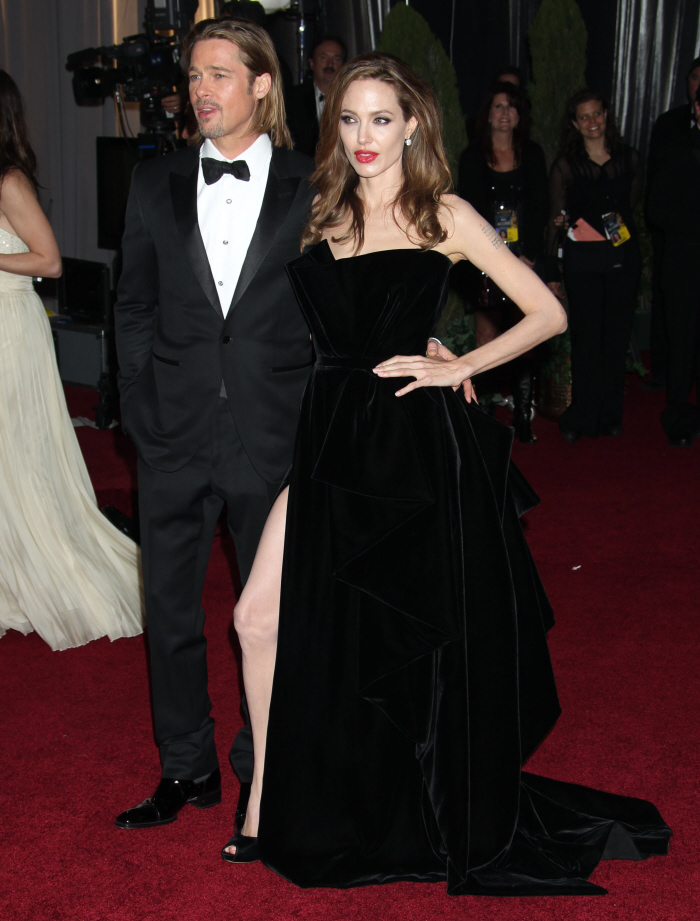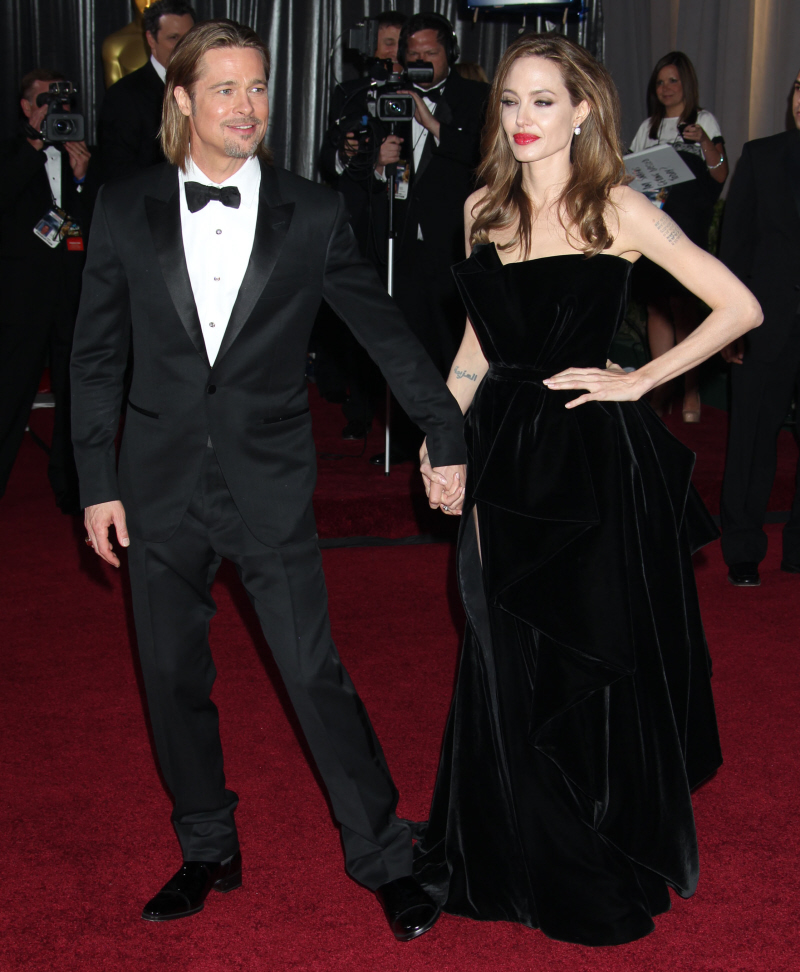 Photos courtesy of Fame/Flynet.