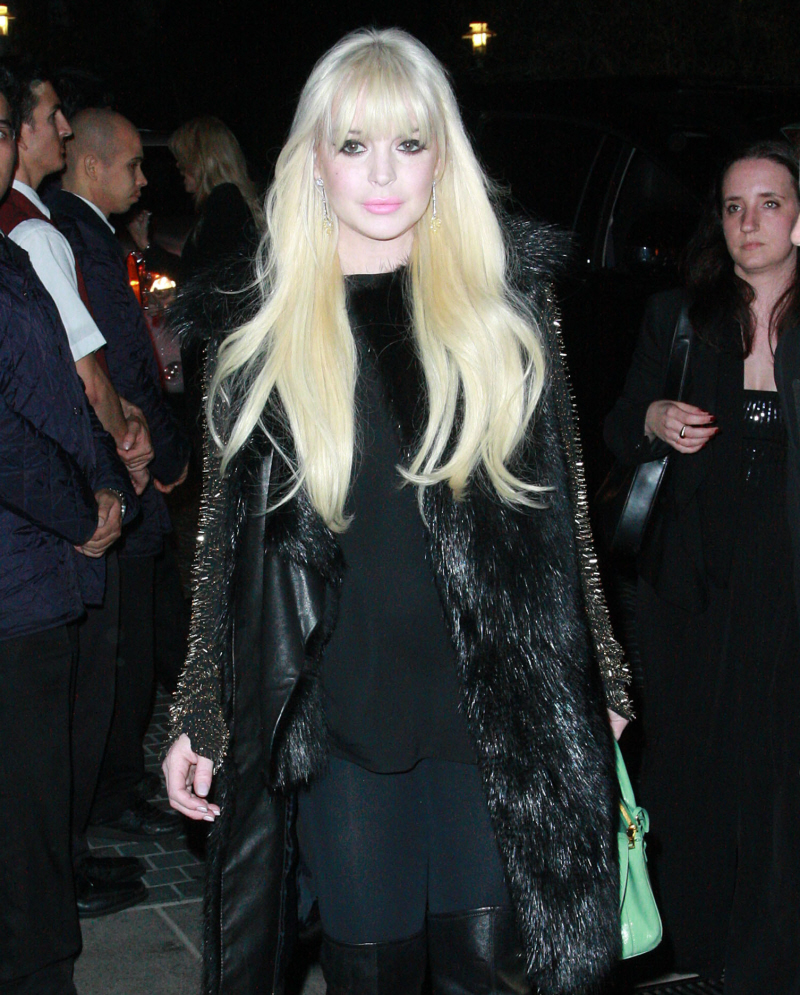 I'm still thinking about Lindsay Lohan's Today interview, which we talked about yesterday. My initial reactions were rage and disgust, and as the hours passed… I think I'm just feeling that LL is simply pathetic. I'm not sympathetic towards her at all, but in the scope of even trying to fact-check her crack-lie-extravaganza, I'll simply throw up my hands. She's just pathetic. But in her crack-mind, she's awesome. She thinks she's convincing us of her amazing comeback. She thinks we still believe she's super-talented and that she just needs to be given the chance (!!!) to win an Oscar. Is that "sad"? Or are you just thinking, "Meh. Same old crackie"?
What was equally disturbing about the Today interview was her obviously drugged-out, busted appearance, and how Matt Lauer did not call her out on any of the obvious subjects. Like, "Why do you look like that? What happened to your face? Does your voice sound like that because you were up all night guzzling vodka and chain-smoking?" Instead, Lauer made a point to say that LL looked "great". Haha. Meanwhile, even legit media outlets are talking about how awful the Cracken looks - Us Weekly ran a story a few days ago with the headline – no joke – "What Really Happened To Lindsay Lohan's Face?" Their answer: "Since she doesn't appear to have gained weight, it's likely that her fuller features are the result of facial fillers like Restylane or Juvederm. And that's not the only dramatic change she's sporting right now. Lohan recently added heavy, blunt bangs to her and extra-long extensions to her platinum hair." Yes, fillers and a bad wig. That's all, right? Oh, and in this week's In Touch Weekly, a plastic surgeon claims that LL has had a "shield graft" on her nose – you should just look at the before-and-after images of LL's nose.
So who is going to watch LL on tomorrow's Saturday Night Live? Will the ratings be any good? Will the writing be any good? Will LL be self-aware and make lots of jokes at her expense? How puffy will her face be? What's especially hilarious is that LL's rep, Steve Honig, has been working extra hard to provide lots of quotes to media outlets about how everybody at SNL loves the Cracken. He went on the record with Radar, saying: "Lindsay has been a longtime fan of Saturday Night Live and is incredibly excited to host the show and work with the amazing cast and writers." After that, an "insider" took over, and note how the wording still sounds like Honig: "Lindsay had been a little nervous about how the cast and crew would treat her. Lindsay arrived early for rehearsals on Tuesday, and was embraced warmly by everyone. Lindsay's comedic timing is absolutely flawless. She is absolutely clear headed, and looks great." OMG. Why does everyone keep saying she looks great?!?!
UPDATE: The Cracken was on Late Night with Jimmy Fallon last night. I don't… uh.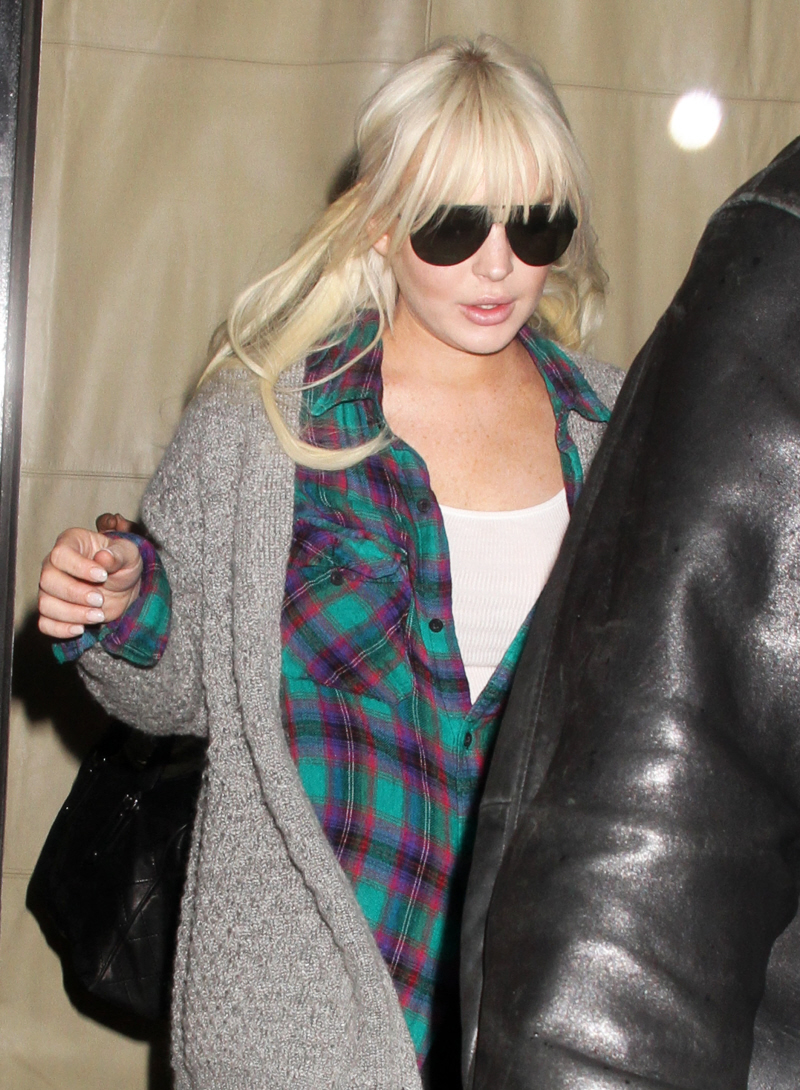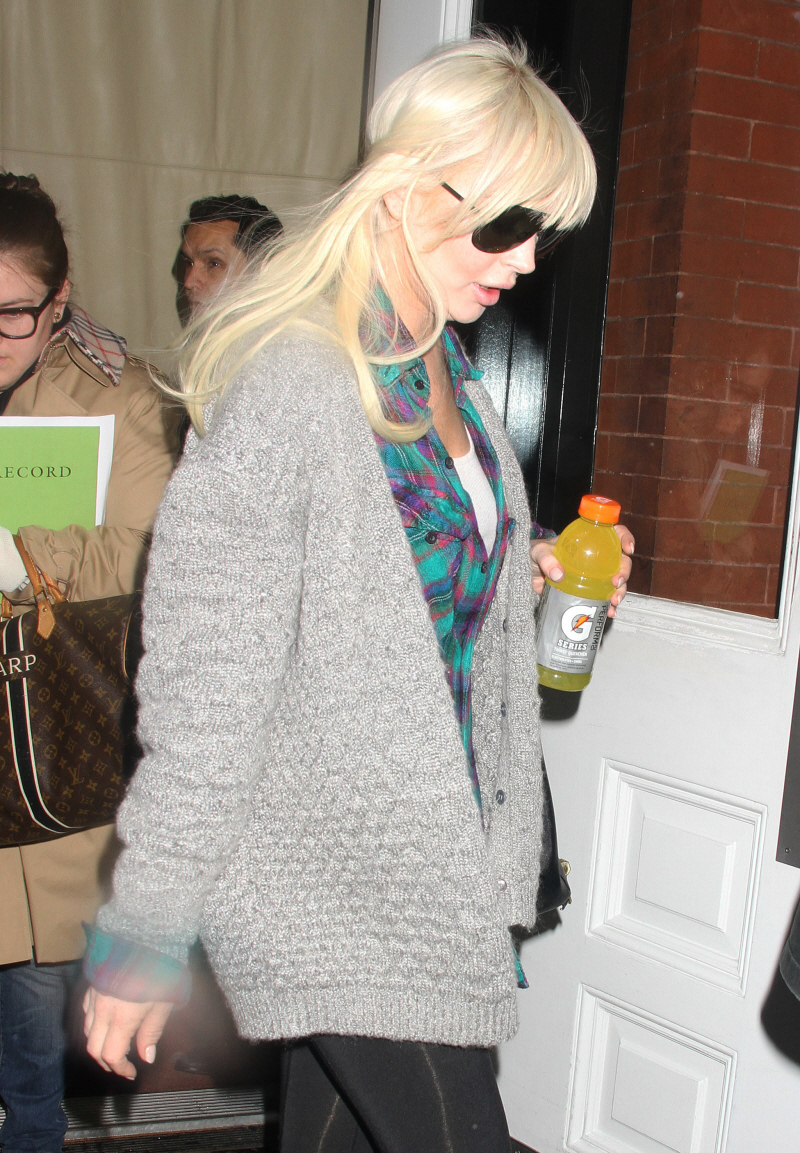 Photos courtesy of Fame/Flynet and WENN.