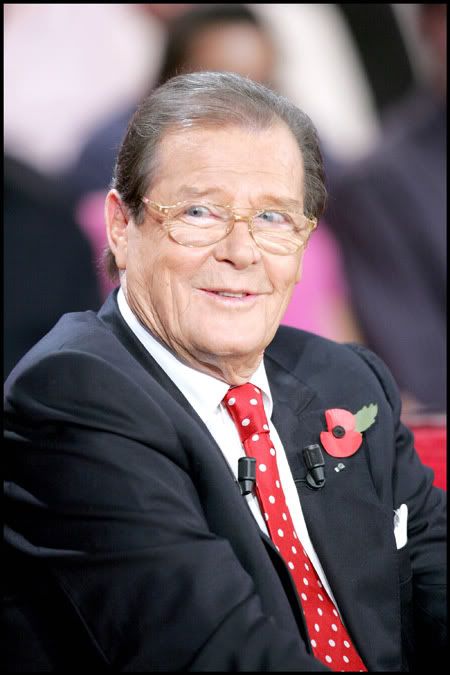 Roger Moore is seldom chosen in any poll as the most cherished James Bond. While he certainly made a mark as the British agent, more people prefer Connery, Brosnan, or the current Daniel Craig. But Moore doesn't regret trading in his TV career to become Bond. Roger Moore has written his memoirs about his experiences, the book is called "My Word is My Bond."
Asked about his own legacy as an actor known mostly for playing Bond and in TV series such as "The Saint," and "The Persuaders," with Tony Curtis, Moore said: "I would love to be remembered as one of the greatest Lears or Hamlets. But as that's not going to happen I'm quite happy I did Bond."

His memoir is full of anecdotes about Hollywood and the stars he worked with such as Vivien Leigh, Mae West and Lana Turner. He also tells of his bust-up with Grace Jones during the filming of "A View to a Kill," when he forcibly pulled the plug on her stereo and flung a chair against the wall because she was playing loud rock music.
[From Reuters]
Roger, who played the Bond character in a more fanciful, amusing way than the franchise has turned lately, laments the violent turn the character has taken. When he was playing the character, he was asked to be more sinister than he was comfortable with a few times, and while he tried to keep the character more charm than force, he was unsuccessful.
"I am happy to have done it, but I'm sad that it has turned so violent," Moore said before "Quantum of Solace," starring Daniel Craig as a darker Agent 007, opens in North America on Friday.

Moore, 81, recalled being appalled at the violence in "A View to a Kill," the 1985 movie which was the last of the seven in which he played Bond. "That wasn't Bond," he said.

While making "The Man With the Golden Gun," director Guy Hamilton wanted Bond to be tougher and had him threaten to break Maud Adams' character's arm to get information, he writes. "That sort of characterization didn't sit well with me, but Guy was keen to make my Bond a little more ruthless.

"I suggested my Bond would have charmed the information out of her by bedding her first. My Bond was a lover and a giggler, but I went along with Guy," the British actor wrote.
[From Reuters]
But Moore knows that the direction the character has taken is what the public wants these days. The new Daniel Craig Bond was more embraced as the character after one movie than Moore's was after seven.
Moore said, "Daniel has done one Bond and he was in 'Munich' and … he's done a lot of stuff, but his face, after one Bond film, that's all he needs. He is Bond."
And for now, I think most would agree, he is.
Roger Moore and his wife Roger Kristina Tholstrup are shown outside his appearance on the "Vivement Dimanche" talk show in Paris on 10/29/08. Credit: WENN