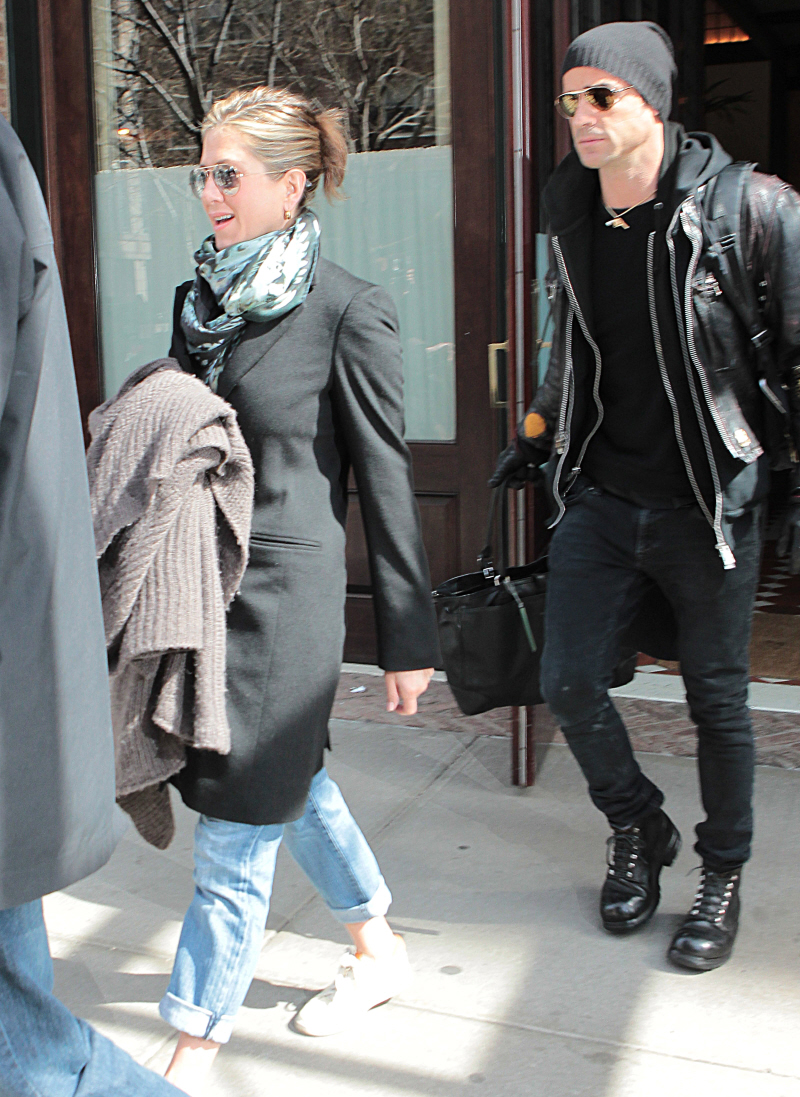 After complaining about her brief move to New York City, Jennifer Aniston and Justin Theroux came back to the fishbowl last week. Only they didn't stay at one of Aniston's condos or apartments – they stayed at the Greenwich Hotel in Tribeca. These are photos of JustJen leaving the hotel – according to The Mail, their visit lasted less than a week, and it involved lots of shopping. Of course! Now it's probably back to LA for them, I'm guessing. Because the New York bait-and-switch is over, and Aniston no longer has to pretend to be a hip New Yorker. Still, it's nice for her to visit New York, which is where Justin feels more comfortable (or so he's claimed). Incidentally, the British tabloids are reporting that Jennifer has issued Justin an ultimatum. She wants to get married by the end of the year!! Of course, that's what they said last year too.
Jennifer Aniston has vowed to be married by the end of the year. The 43-year-old actress – who has been dating Justin Theroux, 40 , since they met on the set of Wanderlust two years ago – has told friends the actor is 'the one' and has even joked that she has issued him with an ultimatum to have asked her to marry him by the time the year draws to a close.

Meanwhile, the star explained the couple's new dog Sophie, a boxer-pitbull cross, is a 'test run' for having children.

Britain's Daily Mirror newspaper quotes Jennifer as telling a friend: 'I'll be married by the end of the year. We're constantly laughing. Now we've got our new baby things are getting serious. We have new responsibilities. She's like a test run for kids, I guess … although hopefully kids are easier to house-train.'

The actress is said to have added: 'Justin and I argue over who takes the dog out and who disciplines her, but that's about it. Things are fabulous. I'm happy. If he's not got down on one knee, or we're mot married, by the end of the year, it's over!'

Jennifer – who divorced Brad Pitt in 2005 and then went on to have doomed relationships with Vince Vaughn and John Mayer – has also told pals she has 'never been so happy.'

A friend added: 'Jennifer has never been so happy romantically. She and Justin have discussed their long-term future and both agreed that they love the idea of settling down. The onus is now on Justin to pop the question.'

The former Friends star is beginning to open up about her relationship, despite remaining resolutely tight-lipped at the beginning of their union. She even felt relaxed enough to even joke about how romantic boyfriend Justin Theroux in an interview to promote Wanderlust.

'He's just the most cold, icy, fishy kind of a guy,' she laughed on Good Morning America. 'I'm trying to warm him up but you know…'

The actress then agreed with interviewer Lara Spencer when she proclaimed that Theroux was 'really cute and great in this movie.'

'He is really cute,' she said. 'He is great – he's a great actor.'
[From The Mail]
Eh, even though this report is either A) entirely made up or B) an innocuous plant by Huvane, I've said it before – I wouldn't be surprised if Justin and Jennifer get married. This is the most comfortable she's been in a relationship in a long, long time. And Justin has proven that he's willing to be made over by his girl, which bodes well for his future with Aniston. He's Shane Warne to her Liz Hurley. They can get mani-pedis together and go shopping and play with the dog and it's all fine.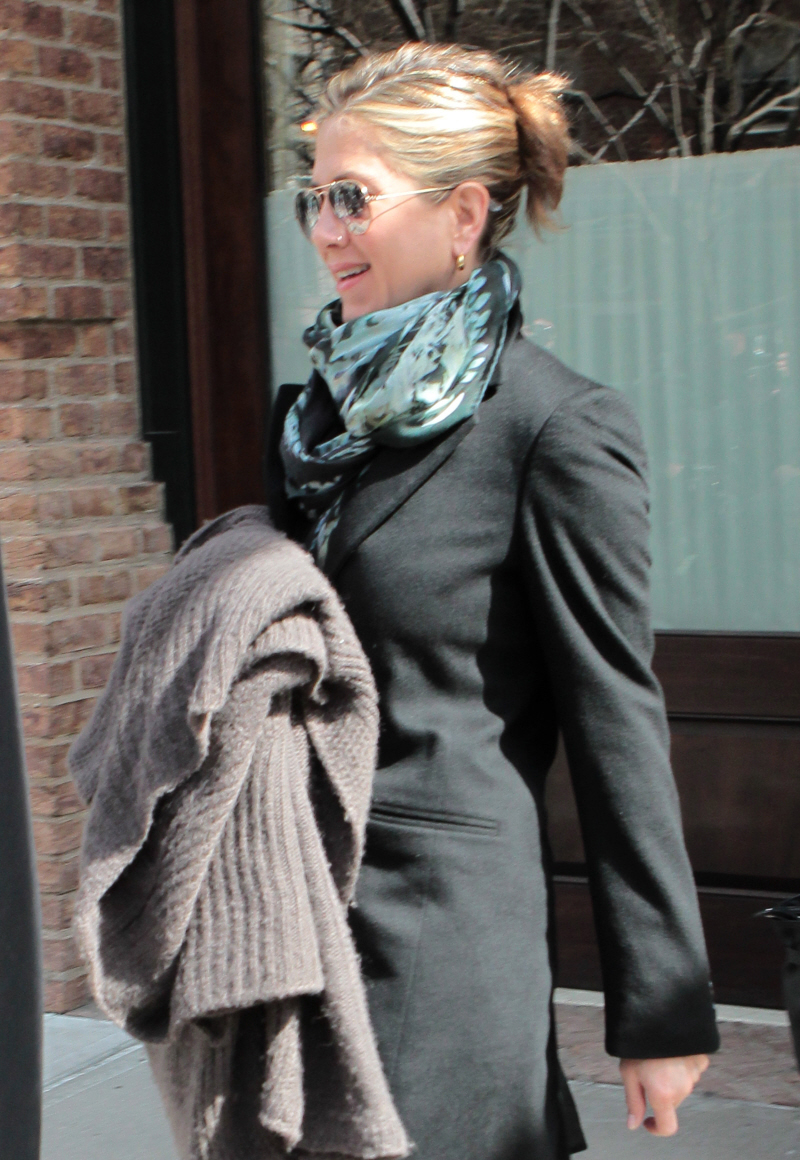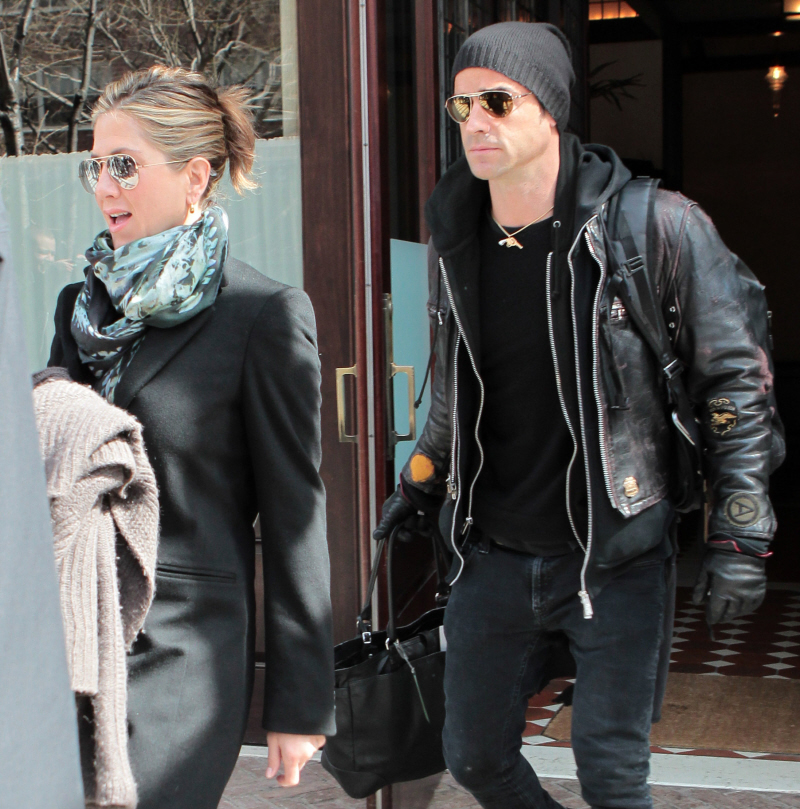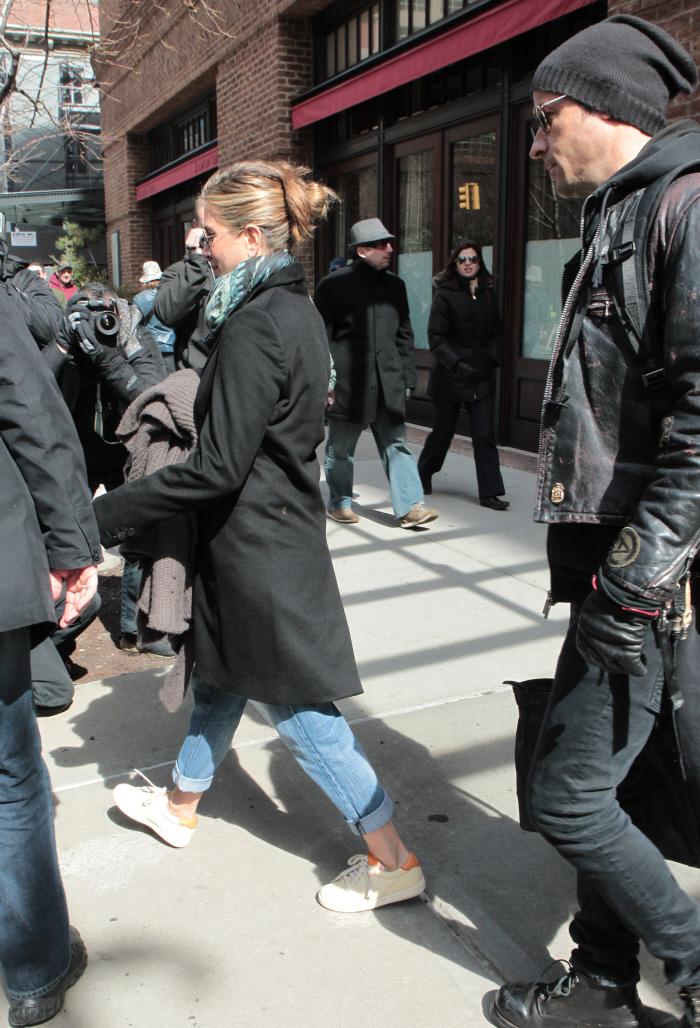 Photos courtesy of Fame/Flynet.