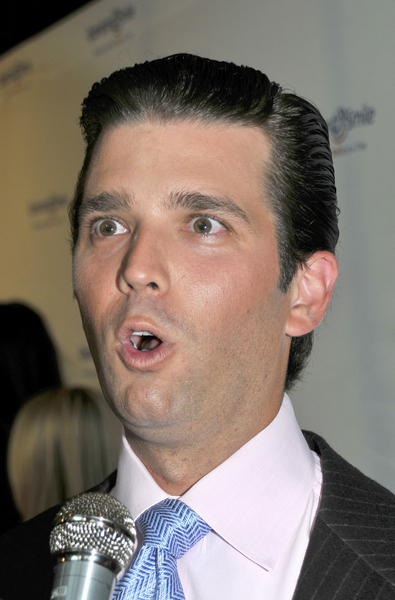 TMZ has a photo of Trump Jr. holding up an elephant's tail he's just cut off like he's super proud
Last year Donald Trump Jr., 34, went on a safari to Zimbabwe and killed at least one elephant, a kudu, a civet cat, a crocodile and a water buck. He then proudly posted photos online. Somehow TMZ just found out about it, the photos got leaked and/or little Trumpy just put them online. Well now he's defending himself on Twitter and sending snarky remarks back to anyone who questions his killing of majestic animals. He's saying that the animals were in the open and weren't fenced, that what he did was legal, and that he gave the meat to local villagers. He still killed a freaking elephant for God's sake. Didn't anyone read Babar to him when he was a kid? You can read this douche's twit-fits if you want, and TMZ has a summary too. I'm just going to quote the original TMZ story because he disgusts me so much and I don't want to give him any more credence than he deserves:
Donald Trump's two sons went on a big game hunt in Africa, and the carnage they wrought has triggered outrage by wildlife enthusiasts.

Donald's sons — Donald Jr. and Eric — went on a hunting safari in Zimbabwe a year ago this month, and proudly showed off their trophy kills — including an elephant, crocodile, kudu, civet cat and water buck.

In one shot, Donald Jr. is holding a dead elephant's tail in one hand and a knife which appears to have cut off the tail in another.

A wildlife enthusiast's website has just created a YouTube video of the slaughter expressing outrage.

As for Donald Trump, he tells TMZ, "My sons love hunting. They're hunters and they've become good at it. I am not a believer in hunting and I'm surprised they like it."

Trump added, "I know that anything they did was 100% OK in terms of the hunting community."
I googled "is Elephant hunting legal in Zimbabwe," and I came across this site for elephant conservation that states that it is legal, and it's called "culling" and is used to justify population control. They tell some devastating stories about killing elephants though. Warning on this passage, it might make you get welled up like I did:
The southern African countries (South Africa, Zimbabwe, Namibia) claim they have too many elephants and so they solve the problem by killing them.

When they kill elephants, they have to kill the whole family. They have discovered over the years, that if they don't kill all the members of an elephant family, those left are terribly traumatized and because eles can communicate over long distances through the use of infra sound, other herds find out about the massacre. And elephants never forget.

An elephant conservationist from Kenya was taken up in a small plane to fly over the elephants in Kruger Park of South Africa where they slaughter their elephants. Much to his surprise the eles fled in a panic at the sound and sight of the plane. He had never seen this happen in Kenya. He asked his South African host about this who thought it was normal! The eles remember culling and where responding to the plane with fear.

There is the story of a slaughter taking place. A mother elephant was shot but not quite dead. The man doing the evil deed was lifting his rifle up to shoot her daughter. The dying elephant lifted her trunk and put it on the man's arm to pull it away from the rifle. To keep him from killing her baby. They feel just like we do. They love just like we do. They fear death just like we do.
[From KrystalParks.com]
The article goes on to say that it's possible to control the elephant population successfully with just birth control shots. Reading this story, a lot of things come to mind involving Donald Trump Sr. and birth control too.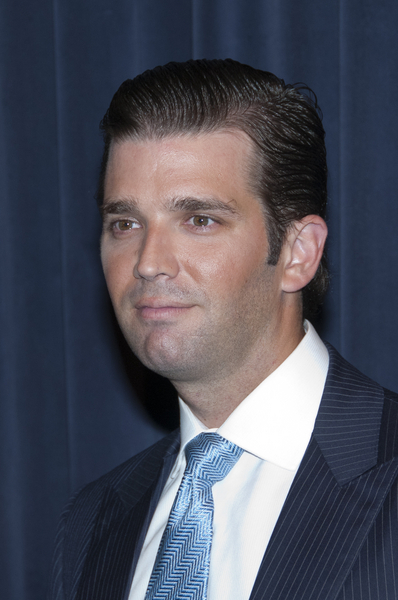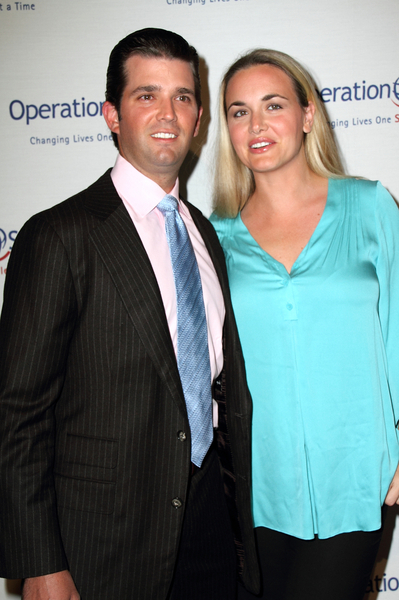 Photo credit: PRPhotos