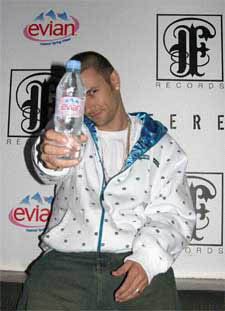 Radar Online had these great photos taken inside of Britney's mansion, which they say is pretty cheap at a paltry $13.5 million when compared to the local market. The next cheapest place in their Malibu neighborhood is going for $21 million. It looks like a showroom at a tacky furniture store. Hopefully they had good maids there, because it must have been a bitch to dust all those ugly hanging fabrics and various knicknacks.
Pink is the New Blog reports that Britney has left Louisiana with her two infants and is going to Las Vegas, where it is thought that she will continue work on her new album.
K-Fed was seen moving out of the mansion yesterday with his homies loading up a big SUV. He'll undoubtedly pay them in pizza since Britney cut off his funds.
He was also photographed promoting Evian water, which is pretty damn funny considering that his concert waiver states "No Evian." Beggers can't be choosers.