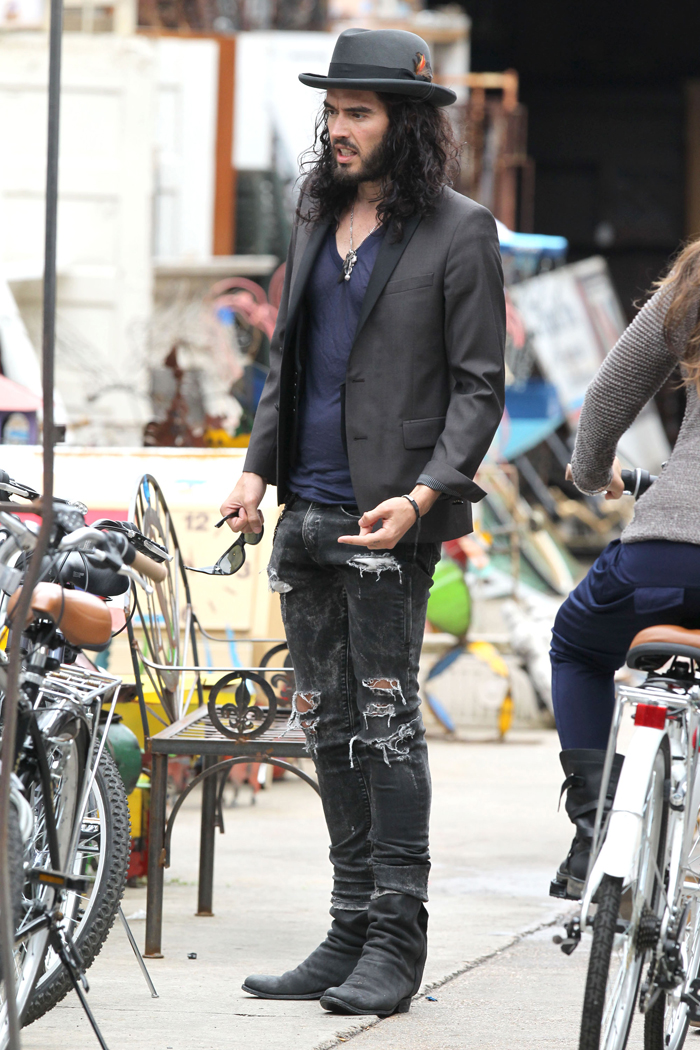 It's been at least a few days since Russell Brand has been sighted on his way to his usual West Hollywood yoga studio, but he's got a pretty good excuse — work. The Shagger has been shooting a new movie, currently known as the Untitled Diablo Cody Project, in New Orleans with co-star Julianne Hough. Lest anyone get the idea that he's got designs on Miss Hough, Russell has been toting a long-haired brunette on the scene as well during his offtime. One of our photo agencies, Fame/Flynet, has photos of this new chick (who isn't Oriela "People profile" Medellin), but their site crashed before I could download a photo of her face. So all we've got is this photo of her butt while riding a bicycle, which is probably the main part of her that Russell's interested in as well. No harm, no foul.
Anyway, I suspect that Russell flew this new woman in to be his regular shagging partner while he films this movie. In Booky Wook 2, he admitted to doing the same thing while filming Forgetting Sarah Marshall so that he wouldn't hit on Kristen Bell and could maintain some semblance of professionalism on set. However, it seems that Russell is still getting into trouble after hours because he's been accused of smashing a paparazzo's cell phone and throwing it through a window. Here's the report from TMZ:
Russell Brand has been named in a police report in New Orleans … by a paparazzo who claims the actor snatched his cell phone out of his hand and fired it through the window of an abandoned building … TMZ has learned.

Sources tell TMZ .. a photog named Timothy Jackson filed the report, citing "criminal damages" over an incident that went down Monday night.

Jackson told cops he was with a group of photogs … when he began to shoot Brand with his iPhone from his car. Jackson claims Brand flipped out, wrestled the phone out of his hand … and then Nolan Ryan'd it at a nearby building, shattering a glass window.

The pap immediately filed a police report. No word if he got his phone back.

Calls to Brand's rep have not been returned.

Law enforcement tells TMZ …. cops are investigating the incident and would like to speak with Brand ASAP.
[From TMZ]
This sounds a lot like the recent Chris Brown story from Florida, but at least with Russell, there have been no prior run-ins with the law as far as violence is concerned. Nope, Russell just has previous drug convictions that took place in England and probably just got weirded out that some guy with a camera was trying to take a picture of his wang hanging out or something. Because it's always hanging out.
Also, Russell has kept the scarves and added a jaunty little hat. Next time, he'll probably add chaps to his ensemble.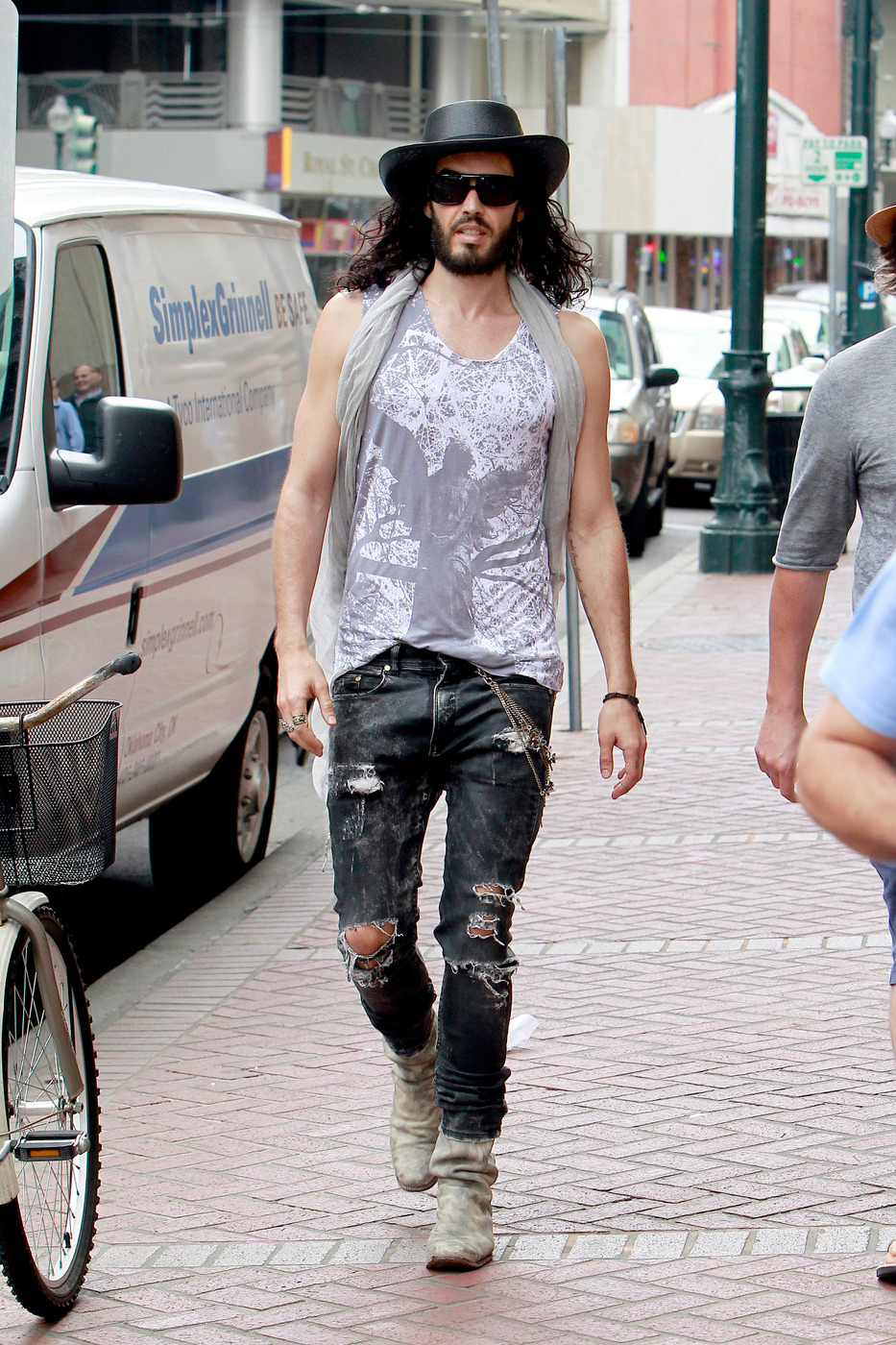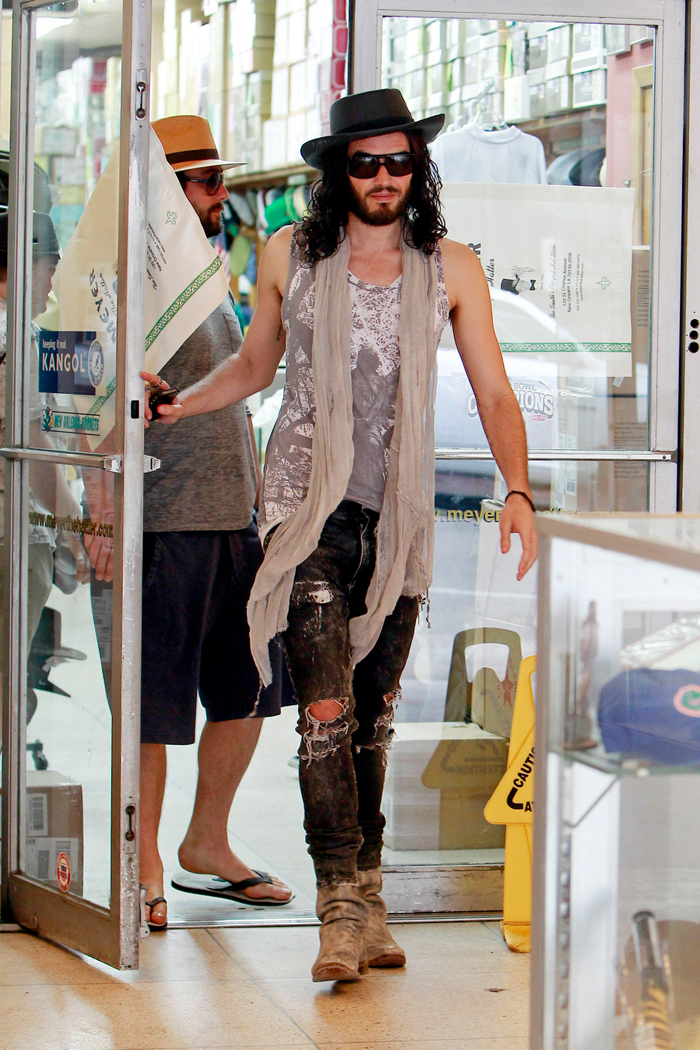 Photos courtesy of Pacific Coast News and Fame/Flynet