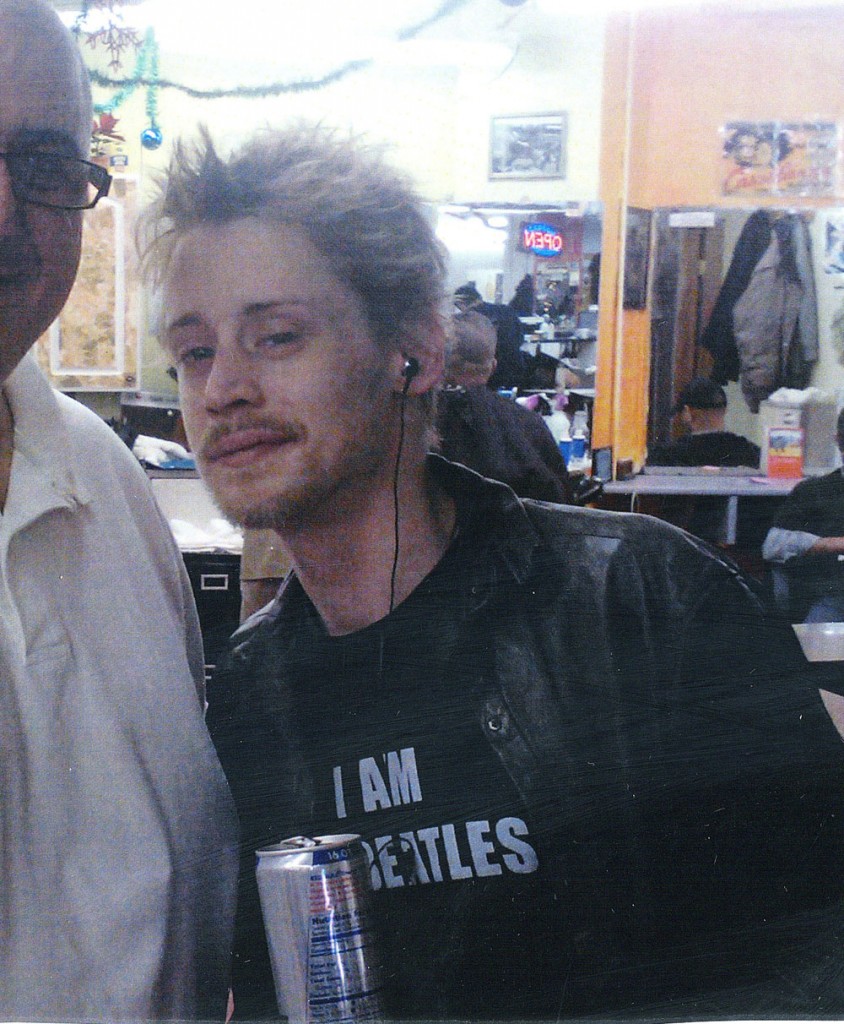 Macaulay on 2-12-12. Note the Red Bull, which he was also clutching in these other photos
Remember all that madness with Macauley Culkin cutting his controlling dad out of his life as a manager back in the mid 90s? Macauley's mom and dad separated when he was 14 (they were never married) and there was a big custody battle with Macauley and his six siblings going to his mother. Then Macauley sued his parents for his earnings, moved out, ended up getting married at just 17 and divorced a couple years later. (There's more about Macauley's dad here, and Macauley's past is covered in these articles.) Well it's been nearly 15 years and Macauley Culkin's dad hasn't spoken to his son in all that time. Kit Culkin, 67, recently had a heart transplant, and he's worried about his son, having seen these recent photos of Macauley looking emaciated and strung out. What's more is that Kit is so estranged from his family that no one bothered to tell him when his daughter Dakota, then 29, died after being hit by a car in 2008. He had to read about it in the press like everyone else.
No one was more concerned about the actor's dangerously emaciated appearance than his estranged dad, Christopher 'Kit' Culkin, who is secretly terrified that the 31 year-old is headed down a dark, dangerous path. According to a source, a "totally devastated" Kit – who recently survived a risky heart transplant operation – is so distraught, he can barely talk about just how worried he is for his son. "It's a tragic state of affairs," reveals the source. "It's so painful for him."

It's doubly painful, explains the source, because "Kit has not seen Mac since 1997" – when he was cut out of his son's life after being fired as the then-child star's manager, following a financial dispute. "He has endured so much heartache and betrayal over the years," adds the source of Kit, 67, who has already buried two children: Macaulay's half-sister, Jennifer Adamson, who died from a drug overdose in 2000 and his sister Dakota, who was struck and killed by a passing car in 2008.

"When Dakota died, nobody even told Kit – he had to read about it in the media…

"Kit doesn't want to lose another child before they've had a chance to mend their relationship."
[From In Touch, print edition, March 26, 2012]
This story is probably straight from Kit, because they have a new photo of him looking sad and sporting a mountain man beard. I was feeling sorry for this guy, but then I found this article detailing how he had the cops called on him in the mid 90s, after allegedly abusing Macauley. After that incident, Kit admitted to police to slapping then 16 year-old Macauley for not cleaning his room. Other stories have him not only ruining his son's career, but being a drunken a**hole, basically. He messed up big time and he's paying for it now. It's sad when families are estranged like this, especially when people get sick and lose loved ones. Maybe they can reach some kind of truce at some point, but it sounds like there's a lot of bad blood in the past.
Macauley looks really sick still and I hope he's ok. He's been carrying around a Red Bull in the two sets of recent photos I've seen of him. Demi Moore was drinking a lot of Red Bull when she was emaciated. She was abusing Adderall as well. Just saying.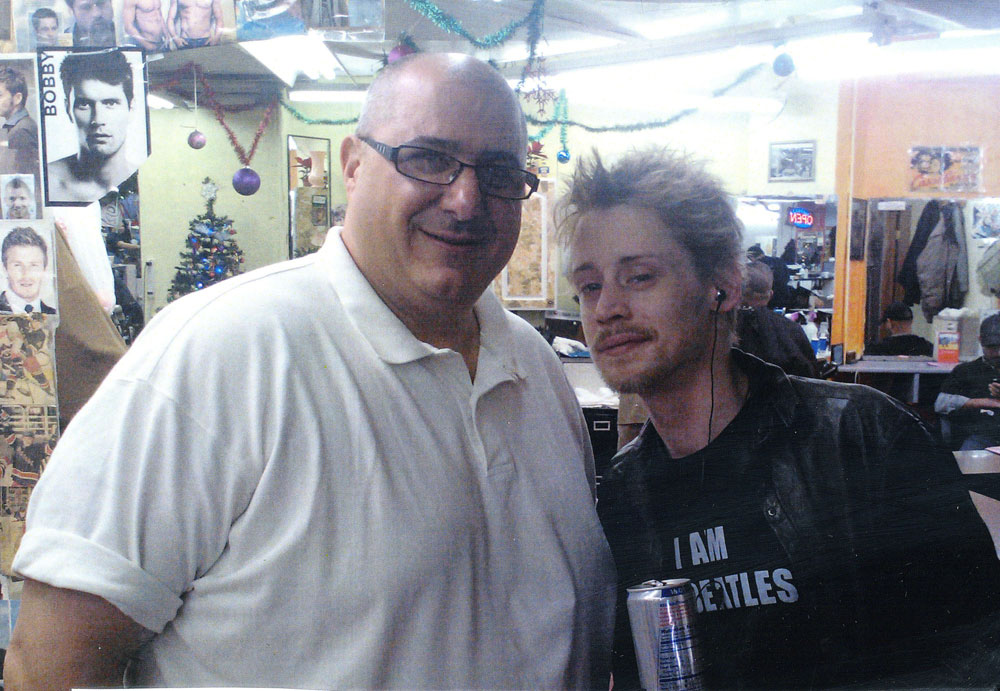 Macauley on 5-18-10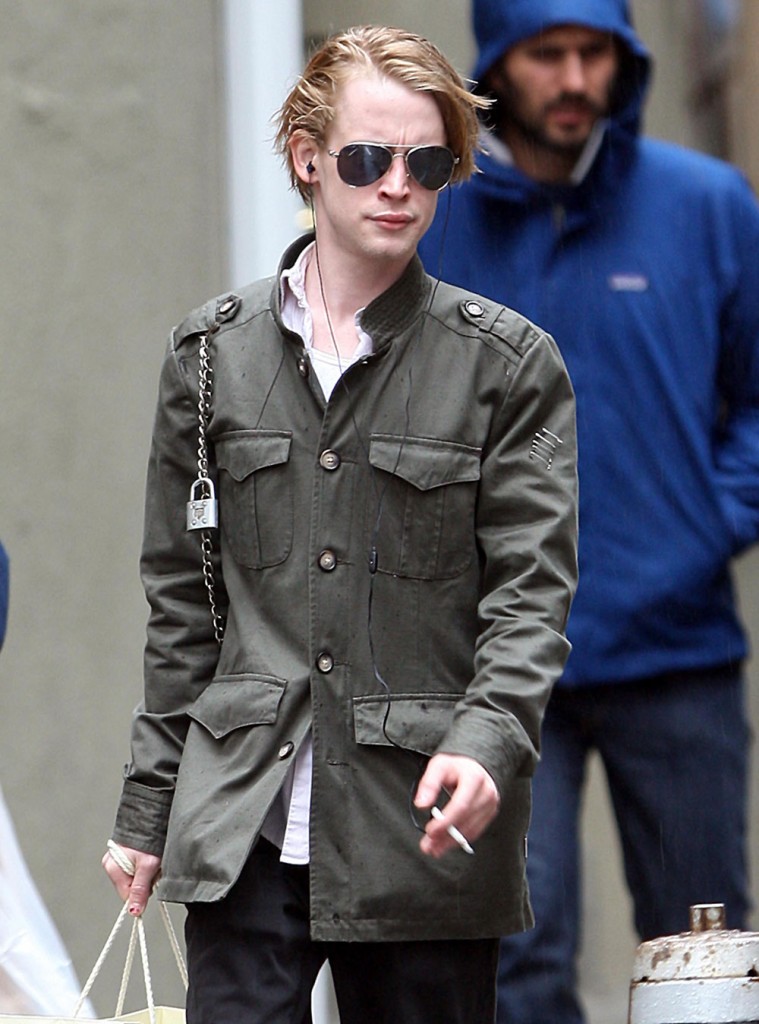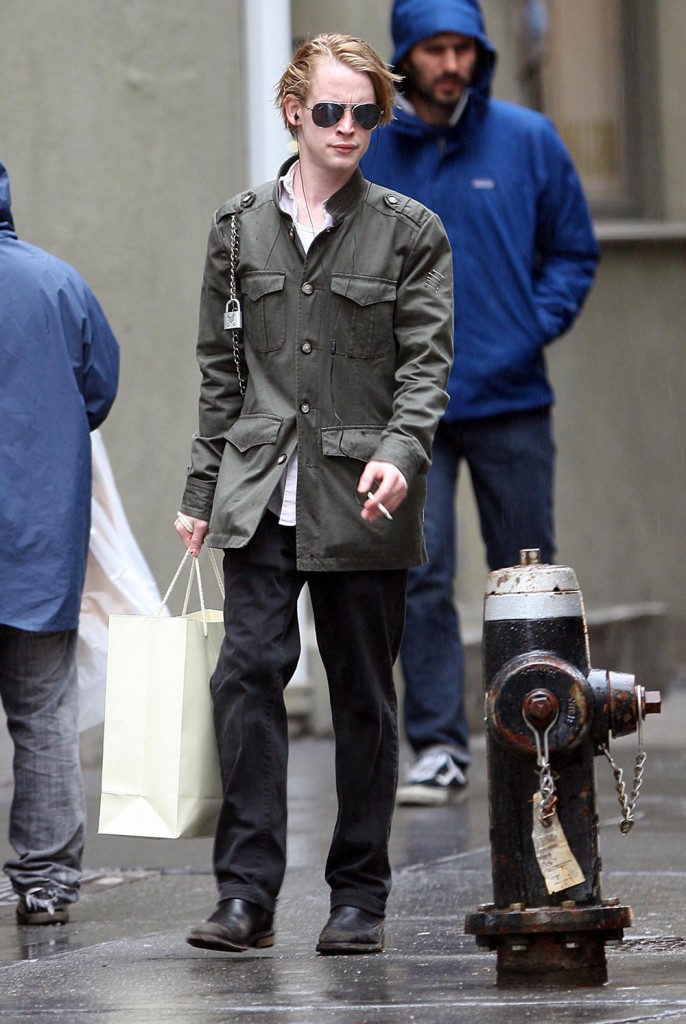 Header photo credit: Diane Cohen/FameFlynet Pictures. Other photos credit Brian Flannery/FlynetPictures.com