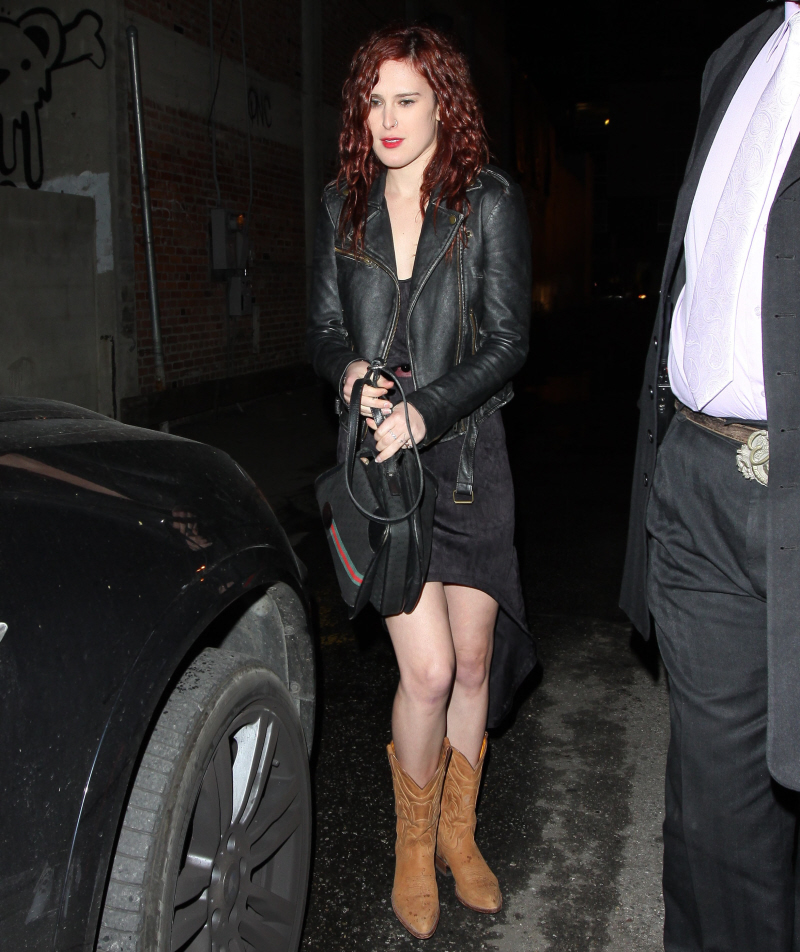 These are some photos of Rumer Willis from a few days ago in LA. Poor Rumer. I already had some sympathetic energy for her just because, but then when everything went down with Demi Moore and the Whip-its and all of that… I just wonder if Rumer isn't permanently screwed up by her parents. By most accounts, Rumer is a pretty well-adjusted girl, though. Maybe she had a normal childhood and it's just over the past few years that everything has gone crazy. Here's hoping. Anyway, a lot of sites have been discussing Rumer's weight loss as of late. We discussed it too, when it seemed like Rumer might have gotten her implants taken out, either that or she just lost weight in a dramatic fashion. Most of the weight loss reports have centered around "Rumer is not eating because of her mom's dramz." But The Mail claims it might be because of Rumer's "modeling" career:
She's dropped a dramatic amount of weight lately, and many believe it was due to the stress of her mother's divorce. However, it appears there could be another reason behind Rumer Willis' rapidly shrinking frame – sources claim she's close to inking a modelling deal.

A source tells Sydney's Daily Telegraph that she might well soon be the face of Australian designer Charlie Brown's newest collection. Brown's spokesperson did not deny or confirm the reports.

She told the paper: 'It's too early to talk about next season's campaign. Charlie does like to make a splash, though.'

The 23-year-old actress has certainly been looking the part of a fashionista lately. She's dropped a serious amount of weight, and has been stepping out in chic, eclectic ensembles.

Demi Moore and Bruce Willis' eldest child was spotted leaving The Writer's Room bar in Hollywood in a cool leather ensemble. She paired a sassy black motorcycle jacket with an asymmetrical black dress and tan cowboy boots. Her bright auburn hair stood out starkly against her pale skin and dark clothing.

It was recently believed that her weight loss could be credited to the demise of her mother's second marriage. Rumer has been on hand to offer her mother support. The 49-year-old actress' health rapidly deteriorated following her split from Kutcher; she was rushed to hospital in January when she collapsed at a dinner party after inhaling nitrous oxide.
[From The Mail]
So is Rumer losing weight because of personal drama, or because she's trying to stay whippet-thin (ha) for her career as a model? Last year, Rumer got a gig as the "face" of Badgley Mischka, and while the images were pretty (for her), I don't think Rumer is really going to set the world on fire with her modeling skills, you know? Basically, I'm saying that I hope she eats something and finds a better way to deal with her family drama.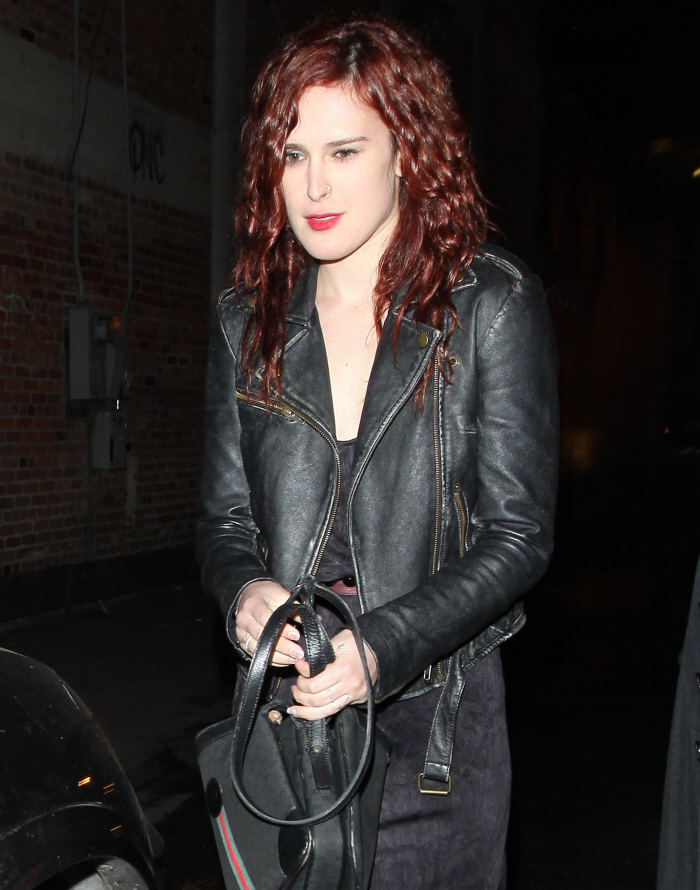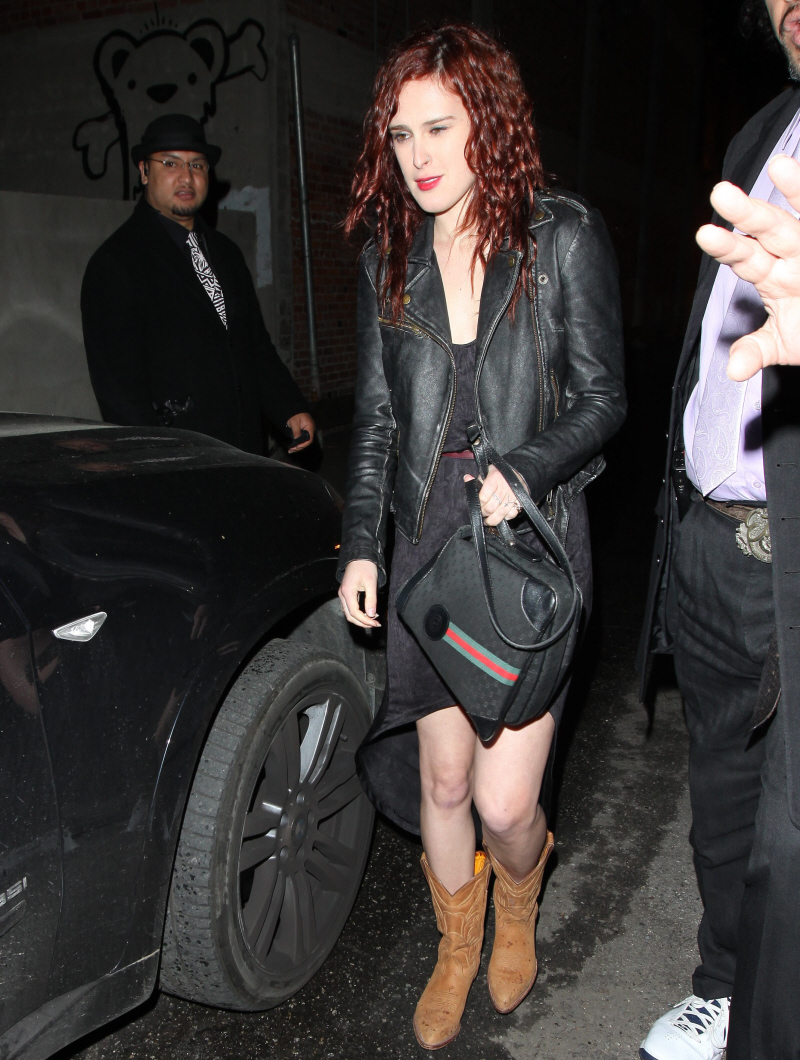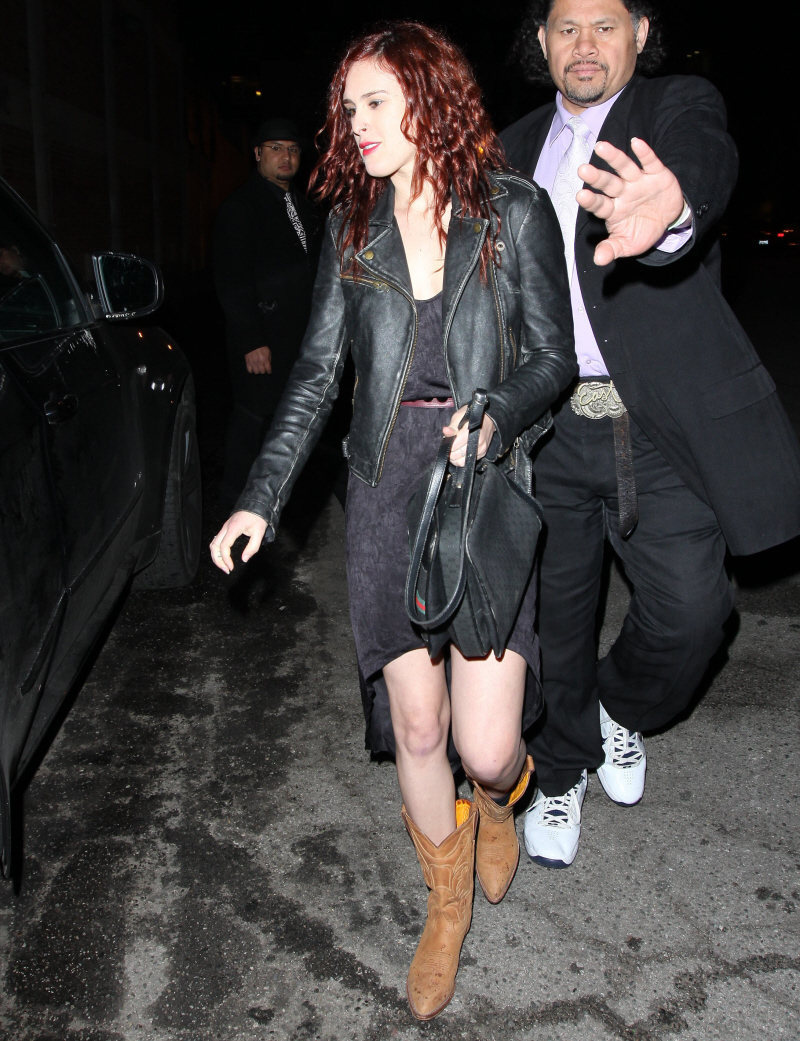 Photos courtesy of Fame/Flynet.