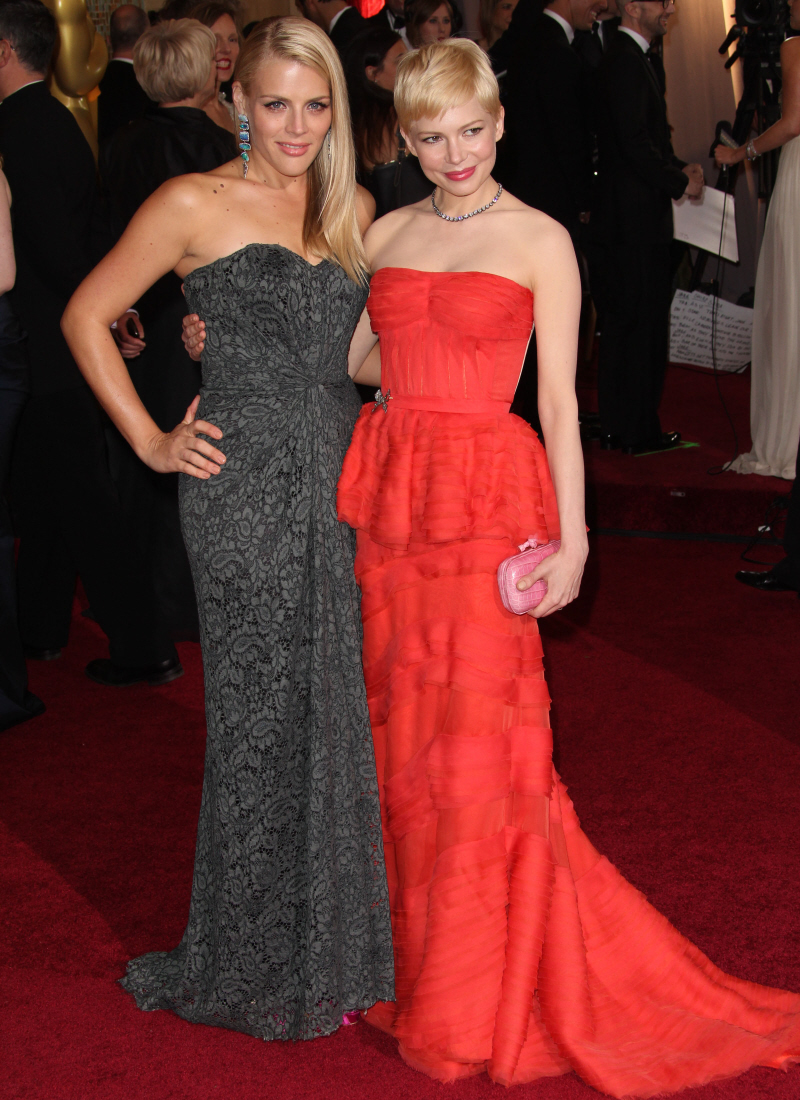 As I said during this past awards season, I liked the idea of Michelle Williams bringing her BFF Busy Phillips as her "date" for the big events. I think they are truly best friends, and I think their friendship transcends Hollywood press and photo ops and image consulting and Oscar campaigns. I like that Michelle brought a girl-date who would be a lot of fun, and she wouldn't have to think about the sexual politics of everything. So, what's the problem? Well, first of all, Busy was Michelle's date for everything! Like, Busy went everywhere with Michelle throughout January and February. Busy has a husband and a daughter, and it started to feel a little bit weird that Busy was always "on call" for Michelle. Second problem: Michelle's Oscar campaign seemed to include a "second virginity clause" where Michelle acted like she was much too delicate to even allow a boy to touch her fragile body. In plain terms, she acted like her grief over Heath Ledger had re-virginized her. And it was sketchy.
Still, Busy and Michelle's friendship took no hits. Michelle lost out on most awards, but whatever happened, Busy kept Michelle's spirits up. Plus, Busy is a good enough friend to know that she could never look better, style-wise, than Michelle. So Busy always under-dressed. Perfect date! But just how perfect? Dun dun dun. The Enquirer claims that there are now "rumors" about Michelle and Busy's "close" relationship:
Men come and go, but women who are best friends last forever! That's the mottor of Michelle Williams, who is stuck like glue to Busy Phillips.

"Michelle and Busy have a mutual girl crush on each other," an insider told The Enquirer. "They're soul mates who do absolutely everything together. Lots of people whisper behind their backs, speculating that their relationship is more than just platonic. But they're just the best of friends."

Busy has been married to screenwriter Marc Silverstein since 2007, and they have a 3-year-old daughter. Meanwhile, Michelle is mother to daughter Matilda, age 6. Michelle has dated on and off since Heath Ledger's death in 2008, like a post-Heath romance with indie director Spike Jonze. She was also recently spotted out with actor Jason Segel.

"But there's nothing serious going on," said the source, adding, " Nothing will ever touch the feelings she had for Heath. He was the love of her life."

Recently, Michelle sparked rumors when she took Busy as her date to several awards season events, but the source says: "The truth is that Michelle is reluctant to dive back into the dating scene… frankly, she's more comfortable having Busy by her side."
[From The Enquirer, print edition]
I think they probably are nonsexual-girlfriend soulmates. They seem to have a lot of love for each other, and I hope (hope hope) that it goes both ways between them – that Michelle listens to Busy's problems as much as Busy is listening to Michelle's problems, you know? So… yeah. Whatever. I don't think Busy and Michelle are anything but best friends. As for Michelle being "reluctant to dive back into the dating scene"… for the love of God. She's had several boyfriends since Heath died! Why is Michelle pretending like that never happened? The jig is up!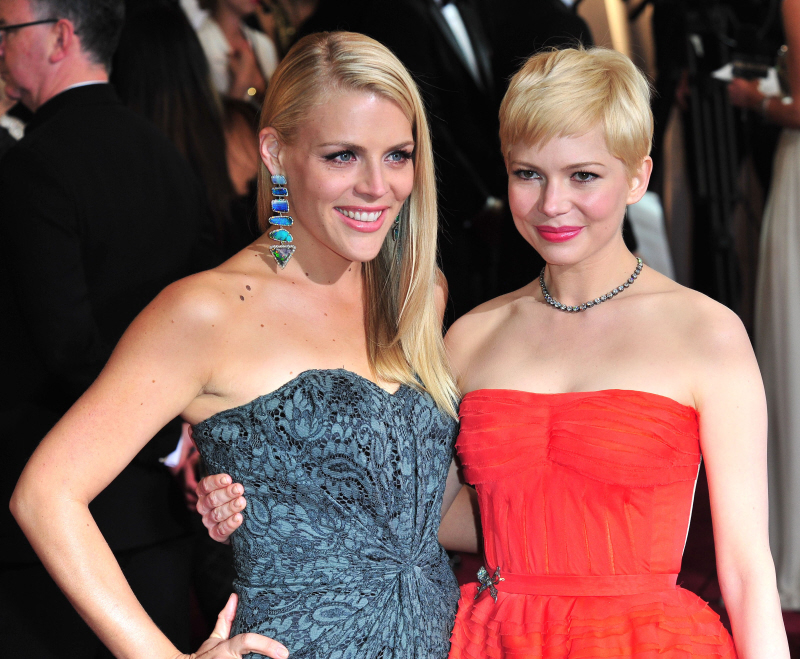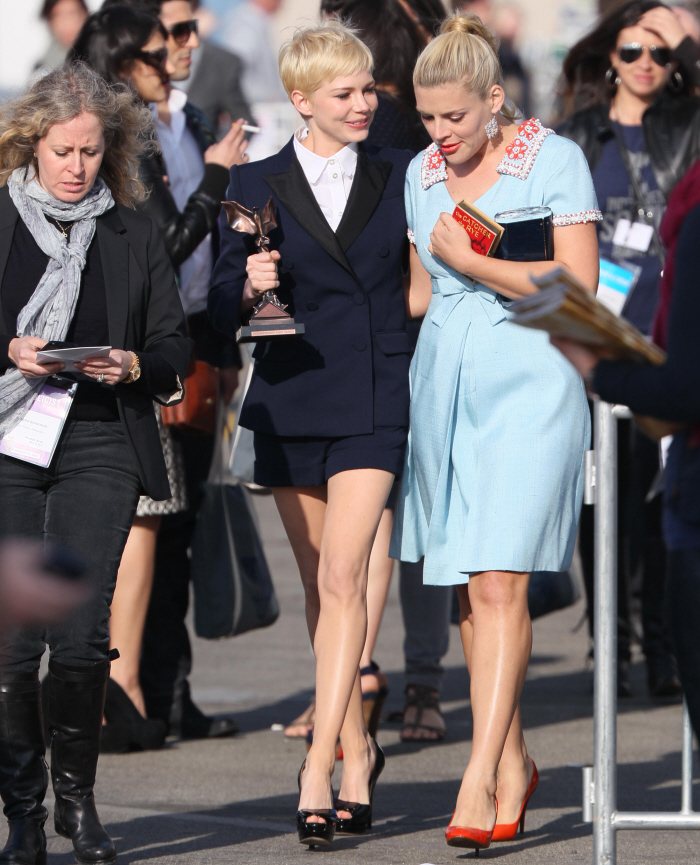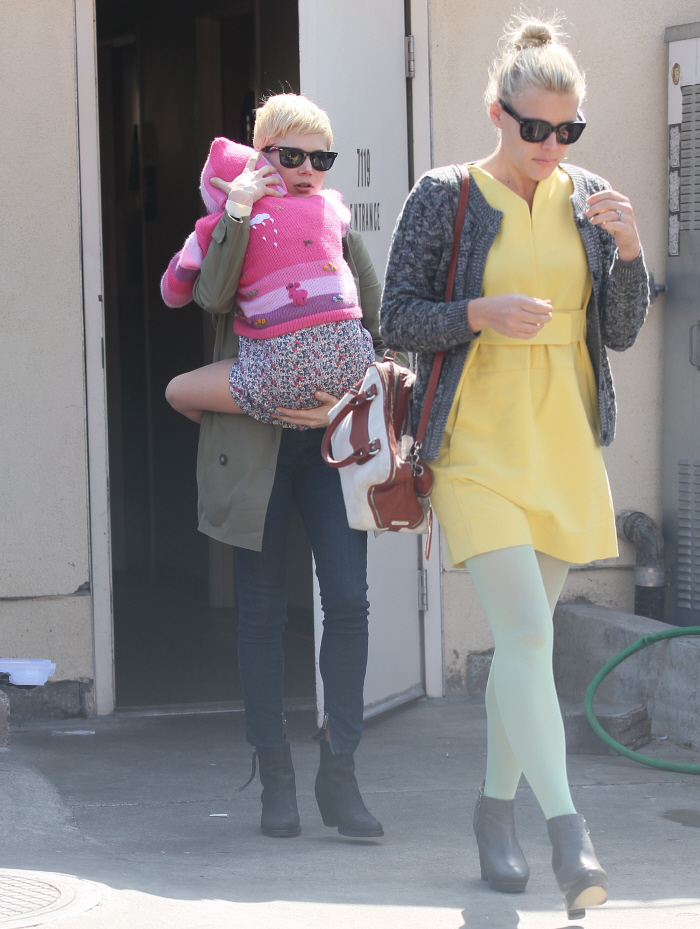 Photos courtesy of WENN, Fame/Flynet.