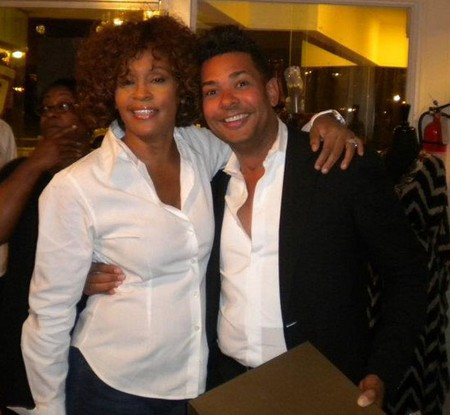 This story is kind of crazy, so bear with me. Remember when that photo of poor Whitney in her casket was on the cover of The National Enquirer? The people at the funeral home were mortified, because they would never jeopardize their business for a quick buck. A lot of people wondered which one of Whitney's family and friends at her private memorial would sell her out like that. Roger Friedman reported in Forbes about two weeks ago that the culprit was likely a guy named Raffles van Exel, a known con artist who uses several alias and has posted a YouTube video bragging about getting close to celebrities. People at the funeral home reported seeing this guy take a photo of Whitney in repose, and he seems to have ingratiated himself to her family following her death.
Well now van Exel (if that's even his name) told a Dutch paper that he cleaned Whitney's hotel suite right after she was found dead. This may be why no traces of cocaine were found at the scene, despite the fact that cocaine was found in her system after she died and is considered a contributing factor in her death. Celebuzz has this story:
A close confidant of the late pop diva Whitney Houston has admitted he cleaned up the hotel room where she drowned, Celebuzz has learned.

In an interview with respected Dutch newspaper The Telegraph on February 15, just four days after the singer's death, Raffles van Exel confessed: "The room had to be emptied."

"Someone had to do it," van Exel told the newspaper, according to a translation of the article published online.

Van Exel stopped short of telling The Telegraph what exactly he removed from the suite and he has not returned Celebuzz's request for comment.

Last week, the Los Angeles County Coroner's Office declared Houston, 48, died from an accidental drowning in a hotel bathtub with the "effects of atherosclerotic heart disease and cocaine use."

Sources tell Celebuzz that Beverly Hills police are still investigating how Houston acquired the drugs that contributed to her death and whether they were hidden from police and first responders.

No cocaine or drug paraphernalia were found in the suite at the Beverly Hilton Hotel in Beverly Hills, Calif., the source adds.

However, Houston's cocaine use appeared to have occurred "in the time period just immediately prior to her collapse in the bathtub at the hotel," Chief Coroner Craig Harvey said when he announced the findings of his report, last week.

"(Houston's case) is still an open investigation for us… I can't disclose any details about the investigation," BHPD Lt. Mark Rosen told People on March 23.

In various media released, Van Exel, a Dutch national, touts himself as a "highly respected entertainment consultant" who has "guided some of the world's most acclaimed executives and celebrities."
[From Celebuzz]
Ok, so maybe some creepy hanger on just cashed in after Whitney died and covered up evidence of her overdose, it doesn't have to mean that there's some conspiracy over her death. This is still giving me butterflies in my stomach, particularly after watching this video of van Exel (below) that Roger Friedman clued me in on. If you don't want to watch the whole thing, just fast forward to 1:43, where van Exel uses crutches to fake an injury and gain access to the Billboard Music Awards. He calls the security guard a "fool" for giving them a ride on a golf cart and letting them bypass security because he had crutches. He then pretends to be a representative for Joe Jackson despite not knowing him at all. At the beginning of the video, he explains that celebrities are just like regular people and that they'll get more comfortable with you the more they see you hanging around. This is seriously creeping me out. He says at 3:40 "go for the kill and never take no for an answer."
Note that the website mentioned on the video, "Diary of a Hollywood Street King," is NOT van Exel's blog. It's an urban blog that copied the video and uploaded it again. They also claim to have details of how van Exel obtained cocaine for many celebrities, extorted money from them and was an enabler for Whitney's drug habit. So maybe he was her dealer and he cleaned up the cocaine because he's the one who got it for her. Now I know why her family isn't convinced that her death was an accident. Holy sh*t. This is starting to remind me of Anna Nicole Smith's death. Whitney had enablers around her, and this one in particular seems to have had nefarious intentions.

Photo via Celebrity Dirty Laundry.