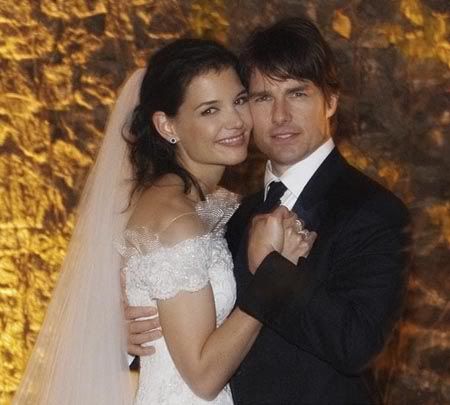 Tom Cruise and Katie Holmes were married yesterday in a non-binding Scientology ceremony that took place in a romantic Italian castle in front of over 150 guests. Cruise and Holmes walked down a stone ramp that was flanked with medieval-costumed flag-bearers. Drums beat in the background, and the castle was decorated with torches, candles, and masses of white flowers.
The couples' first kiss was so long that guests yelled for them to stop:
Officially, they got married in Los Angeles, but the spectacle of the wedding between Tom Cruise and Katie Holmes was here, in a 15th-century castle that evoked fairy tales and lit up with red, white and green fireworks for a cheering, celebrity-laden crowd.

There were fireworks inside, too, a "never-ending kiss" between the betrothed after they exchanged vows Saturday. The kiss lasted so long it caused guests to shout "stop, stop!" said Giorgio Armani, who attended the wedding and designed the outfits of the bride, the groom and their baby, Suri.

The couple flew out of Rome Sunday for a honeymoon in the Maldives, said Ciampino airport spokesman Adriano Franceschetti. The rest of the wedding party was due to fly to Los Angeles later in the day…

The evening wedding was performed by a Scientology minister in front of more than 150 relatives and friends, the couple's publicists said.

Oil-fed torches and tiny candles flickered from the battlements and windows of the Odescalchi castle in this lakeside town as the couple and guests gathered for the ceremony in the town about 45 kilometers (27 miles) northwest of Rome. Suri, dressed in white, arrived in her mother's arms.

The wedding party included Cruise's two children, Isabella and Connor, from the superstar actor's previous marriage to Nicole Kidman, the publicists said in a statement. The best man was Cruise's best friend David Miscavige and the matron of honor was Holmes' sister Nancy Blaylock.

Holmes wore a black dress and boots before she changed into Armani's off-the-shoulder ivory silk gown. Her father, Martin Holmes, walked her down the aisle and she carried a bouquet of flowers made by Armani including calla lilies.

Cruise, who sported dark shades and waved to fans as he rode through the castle gates in a van, wore a single breasted navy blue Armani handmade suit for the wedding, with an ivory silk French collar shirt of the same fabric as the bride's gown.

Armani told The Associated Press that Cruise, then Holmes, walked down a stone ramp lined with flag bearers in medieval costumes and to the roll of drums.

They exchanged vows in a former stable decorated simply with white flowers.
They are now enjoying some alone time (that will undoubtedly be marred by paparazzi) in the tropical island nation of Maldives in the Indian Ocean.
Thanks to KatieHolmes.com for these wedding pictures.