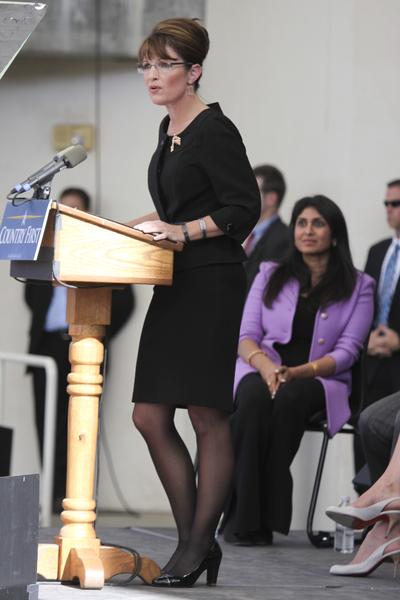 Could Sarah Palin guest star on Desperate Housewives? If the show's creator Marc Cherry has anything to say about it, that'll be a yes. According to Page Six, Cherry is a huge fan of Palin, and would love her to guest star on the show's season finale, playing a politician.
IS Alaska's Gov. Sarah Palin headed to "Desperate Housewives"? Series creator Marc Cherry is "very hot to trot to have her appear on the season-five finale," Hollywood p.r. man Hal Lifson, who's not involved with the show, told us. "Marc is highly enamored of Sarah and sees her as the ultimate guest star [playing] a similar version of herself. The idea has gone over surprisingly well with execs at Disney, who see it as a blockbuster based on Sarah's huge ratings on 'Saturday Night Live.' " Cherry declined to comment. An ABC rep said, "There's no truth to it."
[From Page Six]
Of course there's no truth to it. Until she's filmed the role. It seems like every time we hear a denial of this type it ends up happening after all. I don't think more fluffy television gigs is really what Palin needs in the long-term. Katie Couric was right – what she needs to do is buckle down and learn about government… and about interviewing.
Matt Lauer recently interviewed Palin and asked her about the semi-disastrous Couric interview. Palin said she was annoyed with Couric's questions and seemed to think Katie was implying that Alaska is disconnected from the rest of the country. She bumbled through the Matt Lauer interview as well. It was clear she didn't have anything rehearsed and no lines at the ready – something she brags about. I know the idea she's trying to get across is that she's more honest that way, but instead she comes across as unsure.
MATT LAUER: More now of our interview with Alaska's Governor Sarah Palin. Virtually unknown before John McCain picked her as his running mate, Palin found herself under an intense media spotlight. I asked Governor Palin about one of her first interviews during the campaign with Katie Couric, where she stumbled over a number of questions. And I asked her if seeing the clips from that interview, hurt her confidence.

SARAH PALIN: No, no, because, you know I'm sure that some of my impatience showed through in that, in that interview. I think it also showed, though, that certainly as a Washington outsider and as somebody not, not one to just, I guess, kind of play even the, the campaigning media game that is played in, in just repeating, perhaps, memorized lines in an, in an interview, that's not me.

LAUER: But you didn't think the interview was unfair? I mean, the questions were fairly straight forward, weren't they?

PALIN: Well sure, yeah. But you know questions about well, "You know what do you read up there in Alaska?" To me that was kind, a little bit annoying because I'm like, "You know what do you mean what do I read up in Alaska? I read the same things that you guys read in New York and there in L.A. and in Washington state. What do you mean, what do I read up there?" But anyway, just, just some annoyance that certainly showed through and, you know, perhaps that, that annoyance that showed through would have led some to be annoyed with me, watching the interview. And that's understandable.
[From Newsbusters]
Here's a clip of the interview. The transcript above doesn't indicate all the "uhs" and "ums" constantly coming out of Palin's mouth as she seemed to be searching for some sort of response. I think Katie Couric's questions were more than fair, and she's not the one who made Palin look unprepared. That was her own doing.
Update by Celebitchy: An executive producer for Desperate Housewives says there is no truth to this story at all, and it sounds like Marc Cherry is not a Palin fan by the way she words it:
Desperate Housewives executive producer Sabrina Wind just emailed to me: "I just wanted to tell you from Marc himself that there is no validity to this odd claim. There is no way Sarah Palin will be coming on Desperate Housewives."
[From E! Online]