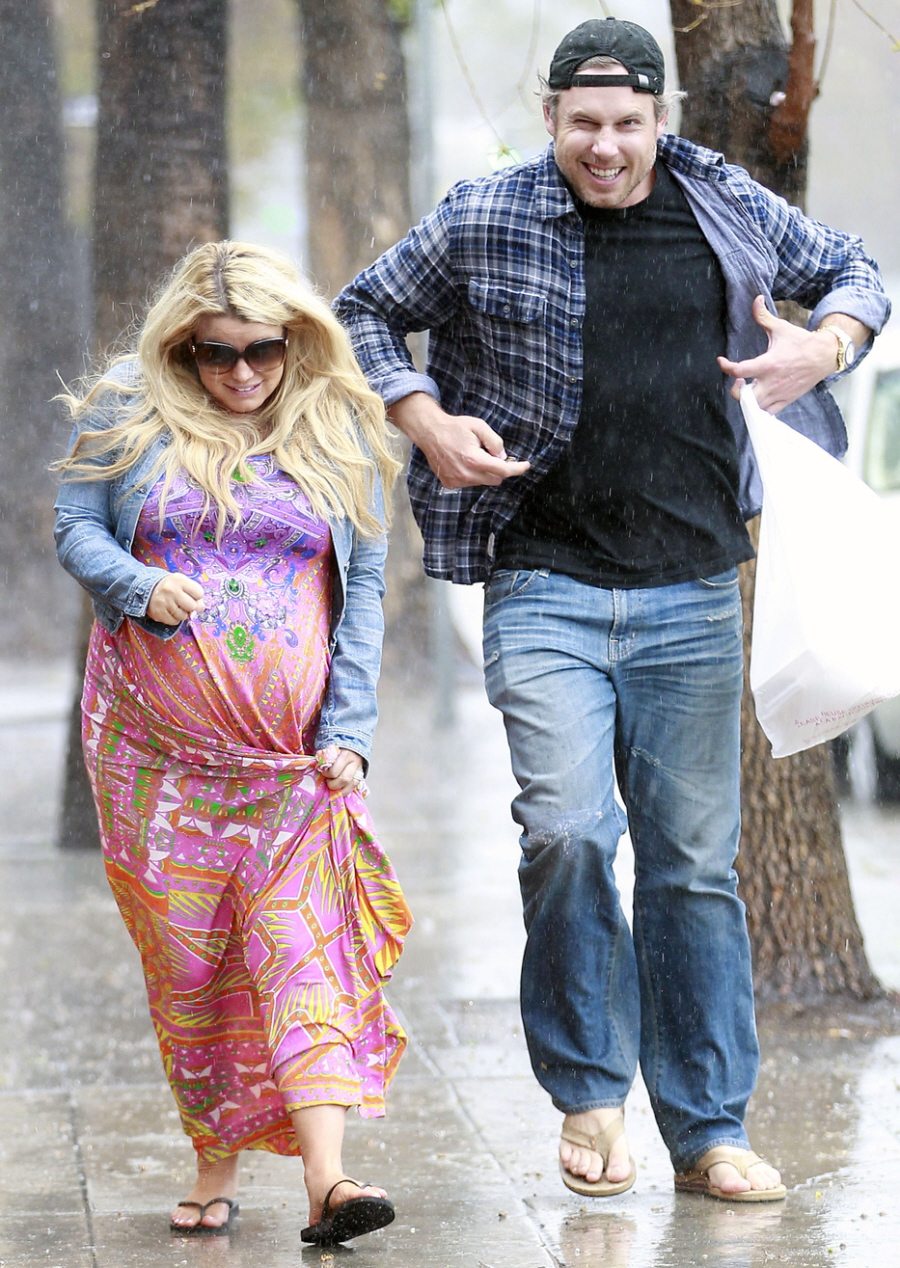 Last week, Us Weekly had an online story about Jessica Simpson announcing to random strangers that she had "one more month to go!" Putting her due date at late April! This came after months of speculation that poor Jessica was due in early March, then late March, then early April. I don't know if this "due date as a moving target" strategy was something cooked up by Jessica's publicity team, or if Jessica was simply too embarrassed to admit that she's looked nine months pregnant for about five months now. In any case, Jessica isn't going into labor any time soon. Jess's sister, Ashlee, was in Australia for several days last week, and when Ashlee was asked about Jessica's due date, Ashlee said she wasn't worried: "I have plenty of time. And I'm going home [Thursday] so it will be fine." Good God. Soon Jessica is going to say that she's actually due in May, right?
Anyway, Jessica's pregnant body is now a big subject of debate on the talk shows. Which… I think is kind of rude. Granted, I talk about how giant Jessica is, but I say it with love and sympathy, because I can't imagine being that uncomfortable. Various commenters disagree, as does Joy Behar on The View:
That bump! Those outfits! Jessica Simpson's super-pregnant body has everyone talking — on both ends of the political spectrum.

Chatting with her co-hosts on The View Tuesday, Joy Behar fretted that the 31-year-old star, expecting her first child imminently with fiance Eric Johnson, has packed on too many pounds, calling the mom-to-be "fat."

"Remember the time that Jessica Simpson was criticized because she didn't know the difference between chicken and tuna? That kind of thing is more fun to criticize than the fact that the girl is fat," Behar, 69, opined. "Most women who are pregnant are not supposed to gain more than 25 pounds. She looks like she gained a lot more than that."

Behar's View cohort Whoopi Goldberg was more sympathetic, admitting that she gained 90 pounds when she was pregnant with her own daughter. "I lost some of it. But some of it I didn't lose. You do what you have to do."

Former Alaska governor and 2008 Republican Vice Presidential candidate Sarah Palin, meanwhile, had a totally different take.

"I would have wanted to punch [Jessica's critics] in the neck," mother of four Palin, 48, told Matt Lauer on TODAY Tuesday morning. "It's none of anybody else's business how much weight I would gain."

"This isn't even an issue," she added, "Hollywood . . is full of itty-bitty people, people [who are] unrealistically tiny."

Lauer argued the attention paid to Fashion Star mentor Simpson's current size is simply "about contrast" to Simpson's former, super-svelte days wearing tiny Daisy Dukes and cowboy boots in 2005′s Dukes of Hazzard.

"That was a different chapter of her life," Palin said. "I bet you she was exercising five or six hours a day back in those Daisy Duke days."

But Simpson reportedly already has a plan to fit back into those Daisy Dukes after her daughter is born this month: She reportedly signed a multi-million dollar deal with Weight Watchers to shed her baby weight.

For now, however, the star is reveling in her larger shape. "I'm like 170 pounds and I wanted to pose nude," said Simpson star shortly after her nude ELLE cover was revealed. "I try to be like 110 pounds. It's funny to be at your heaviest and feel the most confident. I just take such pride in being a mom! I just love my body more than ever now."
[From Us Weekly]
Did anyone else just have their mind blown by agreeing with Sarah Palin? That just happened to me. I found myself saying, "Wow, Palin makes a great point. Jessica's body, Jessica's choice, Jessica's business." If only there was some way to extend Palin's argument to other women's issues…?
Oh and JESUS CHRIST CAN WE NOT CALL PREGNANT WOMEN "FAT"?!?!?!?! Thank you. Enough. We shouldn't call anyone fat (not even if they're a Kardashian, HELLO), but that word should just be banned for pregnant women.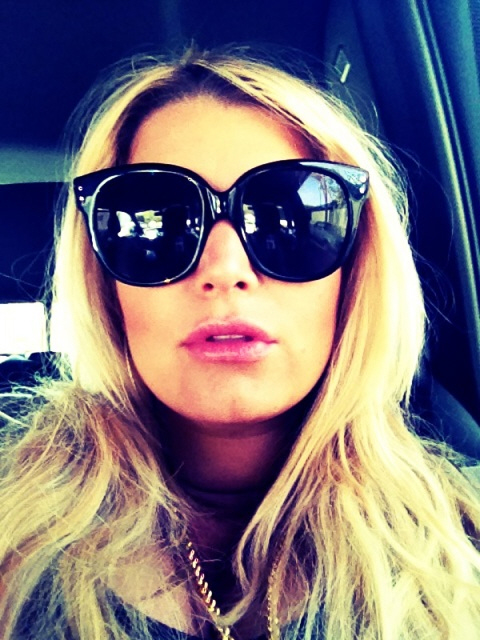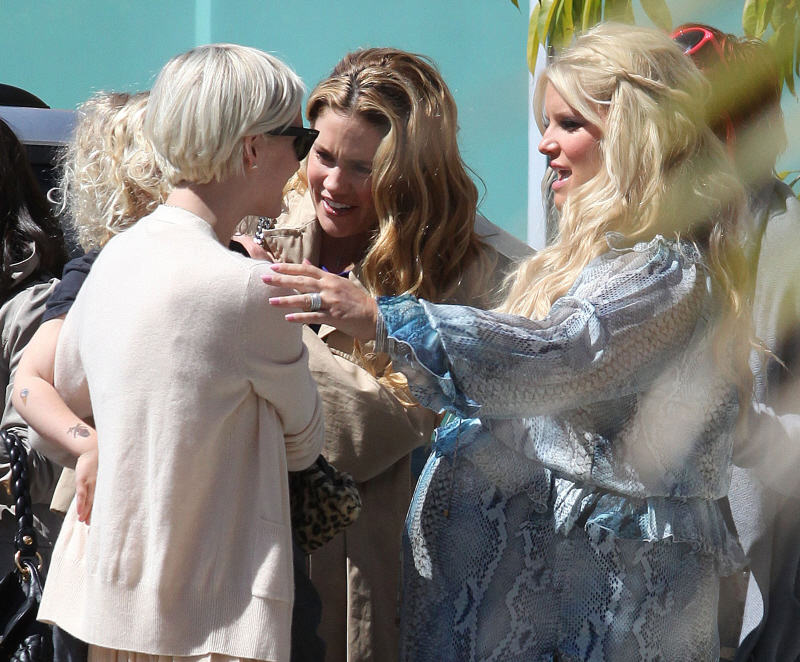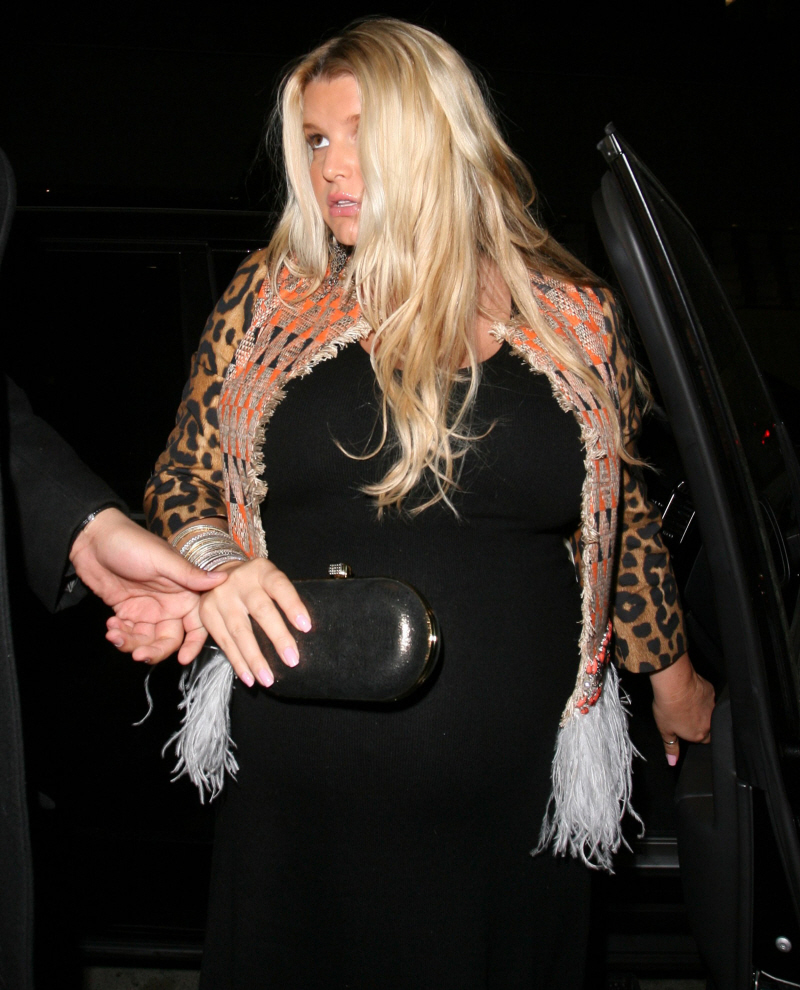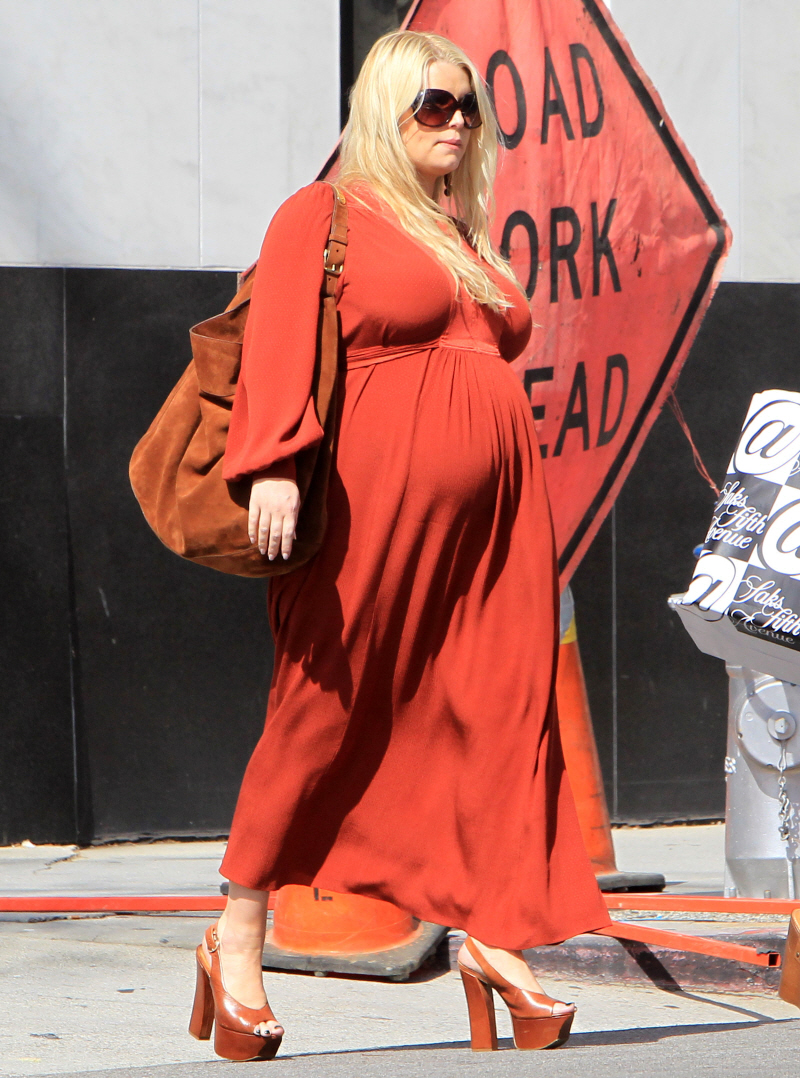 Photos courtesy of Fame/Flynet, Pacific Coast News and Jessica's Twitter.