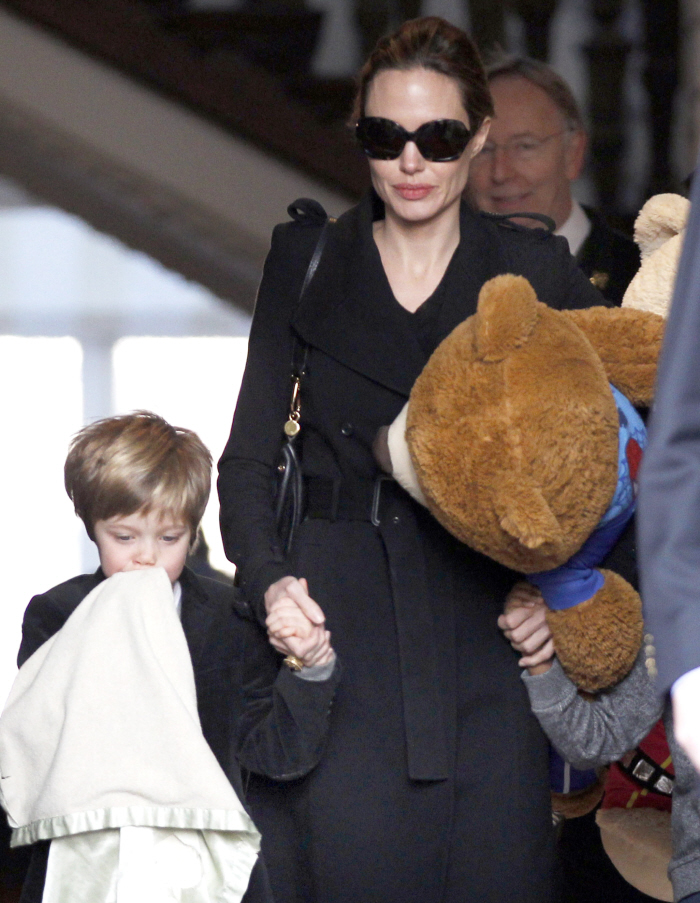 Shiloh Jolie-Pitt is a thumbsucker. This isn't the best photo evidence of Shiloh's thumb-sucking, but I think that's what she's doing in the photos where she's carrying her white silkie. The silkie is covering it, but she's got that thumb in her mouth. Shiloh's about to turn 6 years old in May, which is too old to still be sucking your thumb, according to the experts that The Enquirer found. Of course, some of these "experts" are the same people who pull their hair out because a 5-year-old girl isn't interested in dresses and barrettes. Anyway, The Enquirer's sources say that Brad and Angelina are totally concerned about this pressing issue!
Angelina Jolie and Brad Pitt are desperate to break their daughter Shiloh of thumb-sucking because it can cause long-term emotional and physical problems. Shiloh turns 6 in May, and experts say she should have outgrown the habit long ago.

"Beyond the age of 4, thumb-sucking should be discouraged because it causes both physical and emotional damage," warned psychotherapist Gilda Carle.

Another expert says, "Thumb-sucking can alter the shape of the mouth and affect the alignment of teeth. The end result can be difficulty chewing, speech abnormalities and an unattractive smile."

If thumb-sucking continues after age 5, "you might want to have the child examined for emotional problems or anxiety disorders," says periodontist Dr. Peter Rubelman.

Shiloh has recently been photographed sucking her thumb in public, and both Brad and Angelina want it to end, said the source.

"They're offering her big incentives to quit. Brad told Shiloh that he'd take her on a special daddy-daughter weeklong camping trip if she stops."
[From The Enquirer, print edition]
I'm really only writing about this because I wanted to tell my own thumbsucker story. My mother was concerned when I started sucking my thumb when I was just a baby. So she put socks on my hands so I couldn't get at my thumbs. So I just sucked on the socks. To this day, she still occasionally refers to me "The Little Sock-sucker". Whatever – there are tons of practical and efficient remedies for thumbsucking, especially them the thumbsucker is old enough to be bribed (like Shiloh). Promise her all of the little pixie haircuts her heart desires. Promise her a Montenegro-Style shopping spree. Promise her a dirt bike. She'll stop sucking her thumb in no time.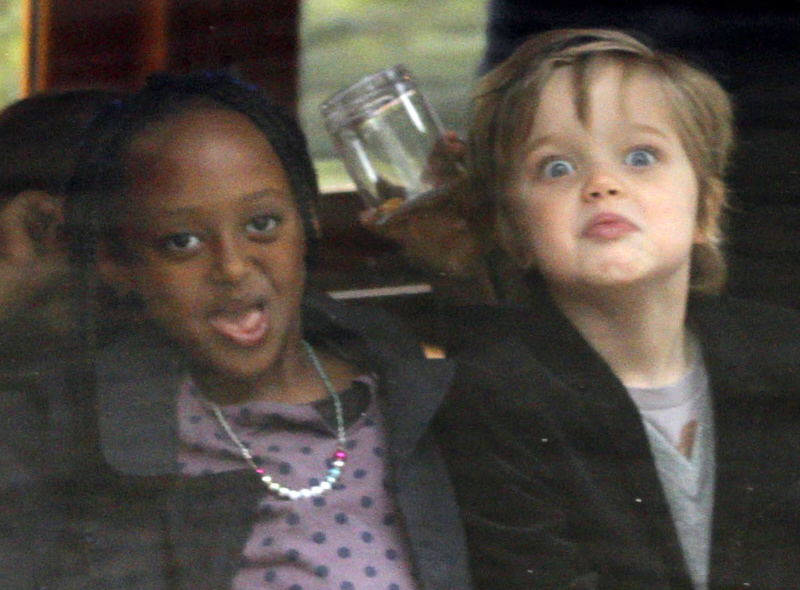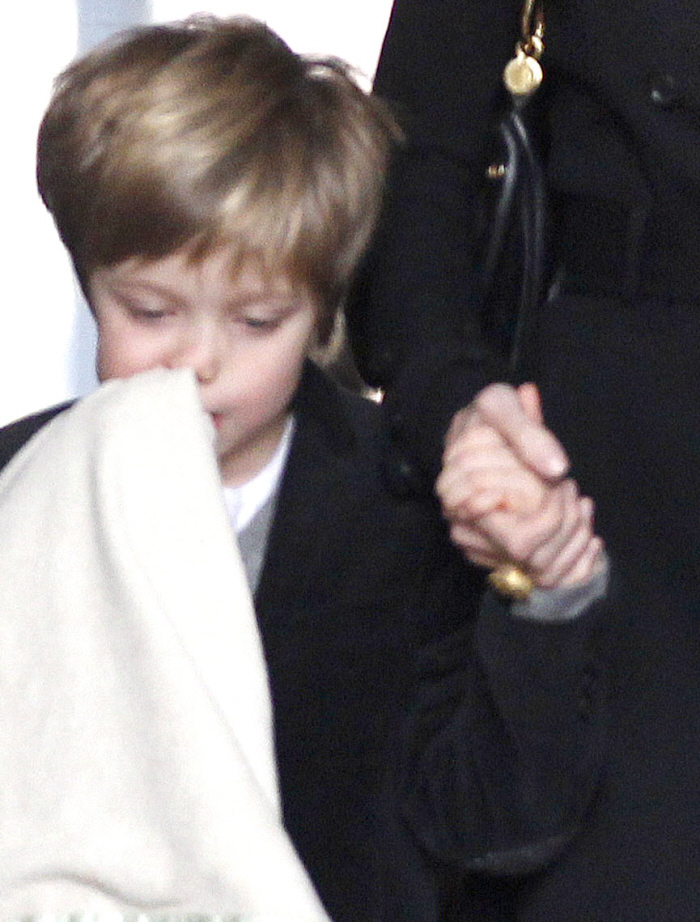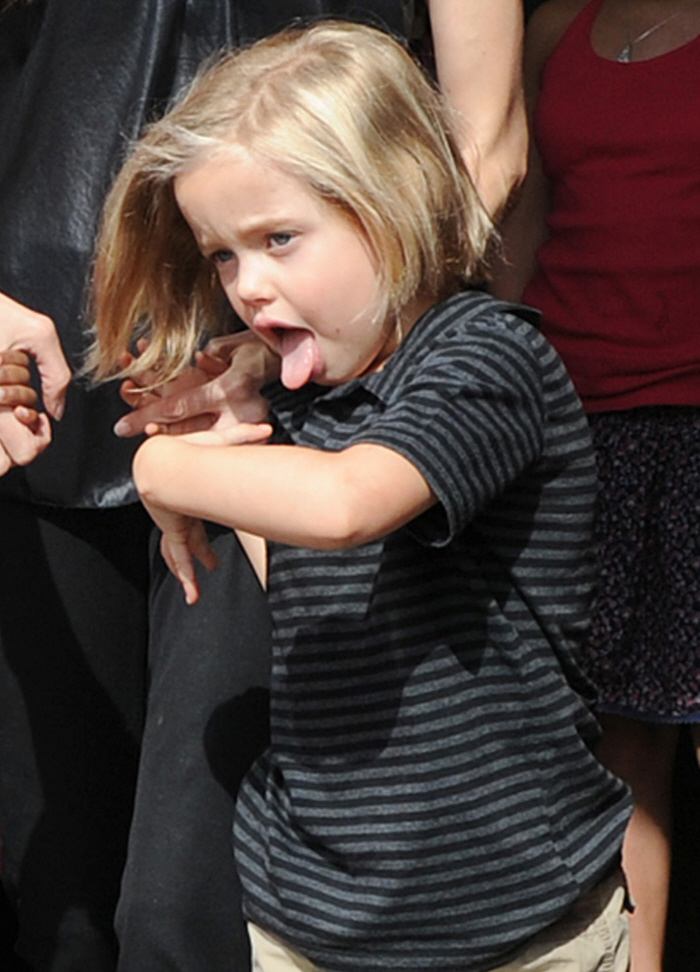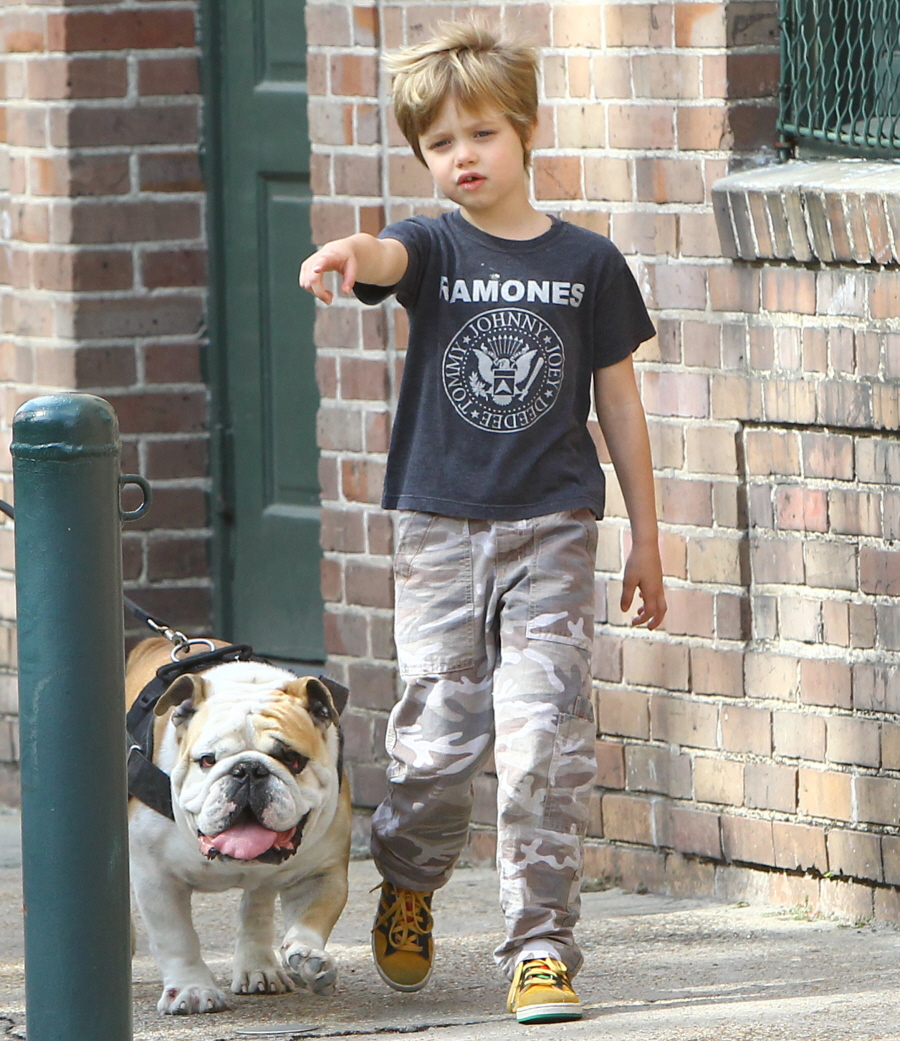 Photos courtesy of WENN, Fame/Flynet.