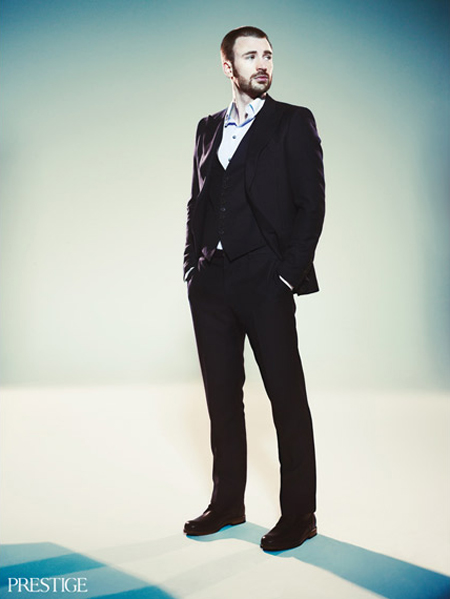 Chris Evans covers the May issue of Prestige Hong Kong, and I have to admit to being seriously underwhelmed by the photoshoot. It's like they purposely styled him to look like Justin Timberlake. Goodbye to that cute little butt, right? Anyway, the interview is worthy of at least a bit more interest because it's a reflection on how much Chris' attitude has changed since admitting to going into therapy after accepting the titular role in Captain America. Of course, he's already played the Human Torch (a.k.a., "Johnny Firepants") in one of the Fantastic Four movies; Captain America turned out to be a huge hit; and the upcoming Avengers movie is sure to fly high. He's got two more Captain America movies in his future plus an upcoming role as a Mafia assassin in The Iceman. As such Chris seems to have relaxed a bit and has granted himself more leeway to discuss his work as an actor thus far.
This presents some difficulty in analyzing Chris' words because he's not exactly speaking kindly of his past movies. In fact, he seems downright ashamed of most of them, but he phrases things so carefully that he doesn't fall into the Rooney Mara trap (if you'll remember, she called her stint on "Law & Order: SVU" awful and stupid, and she claimed that she never really wanted the Nightmare on Elm Street gig). Then again, Chris didn't really want to be Captain America either, but his attitude changed after he watched the completed movie. Not so much for most of his other roles (perhaps he's thinking of that dreadful romcom, What's Your Number?), which he clearly wishes he could erase from his past. Still, he explains himself well and mostly acquits himself from sounding like a douche (even if he still kind of looks like one in the photoshoot):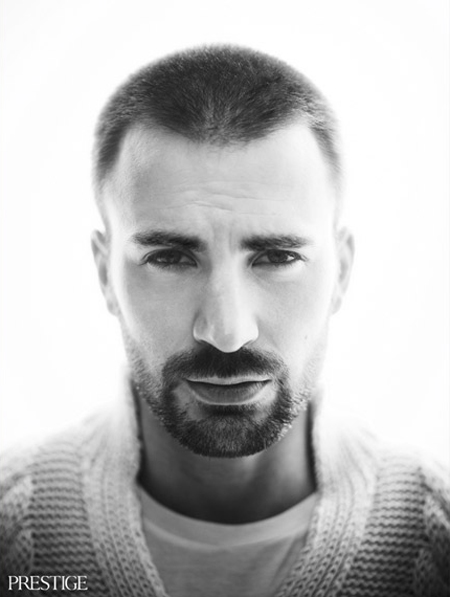 On Captain America's success: "I'm surprised by any movie that is successful. At this point I've made a lot of films. I've made about 20 movies and I'm probably proud of three. It's not easy making a good movie. All these people coming together. All these individual creative minds trying to cook one dish. It's hard to make it taste right, you know. So any time you have a quality film, it's a blessing. If it was easy to do, there would be a lot more of them. I can't tell you how many times I've left the [movie] theatre disappointed. So I certainly was surprised. But I wouldn't have signed on if I didn't have faith [in the project]. At the point of Captain America being offered to me, I had already made quite a few stinkers. I couldn't afford to make another one, let alone another one on that scale. If you make one that big and it fails, your days are numbered."

On how Cap'n ended up in The Avengers: "I'm not sure how much I can tell you. It's obviously modernday. He's a little bit of a fish out of water and it's tricky for him to adjust to the new world. But S.H.I.E.L.D. comes calling, basically has a mission, and has come to get him back in the world. If there's anything that Steve [Rogers] does well, it's following orders, being a soldier, doing what's right. So he's willing to take on the mission. I think that's as much as I can tell you. Marvel will shoot me otherwise."

On being a conflicted human playing a conflicted superhero: "I think it was in terms of my initial apprehension in taking the job. It was a long process, this Captain America thing. At first they called just to have me audition, and I was so excited. They said, 'Look, we're having a hard time finding a guy and we want you to read.' And I said, 'This is great, good news.' Then I thought about it. You process what they're asking – a six-picture deal. I was pretty happy with where my life was and I ended up saying, 'No, thanks' for an audition. Which prompted them to ask why. And then it went from an audition to a test offer. And I said, 'No, thanks' again."

On the stress of press: "I struggle with press, with promoting films. Interviews, press conferences and things like that just stress me out. And I figured that this stage would be 10 times more than any other film I've made. It felt so daunting. I was truly intimidated by it. I just thought I could be doing this part for another 10 years if the movies do well and that's a lot to commit to, and I'm really quite content where I am in my life. And I said no, one more time. And then they said, 'All right, we're offering it to you.' So I had to do some thinking and I ended up going for it. I guess whatever you're most scared of is what you should tackle."

Doing press is different now: "I started to realise, I think the main reason I struggle so much in press, is because I'm usually promoting a piece of sh-t. It's really difficult to find a flowery way to tell people to go see this movie, that your face is all over, that your name is all over, that you're endorsing. And then you begin to feel like a liar, like you're transparent. You feel undeserving and it makes the interview extremely uncomfortable, for me at least. I think that's why with Captain America, when I first saw the film, I loved it. I really, really did. I saw it and texted Joe [Johnson] and said, 'Thank you so much for giving me something to be proud of.' When you're proud of it, you want to talk about it. It made doing the press a lot easier."
[From Prestige Hong Kong]
So is it sexist that I don't find myself offended by how Chris is dissing the "piece of sh-t" movies from his past? It's not like he mentions any of them by name, and he certainly explains his reasoning well enough. In addition, Chris is obviously proud of the quality of Captain America and seems pleasantly surprised by the film's monetary success as well. I think he has a bright future ahead of him and will remain humble if possibly a bit more outspoken than his shyness would formerly allow.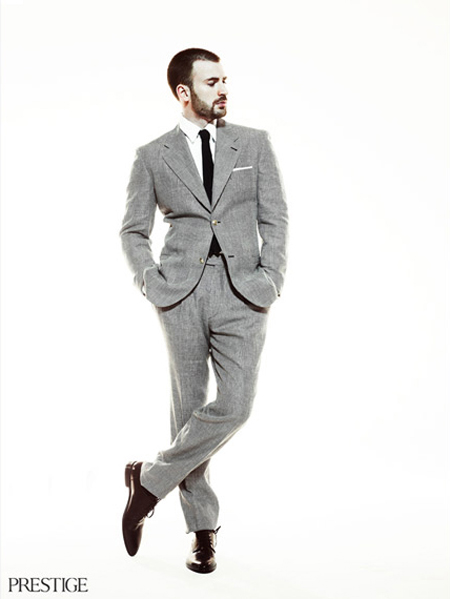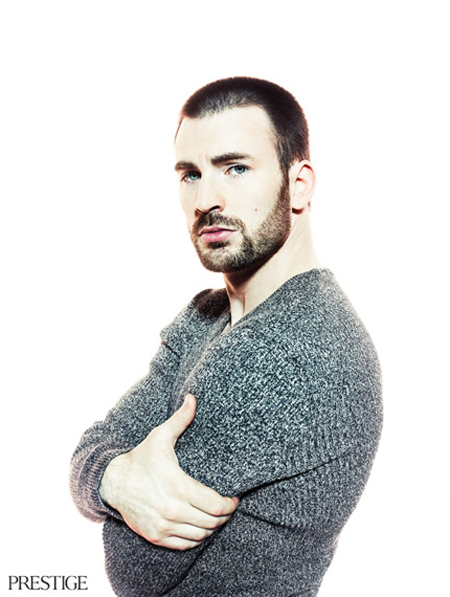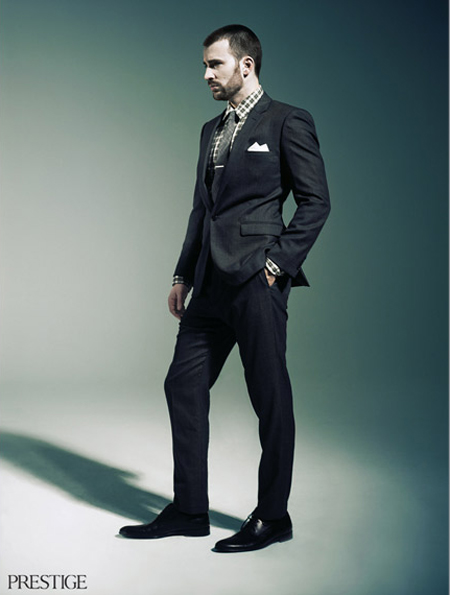 Photos courtesy of Prestige Hong Kong