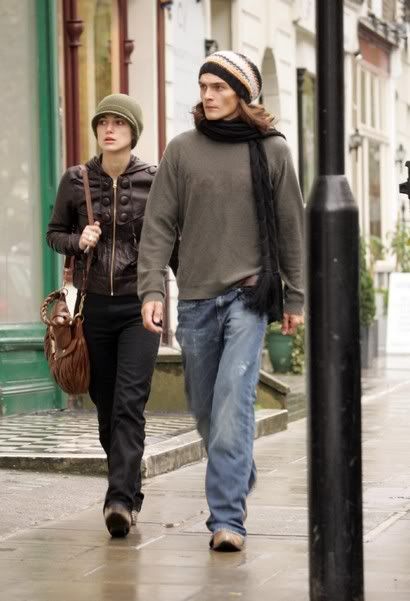 Keira Knightley is said to engaged at the tender slender age of 21. She was spotted out at a party with her live-in Orlando bloom look-alike boyfriend, Rupert Friend, and their mates having some sort of celebration. She kept calling him her "husband" and ever-reliable source News of the World guesses that means they're engaged. Keira supposedly said she wants to get married in Italy and plans to get tips from TomKat, but chances are this dialogue was made up instead of overheard:
[Keira Knightly] is secretly planning to tie the knot with her actor lover Rupert Friend next year.

And the 21-year-old is desperate to copy Tom Cruise and Katie Holmes—who wed yesterday—by holding the ceremony in an Italian castle.

Keira, who has been dating her Pride And Prejudice co-star for nearly a year, spilt the beans at Lindsay Lohan's bash at London's Paper Club on Friday, organised by top party planners viewparties.com

One guest told us: "She looked radiant and seemed to want the world to know that she and Rupert had got engaged.

"She was kissing and cuddling him all night. They were with six friends and were obviously in a celebratory mood after getting through five bottles of Dom Perignon.

"Keira couldn't stop giggling. She even told the waiter: 'Please get my husband a drink.' Even her girlfriends referred to him as her future husband."

Keira told her pals: "We've already decided to get married in Italy. Tom Cruise is living my dream by marrying in a castle."

Our source said: "One of her girlfriends was saying, 'You've got to get as many tips from Tom Cruise as possible.'"

Rupert, 25, proposed after Keira finished filming the third Pirates Of The Caribbean movie, in which she plays governor's daughter Elizabeth Swann, and told producers she was ready to move on to new things.
Did you see the mention of viewparties.com in the article quoted above? It seems pretty likely that they told News of the World Keira was engaged at one of their parties and asked for a plug. That doesn't mean it's not true, it just makes it rather suspect.
Best wishes to Keira. When I was 21 marriage was the last thing on my mind.
Pictures from ICYDK and Saving Face.