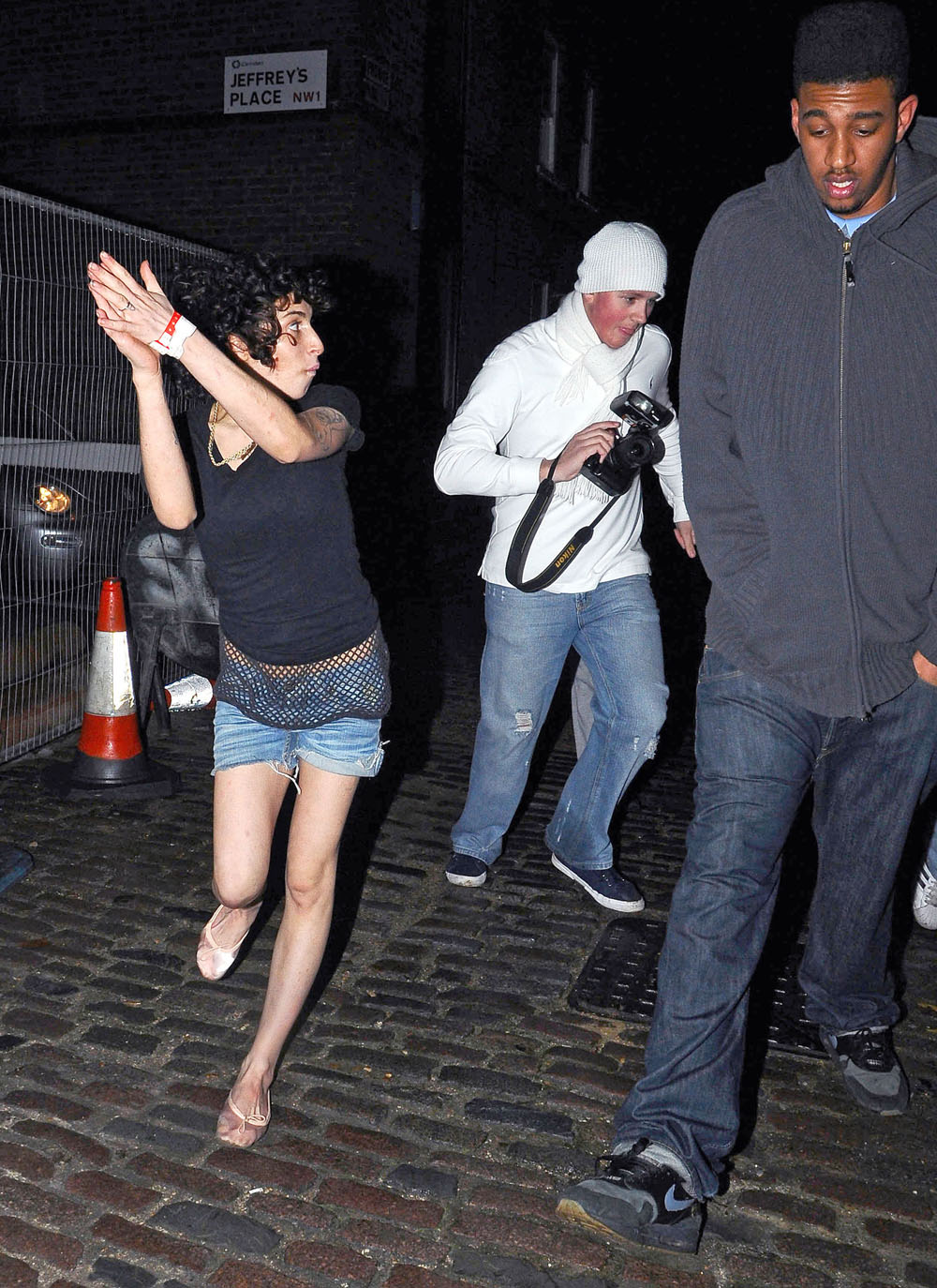 Not surprisingly, Amy Winehouse has lost her mind. Again. For the forty billionth time. And unfortunately for her, the whole thing was caught by photographers. She looks seriously deranged, and it's clear she's back on I don't know what. But it must be a lot of stuff.
Amy Winehouse went on a wild rampage around Camden last night, screaming for her husband and banging on the door of her old flat some 100 metres from her current home. The troubled star appeared to be completely out of it and was worryingly emaciated again, with sores all over her face.

The wild-eyed singer – still without her trademark beehive and minus her trademark sweep of black eyeliner – then made her way back to her flat clutching a litre bottle of vodka via a building site, signing autographs on the way.

She was also wearing the same Rab C Nesbitt-style black string vest she was pictured in earlier this week when she first showed off her new permed hair and fed cheese on toast to photographers. Her drug-addict husband Blake Fielder-Civil is due to rejoin his wife tomomorrow [sic], having gone straight to rehab from prison where he served time for GBH and perverting the course of justice.

It's rumoured that Amy had been considering ditching the junkie, but Blake sis insisting they're still a couple and "will be together forever" Amy's worried mother Janis meanwhile has said she hopes her daughter never lays eyes on him aghain [sic].
[From the Mirror]
Few things say, "Honey I missed you," more than going on a substance-fuelled rampage the night before getting to reunite with your husband. The pictures are truly shocking – how can someone behave this way and not realize there's a problem? Amy had seemed more lucid recently, but clearly that was just a passing phase. I seriously doubt that Blake coming home will do anything to help her addiction issues or her mental health. Which means we have a lot more of these kinds of pictures to look forward to.