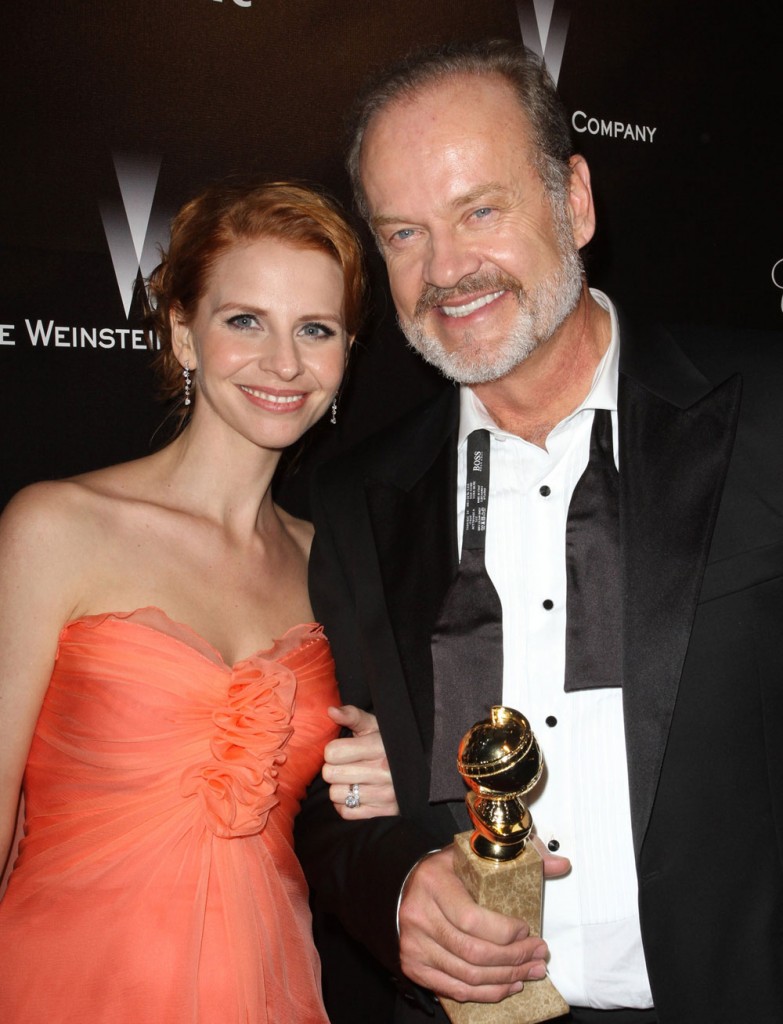 What's that saying – "There's no fool like an old fool?" In Kelsey Grammer's case we might add "There's no fool like a bitter vindictive old fool with something to prove." The 57 year-old TV star just got a tattoo of his fourth wife's name on his hip. Because it wasn't enough to marry her a hot minute after divorcing his third wife. This story is in the Chicago Sun Times, which has interviews with the tattoo artist and some people at the tattoo parlor at the time. Kelsey is in Chicago filming his Starz show "Boss." Kelsey didn't go famewhoring this himself, at least not obviously so. Pay attention to the quotes by 72 year-old Christine Darbo in this story excerpt. They're priceless.
The 57-year-old who plays the fictional mayor of Chicago on the Starz series "Boss," came in to the parlor unannounced, casually dressed, with his wife, Kayte Walsh. They chatted with other customers and employees as they sat and waited for his turn.

"He was pretty cool about it," said Bob Jones, owner of Insight Studios, which has been open at 1062 N. Milwaukee since 2005. "He said it was his first tattoo and he did some research and said, 'You guys seemed to be the best place to go.' "

A 21-year-old employee who works at the front counter at the shop was apparently unaware of his fame.

When Grammer walked to the counter, she said, " 'Can I get your ID, please?' " Jones said. "He was like, 'Huh?' [She said,] 'Yeah, I need your ID.' He said, 'OK.' She came back to me and said, 'Is this guy famous or something? He looked at me kind of funny when I asked for his ID.' "

Tattoo artist James Eastwood's 72-year-old grandmother, Christine Darbo, was accompanying a friend planning to get a tattoo when they started chatting with the former "Cheers" and "Frasier" star and his wife.

"They were just normal people. We were talking about tattoos," said Darbo, a Wheaton plant saleswoman who has two tattoos. "He said, 'I'm going to get Kayte's name.' My friend asked, 'So how long have you been dating that he wanted to tattoo your name?' She said, 'We are married.' I figured with his background he should just put a 'K' with a period to give him some flexibility."

Grammer has been married four times, including his previous marriage with Camille Grammer, which publicly broke up on the Bravo reality show, "The Real Housewives of Beverly Hills."

Darbo said Walsh — a British flight attendant who reportedly married the actor in February 2011 — was "darling."

Walsh said she enjoyed Chicago and said there was "lots of good shopping" in Lincoln Park, where she said they stay when they are in Chicago, Darbo said.

"She was pretty, but not gorgeous, in your face. . . . They were fun. Very friendly and into each other. They were just talking and enjoying each other," Darbo said.

Darbo said she was pretty sure it was Grammer's idea to get the tattoo.

When it was his turn, Grammer looked over some designs and ended up getting Walsh's first name done in blue ink, in letters about half an inch tall, basically at his waistline, Eastwood said.

Eastwood, 23, who lives in Logan Square, said Grammer asked for "just something small because it was his first one."

The tattoo cost $60 — the cheapest the store has to offer.

"He's the only famous person I've ever tattooed," Eastwood said. "He's a pretty down-to-earth dude."

Grammer told Eastwood he was in town filming "Boss."
[From SunTimes]
That 72 year-old granny is the star of this article, right? I love this quote "I figured with his background he should just put a 'K' with a period to give him some flexibility." Kelsey has two four kids (update: he has two children with Camille Grammer, a 10 year-old son and an 8 year-old daughter, and he has two adult daughters from two previous relationships) and two on the way with Kayte, since she's pregnant with twins. You would think his first tattoo would be a tribute to one of his kids, but no it's all about Kayte, the girl who regularly rejects jewelry he buys her. Kayte is probably going to put in her time and then split with a nice hefty settlement and enough monthly child support to never have to work another day in her life. And Kelsey will have a reminder of their time together permanently inked on his stomach. At least he can hide it until he finds his fifth wife, since you know he'll marry the next one who gives him the time of day.
Check out this photo and try not to cringe. It makes you think of Kelsey doing sexy times, doesn't it? Ewww.