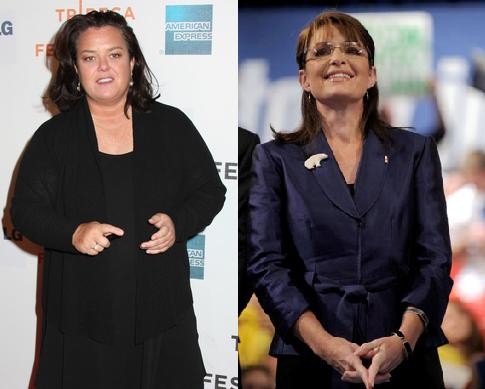 Rosie O'Donnell has said she'd like to have a beer with former Vice Presidential candidate Sarah Palin if she could. O'Donnell had nothing but nice things to say about her, while admitting that she's psyched her party didn't win the election. She says Palin has a lot of spunk and has lived an interesting life and became internationally famous overnight.
Despite their political differences, Rosie O'Donnell wouldn't mind grabbing drinks with Alaska Governor Sarah Palin.

"I'd like to have a beer with her. I'd like to meet her kids. She seems like a pretty nice woman," O' Donnell told Extra. "Although I have to say, I am thrilled her party did not win. [But] you got to give it to her for spunk."

The ultra-liberal O' Donnell admitted, "I think I probably would like her if I met her….She had an amazing life for herself and her family in Alaska. Very successful. Before you knew it, she was the most famous person in the country."

But that's not to say the Barack Obama supporter would have been celebrating a John McCain presidential win.

"If McCain won…I would be in the depression unit of the ICU," O' Donnell quipped.
[From Us Weekly]
When you put it in those terms, I think I'd like to have a beer with Sarah Palin too. I disagreed with just about every word out of that woman's mouth, but Rosie is right: she's been in a position only one other woman has ever been in as a potential vice president. Even though I sometimes had violent thoughts after hearing her speak, I'd love to pick her brains and ask her about a million questions. Though something tells me that after the Katie Couric interview debacle, Palin is going to be a little more wary of answering questions.
Here's Sarah Palin siting with a friend pool side while staying at a luxurious hotel in Miami while attending the Republican Governor's Conference on Thursday. Images thanks to Bauer-Griffin.