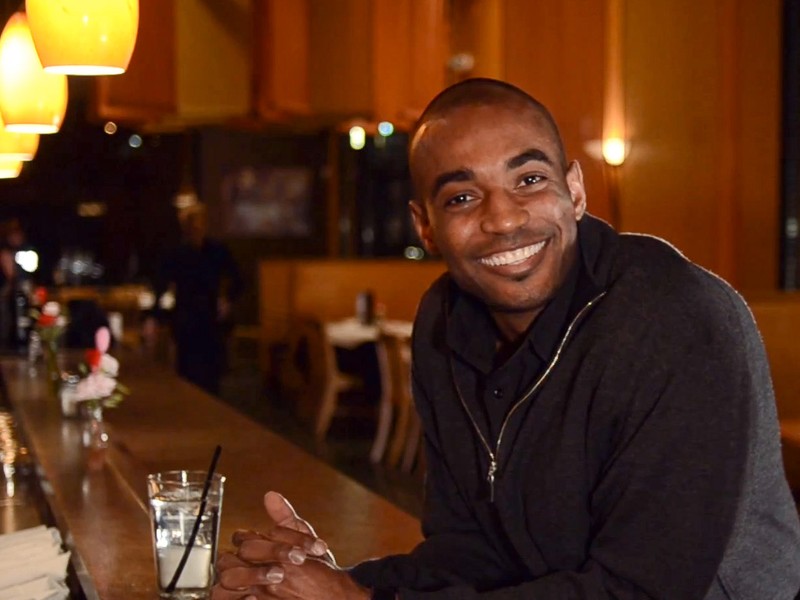 This is not one of the guys suing ABC. He hopes to be The Bachelor, though
I think it was that unfunny comic who dates hot women, what's his name – David Spade, who recently brought up this issue in his Funny or Die Bachelor parody video, The Honest Bachelor. (TMZ also posed this question in one of their videos.) In that skit, Spade made a bunch of rude blunt comments as "The Bachelor." It was actually pretty funny, so I should maybe revise my opinion of him. Spade quipped "Please don't cut to a black contestant. Who am I kidding, there's no black contestants on The Bachelor. It's ABC, woo!" In the 10 years The Bachelor has been on the air, they've had occasional black contestants vying for a ring, but there's never been a black Bachelor or Bachelorette. This issue comes up frequently, and now it's definitely getting more press.
Two African American men are planning to sue ABC for what they claim is racial discrimination encountered during a casting call for The Bachelor in Tennessee. Both say they were pushed to the side and treated unfairly due to their race:
"The Bachelor" and "The Bachelorette" are about to get a thorny rose — in the form of a lawsuit.

We're told the 2 plaintiffs — both African Americans — went to a Nashville hotel to audition for the role of bachelor. Christopher Johnson — an aspiring NFL player — claims when he arrived a producer asked him what he was doing there.

Johnson and the other plaintiff, Nathaniel Claybrooks, both say they were taken to the side of the room and left out of the normal audition process. Neither was called back, and they believe it's because of their race.

They will be filing a class action lawsuit in federal court Wednesday AM. We're told ABC, Warner Horizon Television, Next Entertainment, NZK Productions and creator Mike Fleiss, will all be sued.
[From TMZ]
The NY Daily News has an unintentionally hilarious quote that creator Mike Fleiss gave last year about how they've allegedly tried to promote diversity on these shows. He uses the word "wedge" to describe how they've added African American "chicks" once in a while.
"I think Ashley is 1/16th Cherokee Indian, but I cannot confirm. But that is my suspicion! We really tried, but sometimes we feel guilty of tokenism.
"Oh, we have to wedge African-American chicks in there! We always want to cast for ethnic diversity, it's just that for whatever reason, they don't come forward. I wish they would."
This is Ashley Hebert, the last Bachelorette. She's not blonde and has a Native American ancestor a few generations back so that counts, right?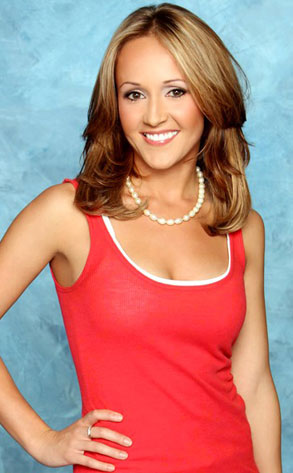 I think people are ready to see a black Bachelor and/or Bachelorette and a racially diverse cast. Maybe this could even breathe more life into this vapid, tired franchise. It's surprising to me that they haven't even seemed to try to have more than one race on those shows. The Daily Beast had a good editorial on this a couple of years ago, and nothing has changed basically.
Here's a successful sportscaster and former professional basketball player, Lamar Hurd, who is hoping to be the first black bachelor. He's not one of the guys suing ABC. I got a little starry eyed watching this video, honestly. This guy has so much charisma and he looks like a male model. He's also passionate about his nonprofit organization helping kids through basketball. Just watch him talk starting at around 3:10 and imagine you're on a date with him. Compare Lamar to some of the total doofuses we've seen on The Bachelor lately. Jake, Brad and Ben all had the charm of a wet blanket and were dumb as boxes of hair.

The last three bachelors. I don't get it. Jake was at least hot, but he turned out to be a total creep.