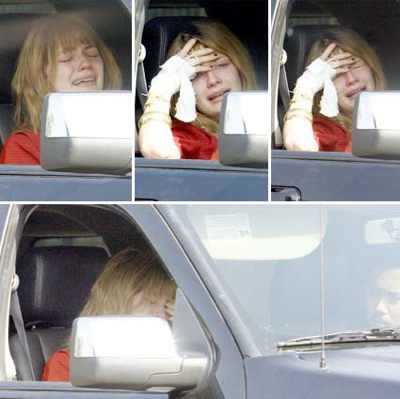 Mischa Barton was photographed breaking down in her car after she injured her wrist by shutting it in a car door a short while ago. Her publicist said she had "re-injured" it, but the bandage was on her other wrist a few weeks ago, so that's a bogus excuse. Janet Charlton reports that she's so distraught over her lackluster career and bad relationship with Cisco Adler that she's threatened to kill herself – and her dog too!
"Mischa is miserable since she left the O.C. She feels like her life is over and everything is going downhill." revealed an insider. "She feels lost since she left the show and started pestering her boyfriend Cisco Adler for a commitment. She threatened to leave if he didn't give her a ring. He wasn't ready to get engaged so he stalled by buying her a "promise" ring. That satisfied her for a few weeks, but she started acting crazy and hyper-emotional. "She acts like she has nothing to live for." Cisco couldn't take the drama and told her "We're better off apart." He told friends "She's too crazy for me." That really set her off – she threatened to commit suicide and even threatened to kill their dog! She was seen sobbing in her car with wrist bandages. Whether she actually cut herself isn't known. "Cisco feels bad so he's pretending to work things out with her so he can let her down easy. He's hoping she'll come to her senses and won't do anything violent or vindictive. But he wants out.
When a gossip source quotes an insider I always suspect that they're making shit up, so I don't know if I believe this. Cisco did give Misca a promise ring, so Charlton is working with that news and may or may not have a source for this information. It sounds way too dramatic for Mischa, who always came off as thoughtful and smart to me in interviews, albeit a bit flighty.