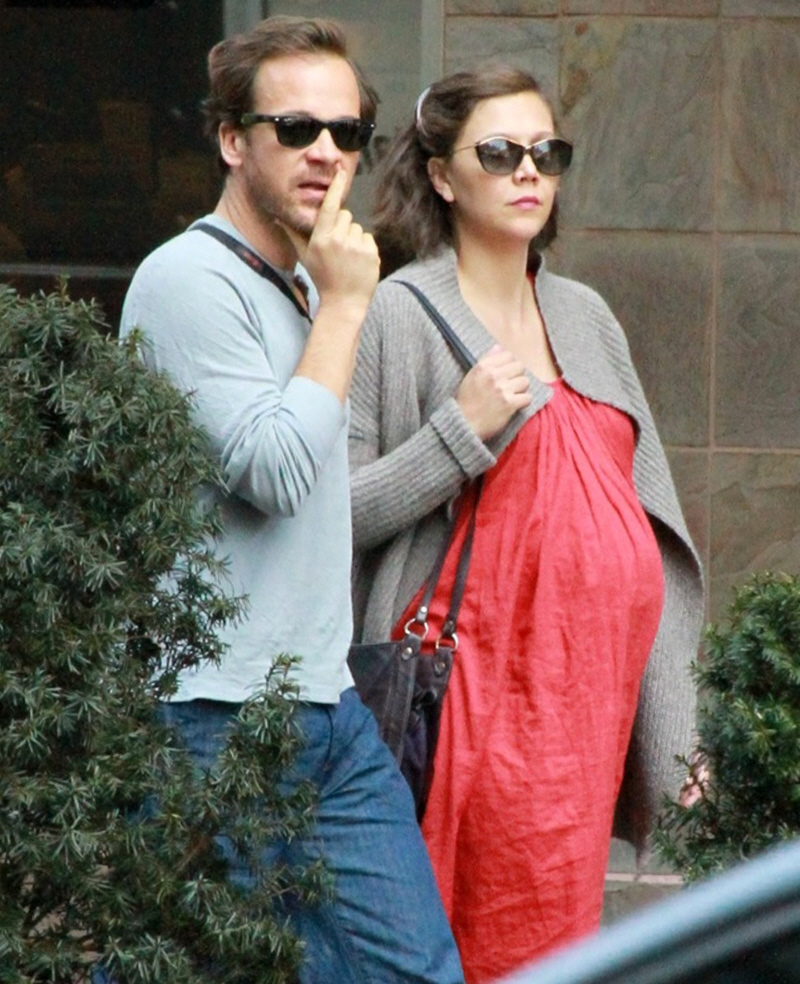 Yay, Maggie Gyllenhaal is a mom again! Maggie and her creepy/hot husband Peter Sarsgaard welcomed another little girl into their family. Maggie gave birth to daughter Gloria Ray on April 19 – and they're just announcing it now! Because Maggie and Peter want to make sure that everyone knows they're not shilling their baby out for publicity's sake (not like anyone was asking, but sure). Gloria Ray joins big sister Ramona, 5.
Maggie Gyllenhaal and Peter Sarsgaard became the proud parents of their second baby girl, a rep for Gyllenhaal confirms to Us Weekly exclusively. Born April 19 in New York, the parents named their newborn Gloria Ray.

The Hysteria actress, 34, and the Lovelace actor, 41, are already parents to daughter Ramona, 5. Together since 2002, the couple tied the knot at a small chapel in Brindisi, Italy on May 2, 2009.

Since first becoming a mother in 2006, Gyllenhaal has struggled to balance her personal and professional life. "I had been so focused on Ramona — and she's been everything to me — but I'm also an actress," she told Us in January 2010. "It's not possible to do it perfectly."

Gyllenhaal waited until her second trimester to announce her most recent pregnancy.

"I find it difficult to pretend you're not pregnant, which I had to do," the Crazy Heart star told USA Today in March. "I didn't let anyone know until three and a half months this time. I went to film festivals. I'm throwing up in the bathroom and having to keep pretzels in my purse, and having to fit into dresses."

Sarsgaard, meanwhile, had another set of concerns — the biggest being how to prepare Ramona for sisterhood. "I've seen kids with siblings — I don't have any siblings, so I don't know — but they generally go for about five minutes, 'Oh, cool! Anyway, what are we going to do now? Can we return it?'" he told reporters in February. "I think it gets boring quickly, at first, and it takes a while for them to bond."
[From Us Weekly]
Ha, Peter's got the right idea. Everyone's always like, "Oh, so-and-so will love being a big brother!" Not always! Sibling rivalry is real. But two little girls, five years apart? They probably won't have many problems, the age gap is big enough that Ramona will be okay with relinquishing her "only child" status.
Incidentally, did anyone watch Maggie on PBS's Finding Your Roots with Henry Louis Gates Jr.? I love genealogy shows, and Finding Your Roots is far superior to NBC's Who Do You Think You Are? One of the best features of Finding Your Roots is that Gates gets his guests to take DNA tests and he shows them what they are genetically, like 40% European or 20% Asian or whatever. Robert Downey Jr. was convinced that he was part African, and he ended being almost all white European. He was so disappointed! Anyway, Maggie was on and her genealogy is crazy-awesome. On her father's side, she's descended from Swedish royalty and nobility, by way of an insular Swedish mystical cult in Pennsylvania. On her mother's side, she comes from Russian Jews – a long line of very intellectual, very strong Russian women doing amazing work in male-dominated fields. Maggie's was a really good episode!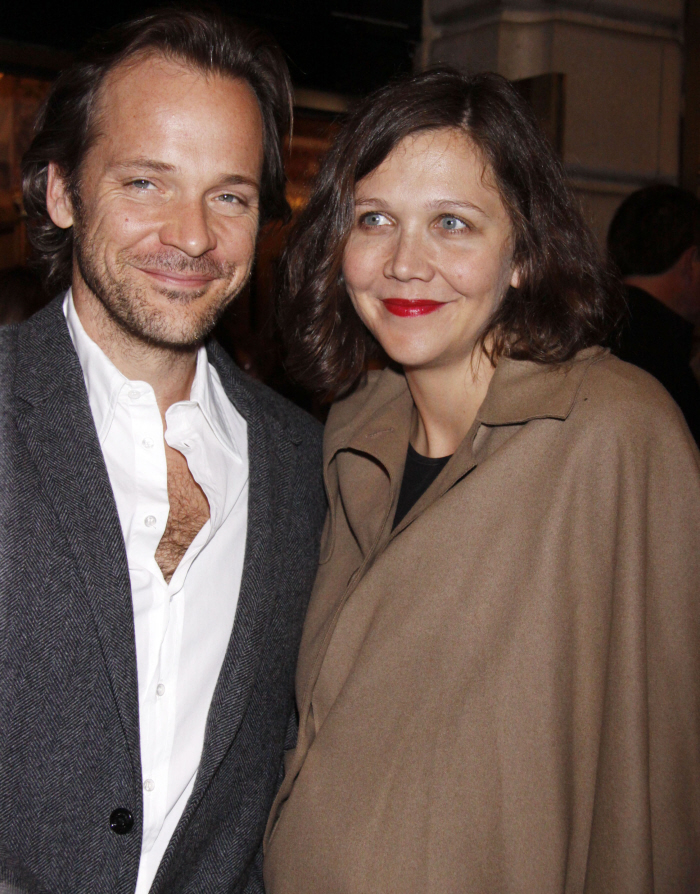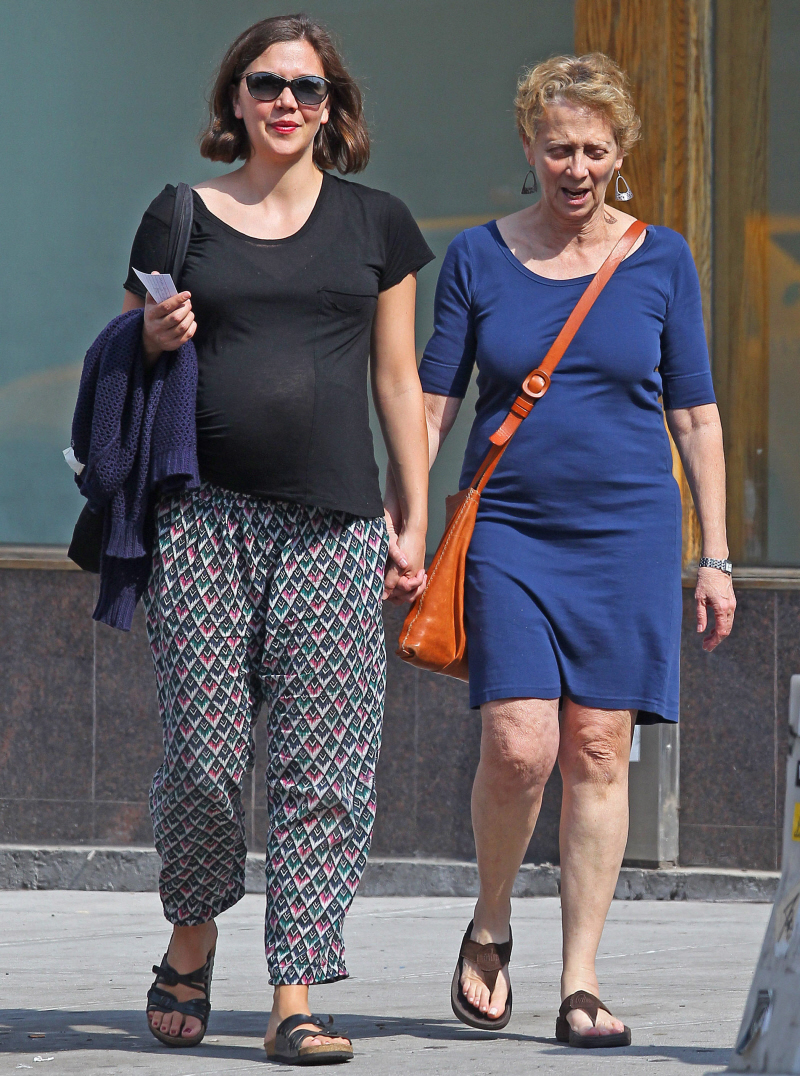 Photos courtesy of WENN, Fame/Flynet.