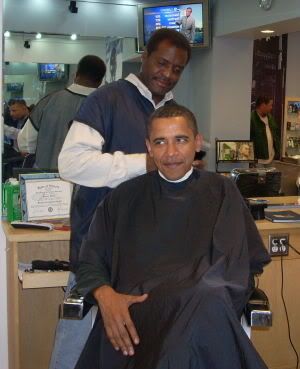 Barack and Michelle Obama's favorite pizza place in Chicago got the surprise of a lifetime when its proprietors were invited to come to Washington to cook for the inauguration expo this week, which will showcase food to be served at the inauguration. The owner thought someone was putting her on when she first received an e-mail last month asking her if she would be willing to cook in Washington if Obama won. It turned out to be a sincere offer, though, and Patti Harris-Tubbs of Italian Fiesta Pizza on Chicago's south side will be headed to the nation's capital. Her restaurant has been family owned and operated for over 60 years.
Meanwhile Obama's neighborhood barber of over 14 years has been thrust into the spotlight and he's more than up to the challenge. His one-name barber from Hyde Park, Zariff, says he'd definitely like to come to Washington to work on the president as needed, and that Obama gave him his word he would be taking him with him. As for Obama's slightly graying temples, Zariff calls that normal for his age:
"It's just a normal thing," Zariff, who's been cutting the President-elect's hair for 14 years from the Hyde Park Hair Barber Studio, says in the newest issue of Us Weekly.

"It's not like he has a head full of gray hair," adds Zariff – who only goes by one name. "It's just a few gray hairs, so it's nothing to get excited about."

The barber says Obama's hair color really "depends on the light, and then HD really brings it up a few more too.

"When we see it, it looks very silvery and shiny," Zariff says. "But of course when you see him in person, it doesn't look like that."

Obama, 47, hasn't gone grayer over the course of the stressful two-year campaign, according to Zariff, or at least "not as dramatically as it looks [on TV].

"It's about normal for his age group," Zariff says. "But I can't say that when he gets in the White House. We'll see."

So will Zariff follow his most famous client to Washington, D.C.?

"I said, 'I'm going with you' [if you win]," Zariff told Obama, according to CBS 2. His reply? "Absolutely. I'm not changing barbers, man."
[From US Weekly]
Obama even mentioned his barber during his first interview after the election, which aired on 60 Minutes on Sunday. The President Elect talked about the difficulties he's having adjusting to fame, and said he'd like to go for a walk and have some anonymity and he misses not being able to do that.
Obama: "Well, that's something that I don't think I'll ever get used to. I mean, the loss of anonymity and this is not a complaint, this is part of what you sign up for. Being able to just wander around the neighborhood. I can't go to my old barber shop now. I've gotta have my barber come to some undisclosed location to cut my hair. You know, the small routines of life that keep you connected I think – some of those are being lost."
[From CBSNews.com]
By bringing their favorite pizza and neighborhood barber with them to Washington, Barack and Michelle are trying to regain some sense of normalcy. Life will never be quite the same for the future first family, but at least they'll have some comforts from home.
There's one thing Obama might have to give up and it could be the hardest. The NY Times speculates that Obama's faithful Blackberry might be a no-no in the White House due to security issues. As the most connected and Internet-savvy President to date, Obama will likely be the first commander in chief to have a laptop in the Oval Office, but they're going to have to make sure his firewall is airtight. Considering how much his technology team has accomplished so far, they're surely up to the challenge.
Obama is shown in the inset photo in his campaign plane and visiting UAW members in Indiapolis, IN on Tuesday, Nov. 4, 2008. Credit: David Katz/Obama for America