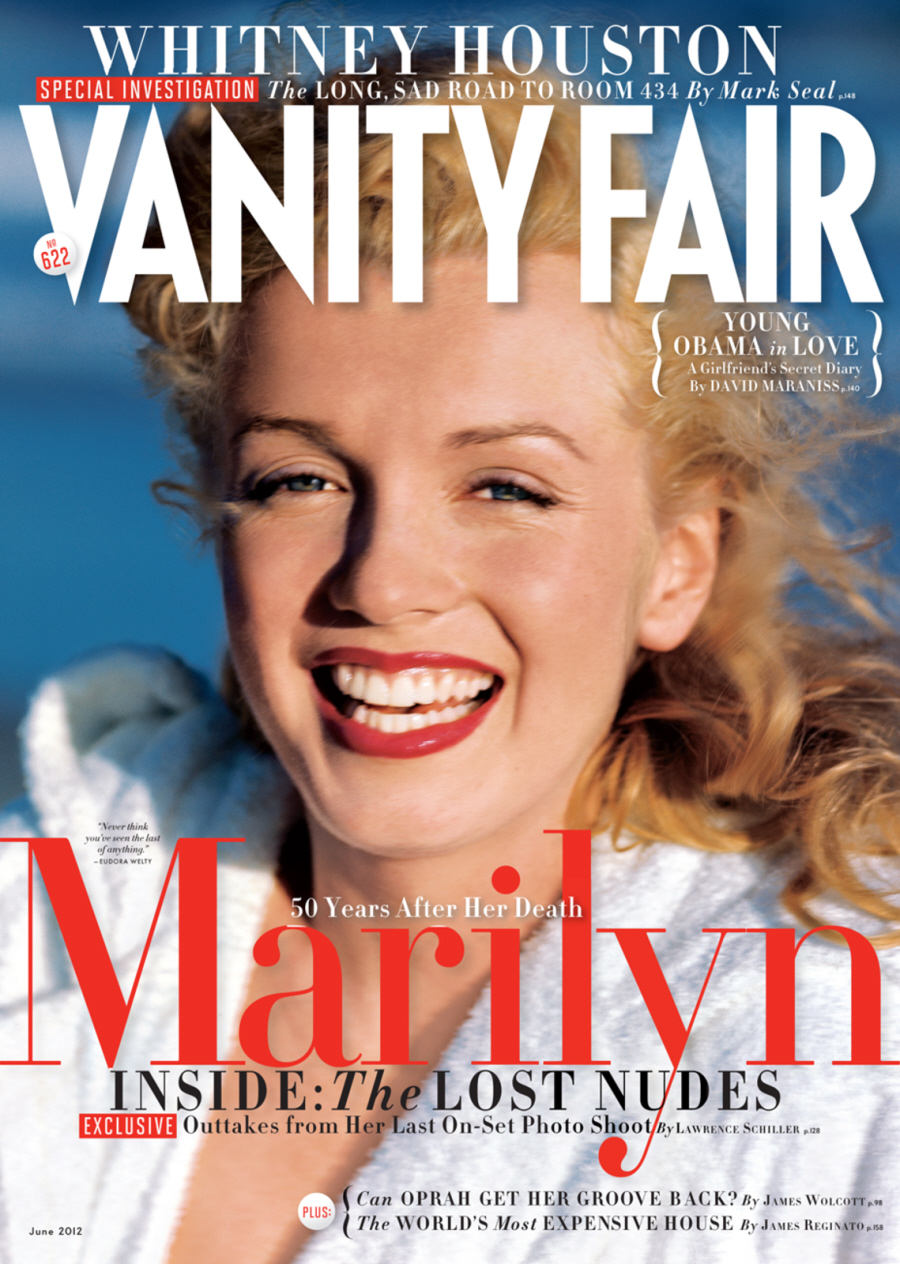 Guess who covers the June issue of Vanity Fair? ANOTHER DEAD CELEBRITY. Dear God. Why does Vanity Fair keep doing this? And Marilyn Monroe is one of their favorites – it's always Marilyn or one of the Kennedys, although they did put Elizabeth Taylor on the cover (just before she died) and Grace Kelly (when her stuff was coming up for auction or something). The whole reason for VF to devote yet another cover story to Marilyn Monroe is because "just before Marilyn Monroe's shocking death, in 1962, photographer Lawrence Schiller hit the jackpot, capturing the world's most famous blonde at her most seductive." Basically, this Schiller dude has written a book about the "never before seen" photo shoot he did with Marilyn before she died. The problem? I've seen some of these photos before – they've been around for a while. Maybe Schiller is showing some never-before-seen pics, but the one Vanity Fair used online has been seen before.
You can read an excerpt from the VF cover story here – there's nothing really earth-shattering, and most people with a passing interest in Marilyn already know this stuff. Like, Marilyn was really jealous of Elizabeth Taylor, and Marilyn had plans to stunt-queen her way into getting more press and attention than Elizabeth. Here's a good Marilyn quote: "There isn't anybody that looks like me without clothes on." She also allegedly told this dude, "I've always wanted a baby… Having a child, that's always been my biggest fear. I want a child and I fear a child. Whenever it came close, my body said no and I lost the baby." Which I swear comes from Joyce Carol Oates's Blonde.
Now, of course it's interesting if you like Marilyn and you don't mind reading the same old stuff about how she was a really screwed up person. But I have to wonder – why did Vanity Fair make the choice to put their Marilyn fetish on the cover yet again? It's not like there aren't several huge summer blockbusters coming out soon, with big-name stars who would love a chance at a VF cover. Why wouldn't Michael Fassbender make a better cover? Or Kristen Stewart? Or Charlize Theron? Or Christian Bale? Or Anne Hathaway? Or even Channing Tatum? And I can't believe I'm saying this, but if they were so hellbent on putting a dead celebrity on the cover, why not Whitney Houston? They have a story about Whitney inside – why not make it the cover? All I know is that I get so tired of Marilyn. Let that poor, tragic woman rest in peace.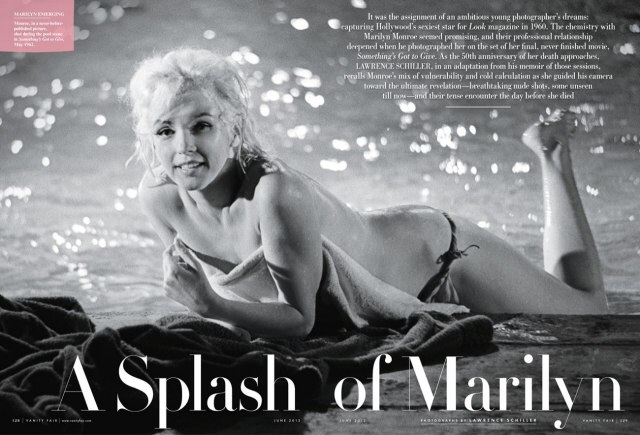 Photos courtesy of Vanity Fair.