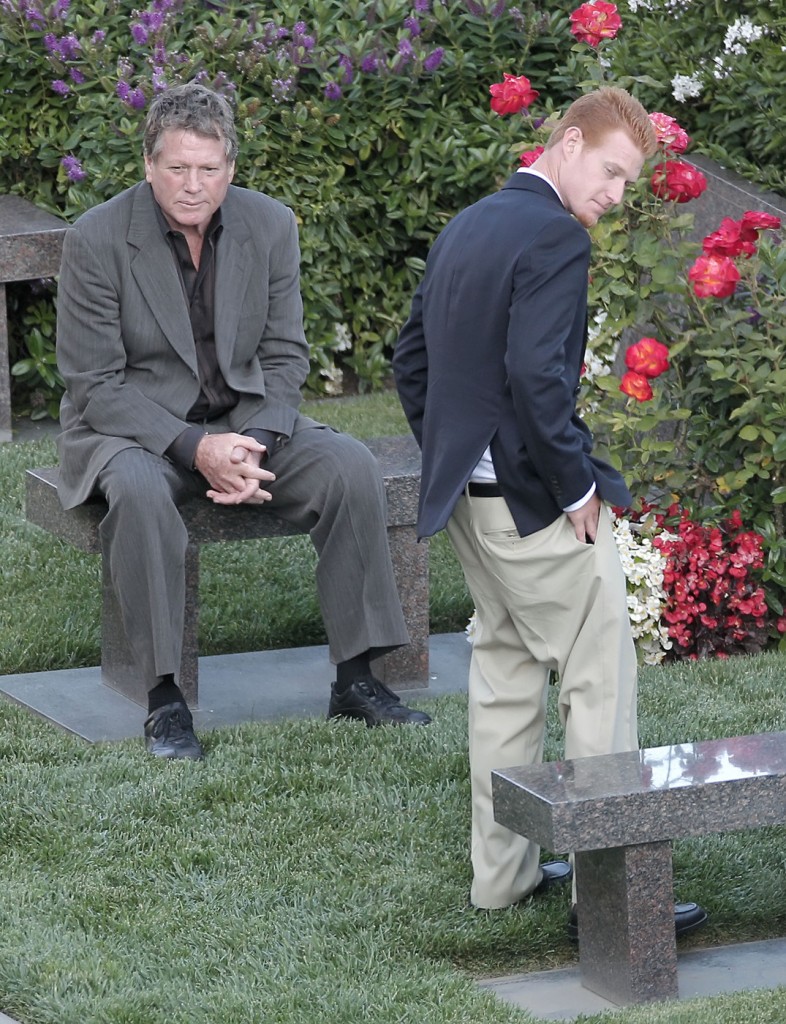 Yesterday we saw Ryan O'Neal on The Today Show trying to get us all to feel sorry for him. He was promoting a memoir about his life with Farrah Fawcett, but somehow he made himself into a victim of Farrah's moods and made her death all about him. When it came to talking about his kids, he admitted that he probably was a bad parent, but said that his children were all adults now and were responsible for their own lives. He barely remembered to mention his youngest child, Redmond, 27, with Farrah. He may have been joking when he said "Who's the other one? Redmond." Either way, it came across as cruel.
Ryan, 71, is suffering from prostate cancer and leukemia and to be frank he's probably at the end of his life. That doesn't give him a pass for the things he's said and done though. I was familiar with how he was partying with Redmond and probably supplying him drugs prior to Redmond's multiple arrests and stints in jail. Some of you mentioned that you'd read his daughter Tatum's biography A Paper Life and that Tatum detailed the neglect and physical and emotional abuse she suffered as a child. Tatum wrote that a friend of her father's molested her, and that at the age of 12 she was taken to an orgy by then 17 year-old Melanie Griffith, who was dating her father at the time. Ryan would have been 34.
Without getting into other known details of what a terrible father (and person) Ryan is, it's just safe to assume that he's treated his children awfully. He's also continuing to use them to promote his book. On the Today Show yesterday, Ryan detailed a scene from his past with Farrah in which then 6 year-old Redmond held a butcher knife to his stomach in a very sad attempt to get his parents to stop fighting. Well Redmond is a private person, and according to sources quoted on Radar Online he's telling his father to stop bringing him up in interviews. This book has got to hurt then. Here's more:
As Ryan O'Neal continues his publicity tour to promote his memoir, Both of Us, My Life With Farrah, Redmond O'Neal, his son with the late Charlie's Angels star, has begged his father to stop talking about him publicly, RadarOnline.com is exclusively reporting.

As we previously reported, the one-time Hollywood hunk came off as a broken man during an interview on Today on Tuesday morning, admitting his failure as a parent and his profound loneliness without longtime love Farrah.

During the interview, O'Neal was asked by Matt Lauer about an incident that the actor chronicled in his book in which a then six-year-old Redmond begged his parents to stop fighting and threatened to stab himself with a knife if they didn't.

"Redmond talked to his father on the phone on Tuesday and asked his dad to stop talking about him during interviews," a family source tells RadarOnline.com.

"Redmond isn't a public figure, he shuns the spotlight and is extremely shy, and just wants to keep his private life out of the public domain. Luckily, Redmond is in a safe place right now and can deal with his feelings in a healthy and controlled setting. Redmond's complex relationship with his father is one of his triggers in his drug use. Redmond is going to need to come to grips with the fact that his father isn't going to change and will need to set boundaries…"

As RadarOnline.com previously reported, Redmond and Tatum don't think their father's memoir is an honest account of their relationship with him.

"Redmond absolutely hates the press and just wants to live his life out of the spotlight," the source says. "He is trying to stay sober and having his father out there talking about his life isn't helping Redmond. He just wants Ryan to shut up about him," the insider says.
[From Radar]
I missed this earlier story from Radar where Tatum and Redmond were slamming their father's new book. In the book, Both Of Us, My Life With Farrah, Ryan claims that he got busted with meth in that 2008 raid because he took some of Redmond's stash away and kept it in his own room for safekeeping. Just like the cocaine in Lindsay's pants was someone else's, right? A source close to Redmond counters that the drugs "were absolutely 100% his, and not Redmond's."
In regard to the story where Ryan hit on Tatum, his own daughter, at Farrah's funeral, he tries to reframe that as well. Ryan admitted in Vanity Fair back then that he didn't recognize Tatum. He said "I was just trying to be funny with a strange Swedish woman, and it's my daughter. It's so sick." Only in his book Ryan tried to play it off like he was making a joke. He (or his ghost writer, to be accurate) wrote "Following Farrah's death, one magazine suggested the unthinkable: that I actually had come on to Tatum. It was an innocent private joke between the two of us. Ever since she was a little girl, Tatum and I would play this game pretending we'd just met. It was silly and sweet."
I can't imagine having a father this neglectful and narcissistic. It must make it so much worse that he's famous and is now dredging up past family pain and reframing it to make him sound innocent and misunderstood. I hope Ryan at least apologizes to his children at some point, although it sounds like he's still pretty oblivious about the effect he had on them.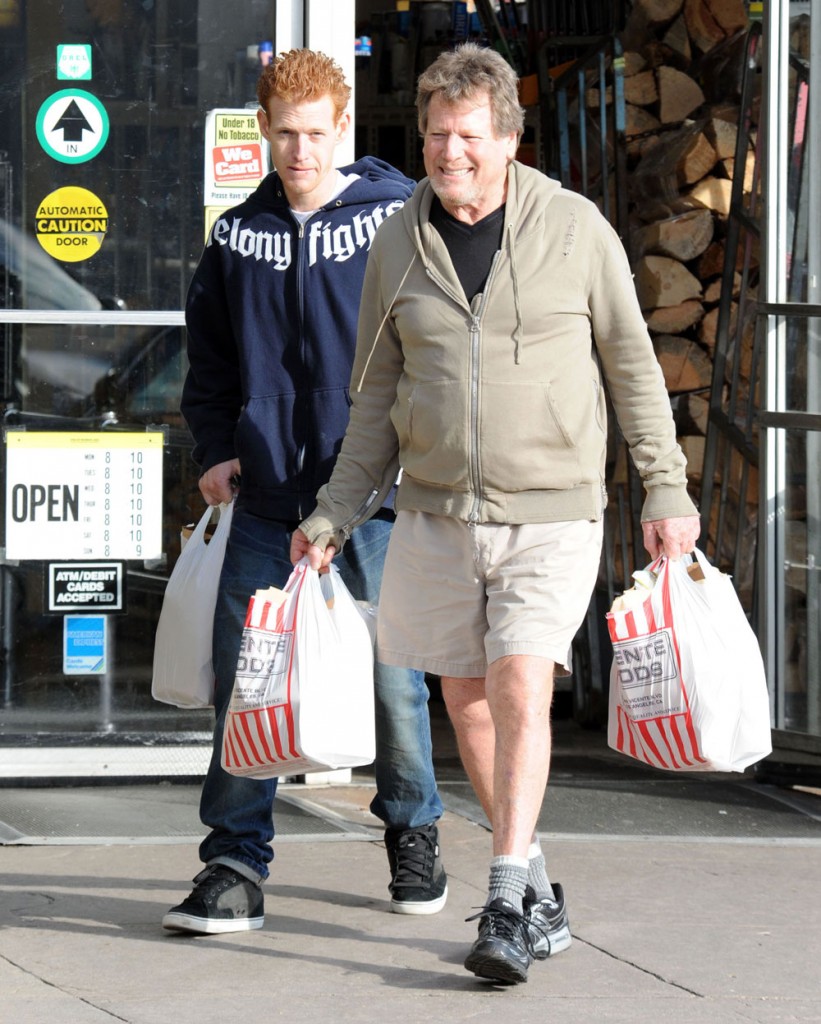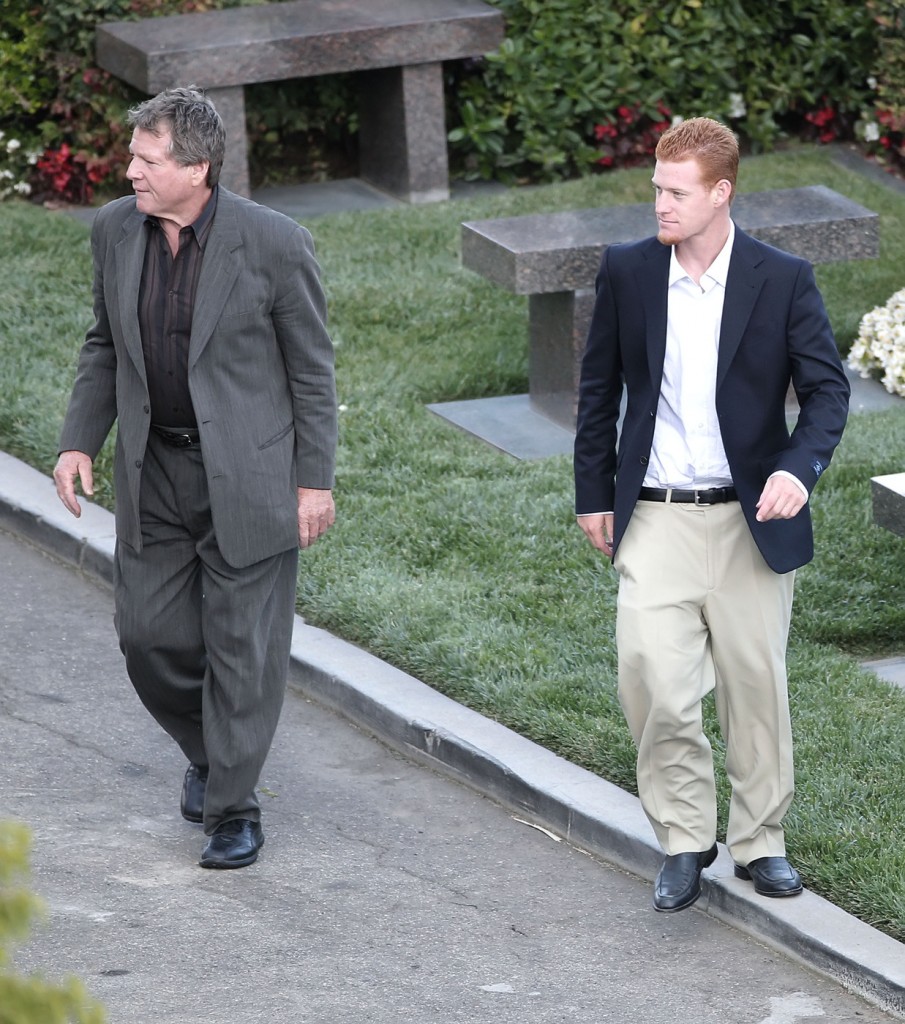 Redmond and Ryan are shown out together in January, 2010 outside a store and in June, 2010 visiting Farrah's grave on the anniversary of her death. Credit: FameFlynet and PCNPhotos