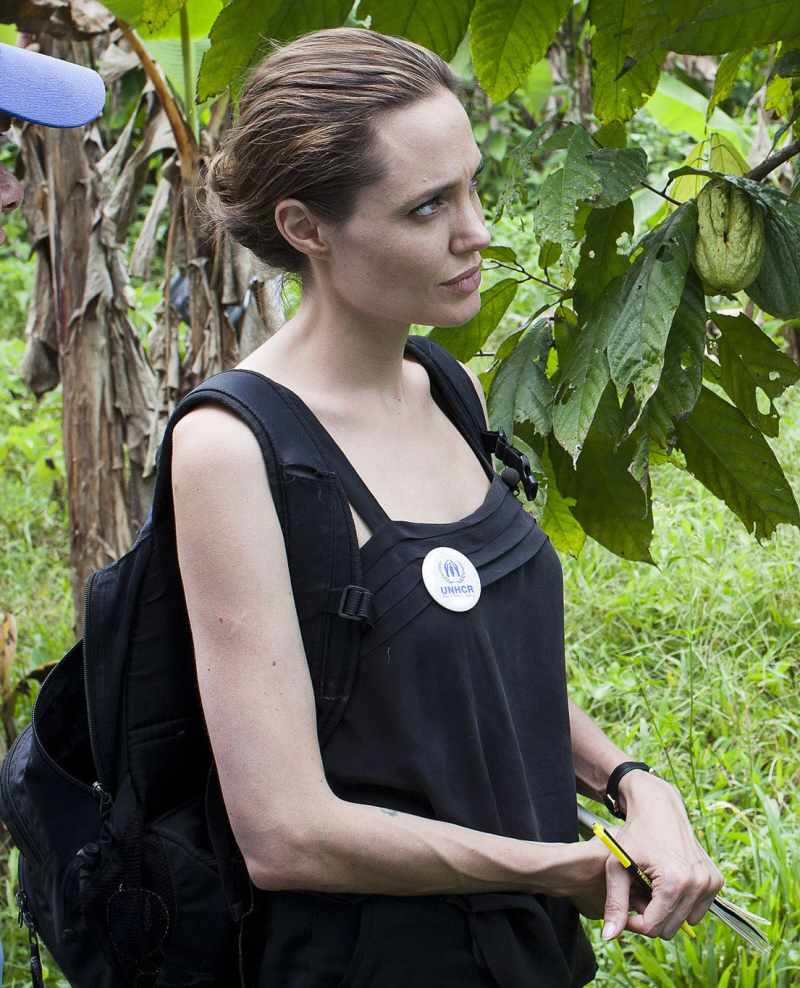 *Note: Angelina is not wearing her engagement ring in this photo, taken in Ecuador on April 22nd.
In Touch Weekly has a story that is called, no joke, "Angelina Hates The Ring: Newly engaged Angelina Jolie thinks Brad Pitt doesn't 'get' her." Obviously. I'm including some photos of Angelina in the field during her April 22nd UNHCR trip to Ecuador – while she was in the field, meeting refugees, she was not wearing her ring. In Touch notes that she also wasn't wearing her ring for the official meeting she had with Ecuador's foreign minister. So what does it mean if Angelina doesn't want to wear her $500,000 rock while she's tending to her UNCHR duties? It means she hates Brad, of course.
It's only been a few weeks since Angelina Jolie and Brad Pitt announced their engagement. But as she met with the foreign minister of Ecuador on April 22, the ring finger on her left hand was noticeably bare. While some claim she thought the $500,000 sparkler wasn't appropriate for a serious meeting, everyone knows that engagement rings are meant to be worn always. So why did Angelina really ditch the ring that Brad helped design himself?

"She isn't fond of it," a friend confides. "Nothing against Brad's design. She's just never been enamored of white diamonds."

Indeed, the friend says Angelina had been hoping for a less traditional stone.

"Emeralds are her favorite." And she's been complaining that Brad's choice of the 10-carat diamond, rather than an emerald, "shows how little he knows her." Of course, her hissy fit over the ring shows a lot about her, as well.

"She's so demanding," an insider says. "She's acting like a bridezilla."
[From In Touch Weekly, print edition]
I like emeralds too, but I don't think I would like an emerald engagement ring. But I'm a traditionalist like that… for the most part. If a dude was hellbent on NOT giving me a white diamond for an engagement ring, I would also accept a sapphire – just because those are MY favorite gemstones. I just feel like sapphires, emeralds, rubies and the like are better suited for anniversary presents or Christmas presents or birthday presents rather than an engagement ring. Once again, just me.
As for Angelina not wearing her ring while she was in Ecuador – I get it. She didn't want to wear her huge diamonds while she was in the field, working with poor refugees. She really only wears big, blinged-out pieces when she's on the red carpet anyway, so I think of her normal, everyday style as pretty bling-less generally. So while I think Angelina probably loves her ring and plans to wear it most of the time, I hope Brad isn't expecting her to wear it every day, no matter where she is or what she's doing. Because that won't happen.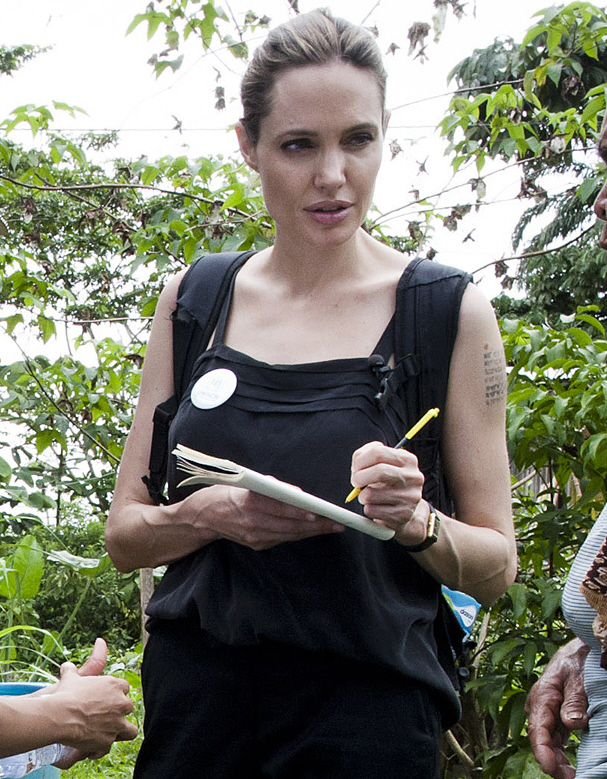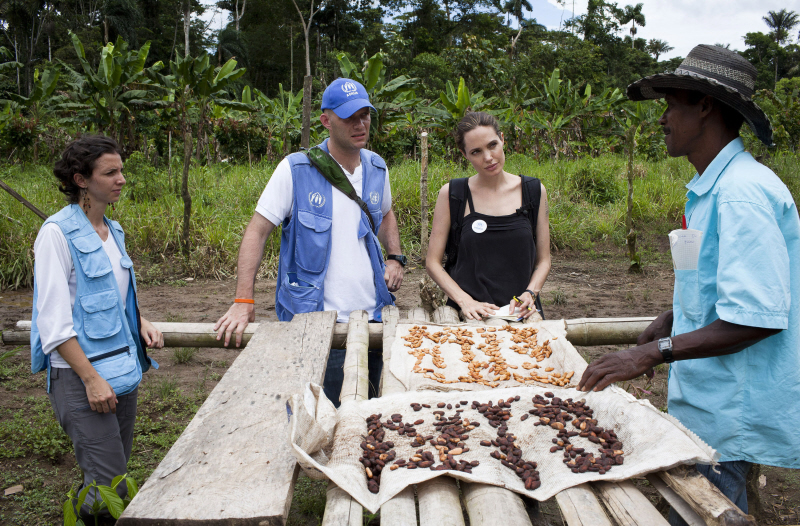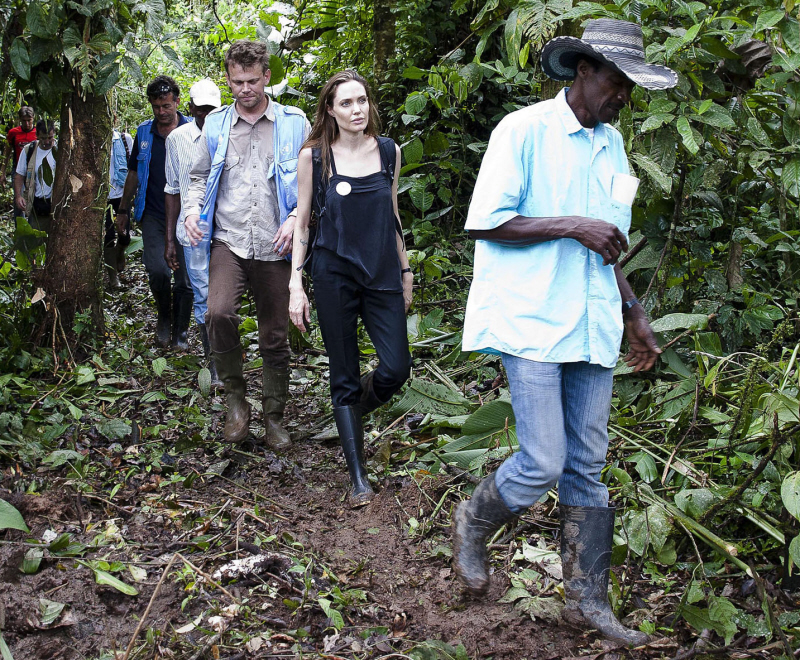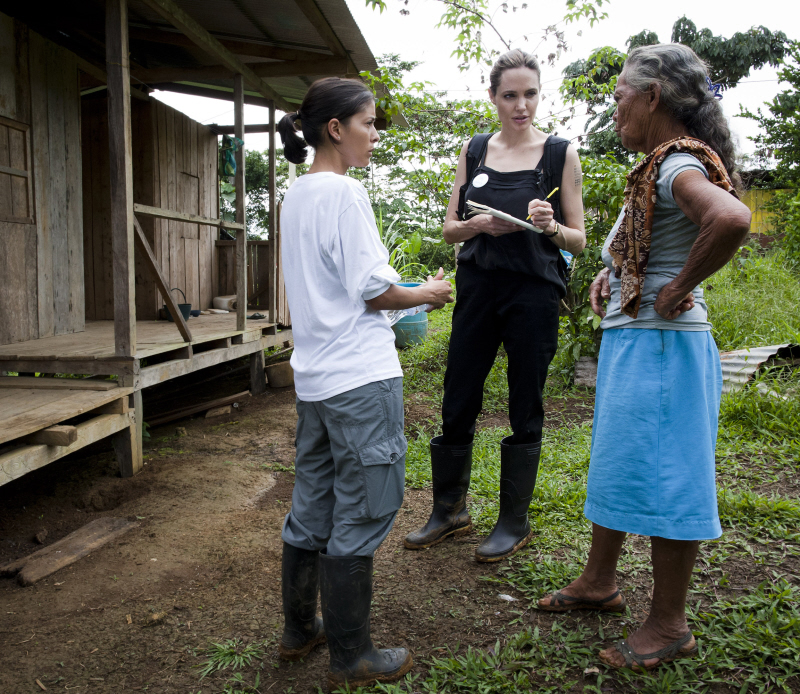 Photos courtesy of UNHCR/WENN.